Location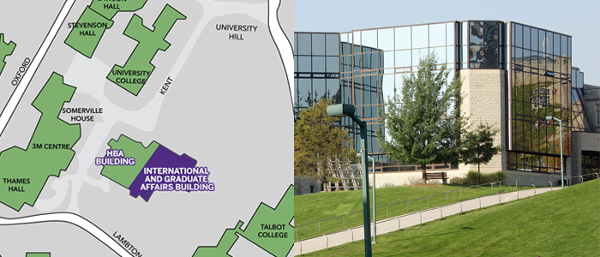 We've Moved !
Please note that as of December 1st we are now located on the first level of the  International and Graduate Affairs Building 1N20 (Just one floor up from our most recent location). We are located beside Graduate Studies - just follow our signs. Until December 1st we are still located on the lower level in 0N05.
How to Find Us in our new Location:
Enter building through main doors of glass atrium, across from UC hill
Keep left along upper part of atrium
Follow around to left - we are beside Graduate Studies, through the glass door to the left - follow the hallway and signs (1N20).
Phone: 519-661-3043 Fax: 519-850-2376
IMPORTANT INFORMATION 
COURSE REGISTRATION FOR 2nd TERM COURSES
Students can ADD or DROP second-term courses ONLINE until 11:59PM JANUARY 13, 2015.
After this date/time, students can DROP second-term courses without academic penalty by PAPER until MARCH 7, 2015.
From JANUARY 14, 2015 through MARCH 7, 2015 dropped courses via PAPER will receive a grade of WDN.
 ITR Dates
Monday, February 2nd to end of day Tuesday, March 31st.

MARCH HOURS:
We are closed Friday, March 6th. Please note - because March 7th is the final day to drop courses, you may still come to our office Monday to drop courses. 
Hours of Operation:
Regular Drop-in hours:
Monday - Thursday 9:30 - 12:00 noon & 1:00 - 4:00 PM
Friday 9:30 -12:00 NOON   
Please also note that hours can vary depending on meetings. Email us for details: arts@uwo.ca
Please check this site frequently for updates on hours.