Location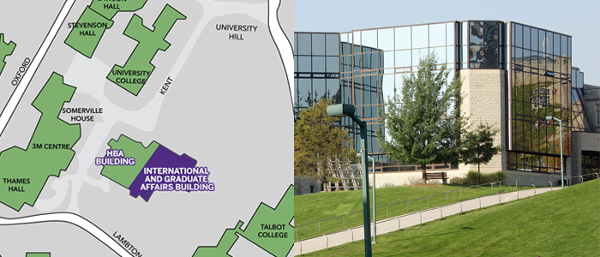 We are located in the International and Graduate Affairs Building Room 1N20. 
How to find us:
Enter building through main doors of glass atrium, across from UC hill
Keep left along upper part of atrium
Follow around to left - we are beside Graduate Studies, through the glass door to the left - follow the hallway and signs (1N20).
Phone: 519-661-3043 Fax: 519-850-2376
* Please note we prefer email*
****SPECIAL HOURS FOR MAY*****
WE WILL BE CLOSED MORNINGS IN THE MONTH OF MAY. FRIDAY MAY MAY 19TH WE WILL BE CLOSED FOR THE DAY, BUT FRIDAYS IN MAY WE WILL BE OPEN IN THE MORNING.
REGULAR BUSINESS HOURS RESUME IN JUNE:
Monday - Thursday 9:30 - noon and 1:00 - 4:00 and Friday 9:30 - noon
Email us for details: arts@uwo.ca - Please note that we do require you to email with your western email address.