Location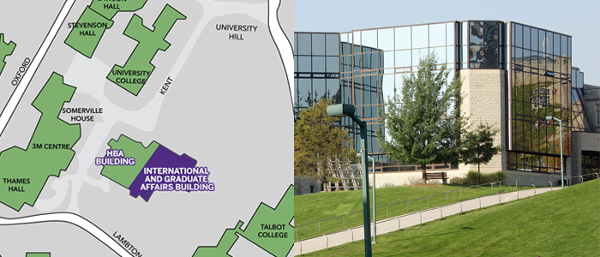 We've Moved!
Please note that as of August 21, 2014 we are now located in the International and Graduate Affairs Building, Room 0N05 (former Lawrence Centre in the old Ivey buidling). We are located on the lower level beyond the glass atrium.
How to Find Us:
Enter building through main doors of glass atrium, across from UC hill
Keep left along upper part of atrium
Enter doors through back of atrium
Go downstairs and follow ramp to Academic Counselling offices
Phone: 519-661-3043 Fax: 519-850-2376
Hours of Operation:
IMPORTANT INFORMATION: Please note that the last day to drop a 1/2 course is NOVEMBER 5th. The Last day to drop a full course is NOVEMBER 30th. Web registration will open again in early October for second term adds. 
Please note that this is an extremely busy time of year. We may take up to one week to respond to emails. Thank you for your patience and understanding during this time. Email is the best way to contact us, or come by to our drop-in counselling hours.
Drop-in hours:
Monday - Thursday 9:30 - 12:00 noon & 1:00 - 4:00 PM
Friday 9:30 -12:00 NOON   
**** WE ARE CLOSED FRIDAY, SEPTEMBER 19th****** and the morning of September 30th******
Please also note that hours can vary depending on meetings. Email us for details: arts@uwo.ca
Please check this site frequently for updates on hours.