Location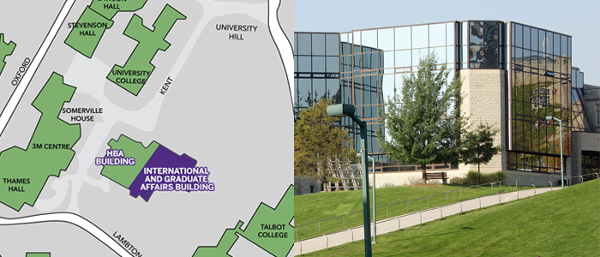 We've Moved!
Please note that as of August 21, 2014 we are now located in the Graduate and International Affairs Building, Room 0N05 (former Lawrence Centre in the old Ivey buidling). We are located on the lower level beyond the glass atrium.
How to Find Us:
Phone: 519-661-3043 Fax: 519-850-2376
Hours of Operation:
IMPORTANT INFORMATION: FOR INFORMATION ON SPECIAL PERMISSIONS FOR COURSES, COURSE OVERLOAD, PLEASE SEE OUR PROCEDURES PAGE. IF YOU ARE HAVING ISSUES WITH COURSES BEING FULL, CONTACT THE DEPARTMENT OF THE COURSE FOR FURTHER INFORMATION.
Please note that this is an extremely busy time of year. We may take up to one week to respond to emails. Thank you for your patience and understanding during this time. Email is the best way to contact us during the Summer months, or come by to our drop-in counselling hours.
Drop-in during the summer is:
Monday - Thursday 9:30 - 12:00 noon & 1:00 - 4:00 PM
Friday 9:30 -12:00 NOON   
Please also note that hours can vary depending on meetings. Email us for details: arts@uwo.ca
Please check this site frequently for updates on hours throughout the summer.