The journey of alumna Andrea Avila
Professor Alena Robin discusses alumna's journey from Mexico to Canada
By Alena Robin, Department of Languages and Cultures
Andrea Ávila is originally from Mexico City. She studied journalism at the National Autonomous University of Mexico (Universidad Nacional Autónoma de México), Acatlán campus, did a MA in Humanities at the University of Anáhuac, and different courses and training in acting. One day in Mexico City, while she was waiting for an appointment with her MA thesis supervisor, she saw a poster mentioning scholarships to pursue doctoral studies in a foreign land: The University of Western Ontario, in London, Canada. Not knowing very well what she was embarking on, she applied and she was accepted. Her friends warned her about the cold, but she did not pay attention to them: she could finally achieve her dreams of doing a PhD while living in a different country. Andrea arrived in London with her suitcases in August 2008 with the firm intention of going back to her native land as soon as she graduated from Western. But this is not how the story goes.
While Mother Nature offered us our first snowflakes of the season last Thursday, November 9, the Department of Languages and Cultures was active hosting a book launch of two authors, Teobaldo Noriega, Emeritus Professor from Trent University and Adjunct at Western University, and Andrea Ávila, alumna from our Department of Languages and Cultures. Both books, Humana impermanencia and Con dolor en el termostato, were published by the printing press Lugar Común (http://www.lugarcomuneditorial.com).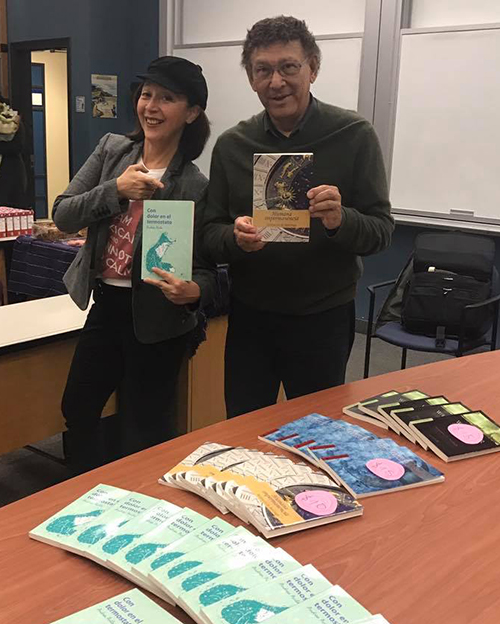 Lugar Común is an independent Canadian publishing company based in Ottawa that specializes in producing books that emerge within the migrant contexts of Spanish-speaking communities in North America. It predominantly publishes works by Spanish-language authors from Canada, and translations from Spanish into English and French. Their catalogue covers a range of genres such as essays, poetry, fiction and non-fiction.
My first contact with Andrea was a few weeks after I arrived as Assistant Professor in the Program of Hispanic Studies in the Department of Languages and Cultures. I was appointed as an evaluator of her first course design, a requirement for our PhD candidates, the equivalent of the comprehensive examinations. It was a memorable encounter that we recall today with laughter but it was not funny then since we disagreed on our definition of Latin America. Soon after, I discovered Andrea lived across from my apartment building. Little by little, we started exchanging favors, if she could please water my plants while I was away, if she could please help me move, if she could please … And little by little, we became acquainted and friends.
In August 2012, Andrea successfully defended her PhD thesis in Hispanic Studies entitled Teatralidad, globalidad y tecnología en el siglo XXI (Theatrality, Globality and Technology in the 21st Century), in which she explored the influence and transformative power of technology in performing arts, through three case studies: Cirque du Soleil, Robert Lepage, and La Fura dels Baus. Andrea did not return to Mexico upon graduating, as she had initially planned. Shortly prior to graduating, Andrea met Eric, who with time became her "marinovio" (husband-boyfriend). Hence, she stayed in London.
Andrea recently returned to acting in communitarian theater companies in London. She has collaborated in different Shakespeare plays, in Refugee Hotel of the Canadian-Chilean actress Carmen Aguirre, and in the production of Almost Alice, an adaptation by Julia McCarthy of Alice in Wonderland by Lewis Carroll. She also volunteers at the ARTS Project and the Public Library in London. Her connections with Mexico are still very much alive, as she is a collaborator with the Mexican press, mainly participating in the digital magazine Metropolificción (http://metropolifixion.com).
In her book, Con dolor en el termostato, she narrates her experience as an immigrant in Canada. It is a selection of the chronicles she published in Mexico. The chronicles were not reprinted in the chronological order in which she wrote them. Furthermore, they were edited by the printing press to lower local Mexican terms, and make the Spanish more neutral and international. These chronicles are personal yet powerful. They reflect the experiences of a Mexican living in Canada, who longs for sun and flowers, food and friends, but at the same time is enjoying herself watching squirrels while refusing to learn to shovel snow.
Con dolor en el termostato: this title would literally translate as 'with pain in the thermostat'. Why such a title? Because it is the most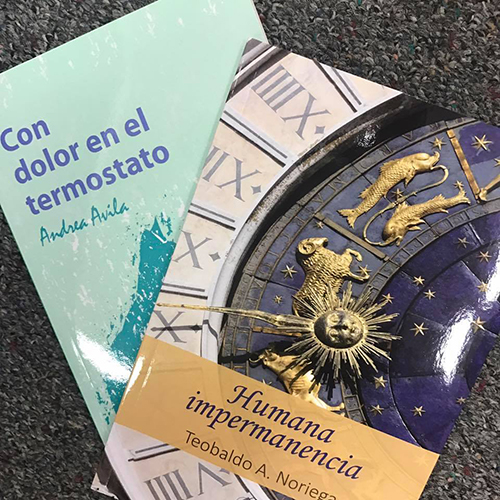 painful event when one comes to live in Canada. And the first snowfall we had in mid-November was a harsh reminder of the winter that is quickly approaching.
I have to confess I devoured Andrea's book as summer reading. Each chronicle is short enough that it reads quickly between two activities of our busy lives. Her writing is refreshing and agile and relates to her experience from different points of view. Andrea is now an expert in vanquishing the driver's license system: she conquered the G1 and she is now going through the G2. Although she had ample experience as a driver in Mexico City, she had to start over, as many immigrants to this country. She also recounts Justin Trudeau's visit to London from her own perspective. But most importantly, she describes what it feels like to be waiting for the bus in minus 20 degrees. She made me laugh with her adventures. She sometimes made me feel uncomfortable with her crude description of Canada as the country celebrates its 150th anniversary, but struggles to respect its first nations. Her chronicles occasionally thrilled me; others saddened me, as I realized how hard it is to adjust to a new land as one yearns for a home. But all of this is made possible due to her powerful prose.
Postdata: Andrea recently received her permanent residency to Canada, something to celebrate, as it was not an easy endeavor. It will most probably be the topic of her next chronicle.
Posdata 2: Eric is an enthusiastic student of Spanish.