In Memoriam
Professor Gregory (Greg) Eramian (1942-2022)
Prof. Gregory (Greg) Eramian obtained his PhD in Slavic Languages at Brown University. He began his academic career at Western University in 1969 teaching Russian language, literature and linguistics, and later Comparative Literature and Culture.
Prof. Eramian excellence in teaching was recognized in 2004, when he was granted Western's highest teaching award, The Edward g. Pleva Award for Excellence in Teaching.
After 37 years of service, Prof Eramian took early retirement in 2006 because of poor health.
He served as Chair of the former Department of Russian Studies (1977-1984) and as Undergraduate Chair of the former Department of Modern Languages and Literatures (2000-2005).
To read the obituary and leave condolences directly to the family, please visit the AMG Funeral Home website here.
Message from Prof. Vlad Tumanov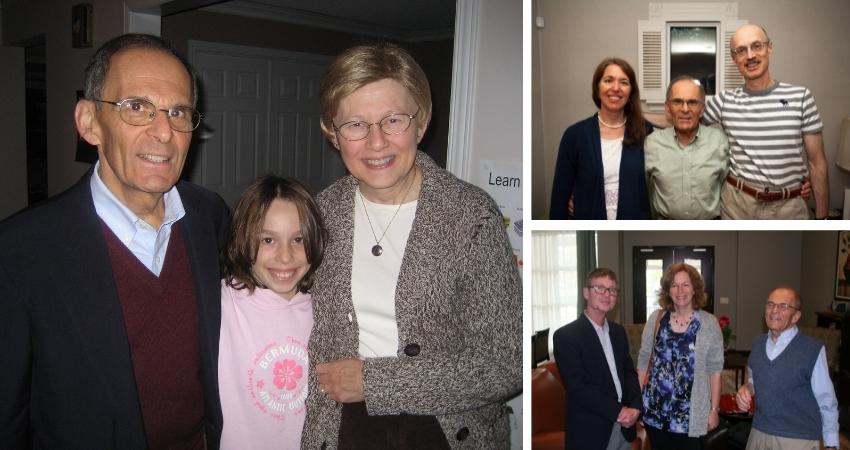 To all those who knew Greg (and there are progressively fewer of us as retirement follows upon retirement):
I have to say that for me, this is one of the saddest pieces of news in a long time. Greg welcomed me to the department in 1991 with warmth, support and understanding. Working with him was always a pleasure. Greg and his wife Linda treated my family like surrogate children while we were a young couple far away from our parents. When our daughter got seriously sick, Greg and Linda were the first to visit her in hospital. We shared many dinners together at each other's houses over many years. Greg and Linda had the habit of serving beer in the same earthenware mugs which they would hand to their guests with the words: "Good health!" Everything about Greg and Linda was about habit. Their household, their hosting, their mannerisms — all things always followed a charming predictable script that we go used to and couldn't do without.
Their happiness was interrupted by Linda's untimely death which left Greg disconsolate. Since 2012, when Linda finally succumbed to her illness after years of agony, and up until last week, when Greg passed away himself, he never got over her. All these years were full of never-ending mourning. Greg lived like a monk since Linda's death and came out of his shell only when invited to a friend's house. Then, he would sit at the dinner table, listening for the most part, smiling and very rarely saying anything. His demeanor didn't betray his never-ending thoughts of Linda, but we knew what he was thinking. But then, as his health failed him more and more, Greg stopped accepting our invitations. The last time we saw him out of his home was at our 30th wedding anniversary. That's when I introduced my son's girlfriend (and current fiancée) to Greg as "Alex's friend." For that I incurred the wrath of Alex, but today this is a running joke in our family — always associated with Greg.
Greg worked on an Armenian-English dictionary for many years. This endless, painstaking task kept him going and took his mind off his sorrows and pains. He finished the dictionary shortly before the end of his life, and I greatly admire his tenacity and dedication. It was a good closing chapter for a scholar.
To sum up, I am still reeling from the news and keep seeing Greg's disarming smile as he sits in his living room with Linda, listens to the company at hand and says: "Good health!"
Good health to all of us!
Vlad
Message from Department Chair Ana García-Allén
In my second year at Western Prof. Greg Eramian became the Undergraduate Chair, which gave me the opportunity to work closely with him on a few occasions. He was always extremely kind and supportive, but what I really like about him was his ironic humor, which I enjoyed very much. We will miss him.
Message from Prof. Rafael Montano
Sad news. I have wonderful memories of him. I enjoyed especially his sense of humor and generosity. A couple of years ago, my wife and I enjoyed his company one evening in our house in the Wortley Village. Though he was already sick, we spent a very pleasant couple of hours with him and Reuel and his wife, Natsuko. I only hope he did not suffer much during his last days and had a peaceful end of his life. My condolences to his family.
Message from Prof. Angela Esterhammer
Greg was a truly good person and a dedicated scholar. He was the first person to hold the role of Undergraduate Chair in the Department of Modern Languages and Literatures. He made a wonderful Undergraduate Chair because he genuinely loved helping students and sorting out their problems with prerequisites and timetables – "their little problems," he called them, although his care and helpfulness extended to the bigger, tougher things too. It was a privilege to know him and a joy to work with him.
Message from Prof. Joyce Bruhn de Garavito
From the moment I came to Western in 1999 there was a special bond with Greg because he and I were, at that time, the only linguists in the department. Over time this bond became stronger due to Greg's very special qualities. He was generous, kind, always gentle and patient. I never heard him say a bad word about anyone, nor make a petty comment. He was generally quiet, but when he spoke he was clear and concise, and always wise. At the same time, he seemed to have a special understanding of the absurdity of much of life in a way that we all appreciated. When, due to health reasons, he left the department, it was a sad day for all, particularly the students to whom he dedicated so much.
---
Professor Hanna Spencer (1913-2014)
Prof. Spencer (née Fischl) was born in Kladno, Bohemia, in what is now the Czech Republic. She obtained her PhD in Slavic and Germanic Languages from the University of Prague, a rare feat for a woman in her time.
Prof. Spencer escaped the Nazis and their persecution of Jews by emigrating to Canada in 1939. She first worked here in Ontario in a glove factory that belonged to her uncle, but she soon put her education to use in teaching.  She married Elvins Spencer, an organic chemist, and had two children, Erica and Martin. The family settled in London Ontario in 1951 where Hanna was appointed as professor of German in the University of Western Ontario. She retired in 1979, but she continued her very active life as a pianist, a traveler and a tennis player, among other activities.
Besides her many publications on German literature, Hanna is well known for Hanna's Diary 1938-1941, in which she chronicled her life as a Jew in her native Czechoslovakia and then as an immigrant in Canada. The book is memorable for its deep humanity.
Message from Joyce Bruhn de Garavito
I met Prof. Hanna Spencer around two years before her death at a reception in the Department of Languages and Cultures. She left in me a strong impression of strength, a wonderful, vivacious, active woman. It was difficult to believe she was 98 at the time. We decided to celebrate her hundredth birthday a little before the correct date (December), and in September of 2013 the Department of Languages and Cultures got together to rejoice in a life so well lived. We will miss her.
Message from Marjorie Ratcliffe
Professor Hanna Spencer and I briefly shared an office in 1989 when, although retired, she remained an active member of the University of Western Ontario community and I was a new recruit. Hanna and her husband Elvins, an Adjunct Professor and Government of Canada chemist, were near neighbours and we shared many ideals including their profound commitment to civil rights and anti-racism. I read her autobiography with deep interest and was moved by her love, as a young woman, for a very special young man from whom she was separated due to intolerance. Her early years in Canada also revealed a great deal about conditions in Canada at the time when "one was too many." She did not dwell on her losses but went on to a brilliant marriage and university career. Hanna Spencer triumphed over racism and antifeminism and was a model to us all. I only wish she had written a second volume that would have covered the other fifty years of her long life.
Message from Jean Newman
Hanna Spencer was a much respected professor and a cherished friend to many.  Those of us who were colleagues  for decades will remember her enthusiasm,  personal warmth  and  spontaneous hospitality.  Her quick sense of humour and appreciation of the ironic were a delight.  We shall miss her deeply.
---
Prof. Weston Flint MA, PhD
Prof. Weston  Flint died peacefully, with family by his side, Sunday, April 28, 2013, age 90. He was the husband of Noma Flint, father of Robert (Jacqueline), Lucy, and Christopher (Athena), and grandfather of Emma, Grace, and Gray. Born in Boston, Wes was a star athlete first at Noble & Greenough School in Massachusetts, then as an IC4A hurdler/sprinter and captain of the Harvard track team. His schooling was interrupted in 1943-46 by service with General Patton's Third Army in France, Germany, and Czechoslovakia. After the war, he represented the First National Bank of Boston in Havana. When it became clear to him that he was not cut out to be a banker, he earned an MA and PhD in Romance Languages from the University of North Carolina and a stint at Dartmouth College. After eight years at Duke University, in 1965 he arrived at the University of Western Ontario to head the Department of Romance Languages at Talbot College. He treasured his twenty-year professional relationship with UWO, and was happy to return to Canada, where as a child he had spent summers at Camp Wabun on Lake Temagami. Regular international study and travel with his family included an appointment to direct the Middlebury College Study Abroad Program in Madrid and visits over two decades to his mother-in-law in Mexico. A lover of classical music and opera, he played the piano by ear and often burst into spontaneous harmonized song with his wife. Son of a publisher and himself an author of scholarly works, he had a lifelong passion for books, Harvard University, as well as the Boston Red Sox (and, often, the Blue Jays).
Message from Prof. Marjorie Ratcliffe:
For those of us who did know West Flint, his death in April comes as a surprise. I met him in the late sixties as an undergraduate through the Carleton University Spanish drama group when he and a group of UWO profs came to Ottawa to see our plays, and later at AATSP and ACH meetings. He and his wife Noma were a team in all they did, including the scholarship they produced on nineteenth-century Spanish narrative. I greatly enjoyed bumping into him in the UC hallways as he attended classes and continued learning well into retirement. He was a lovely and kind man who served as an example to me.
Message from Reuel Wilson
I came to know Wes Flint quite well during the 1970s. He was a real gentleman in the best sense of the word. As chairman of the (then) Spanish and Italian Department, he had the unenviable task of steering his oft-divided colleagues on an even course. He served them well, as a forthright and tactful administrator; I found him a loyal friend. In the end, Wes felt that the years of administrative responsibilities might have been spent more productively in scholarly pursuits. He opted for early retirement. I still miss him.