Who We Are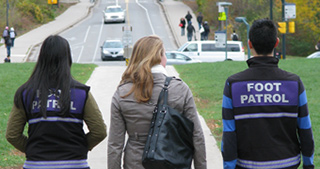 Western Foot Patrol is a volunteer driven service that provides safe escorts, walking you to your destination at night; deters crime through patrols; and promotes safety awareness on the main and affiliate college campuses.
---
September Evening Hours
September 8, 2022 - Our hours for September will be Monday-Thursday 8pm-midnight, starting September 8, 2022.
The pandemic greatly affected everyone, and Foot Patrol is no exception. The past two years saw us operating, but at a reduced capacity. This has resulted in fewer returning volunteers and senior volunteers. With things slowly getting back to normal, we hope to increase our number of volunteers. Once we do, we will be able to move towards longer hours and increased days of service. We will update our hours of operation monthly, and before that if there are changes.
News & Events
Volunteer Applications 2022/23
September 8, 2022 - Volunteer applications for the 2022/23 school year are now available! Click on the volunteer tab at the top of the page. Please download and save your application before completing. Completed applications can be emailed to wfp@uwo.ca.
---
Plain Clothes Walks
September 8, 2022 - We will once again be offering Plain Clothes Walks! This means we can walk you to your destination without our identifiable vests, so it looks like you're walking with friends. Just let us know whan you call or text via our app that you would like a Plain Clothes Walk!
---
Text For A Walk Home
August 27, 2020 - Foot Patrol now has an app! The app allows customers to chat online with our dispatcher to request a safe walk.  It also includes a call button, an area to report a concern (non-emergency), a map of our service areas along with other features! Available in the Google and Apple stores.