Who We Are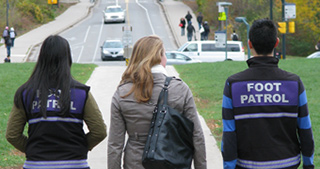 Western Foot Patrol is a volunteer driven service that provides safe escorts, walking you to your destination at night; deters crime through patrols; and promotes safety awareness on the main and affiliate college campuses.
---
Plain Clothes Walks
August 30, 2021 - We will once again be offering Plain Clothes Walks! This means we can walk you to your destination without our vests, so it looks like you're walking with friends. Just let us know when you call or text via our app that you would like a Plain Clothes Walk!
News & Events
Closed For Reading Week
October 29, 2021 - Our office will be closed November 1st-5th for Reading Week, for both safewalks and Lost & Found. We will resume daytime office hours and evening safewalks on Monday, November 8th. Have a safe and happy week!
---
Now Accepting Volunteer Applications!
August 16, 2021 - Volunteer applications are now available for the 2021/2022 school year! Download an application under the Volunteer tab at the top of this page. Completed applications can be emailed to wfp@uwo.ca.
---
Text For A Walk Home
August 27, 2020 - Foot Patrol now has an app! The app allows customers to chat online with our dispatcher to request a safe walk.  It also includes a call button, an area to report a concern (non-emergency), a map of our service areas along with other features! Available in the Google and Apple stores.