Who We Are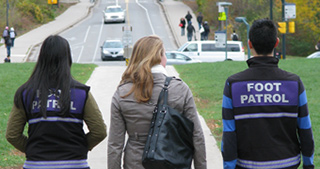 Western Foot Patrol is a volunteer driven service that provides safe escorts, deters crime and promotes safety awareness on the main and affiliate college campuses..
---
Lost & Found
April 30, 2019 - Lost & Found has been relocated to Campus Police for the summer. If you have lost an item, please visit them in Lawson Hall 1257, or email property@uwo.ca.
News & Events
Closed For Summer
April 30, 2019 - We are now closed until September. Lost & Found has been relocated for the summer to Campus Police in Lawson Hall. Wishing everyone a safe and happy summer!
---
Foot Patrol App
August 27, 2018 - Foot Patrol now has an app! The app allows customers to chat online with our dispatcher to request a safe walk.  It also includes a call button, an area to report a concern (non-emergency), a map of our service areas along with other features! Available in the Google and Apple stores.