FORGE AHEAD
Program Overview
FORGE AHEAD is a five-year program (2013-2017) that will develop and evaluate community-driven, culturally relevant, primary healthcare models that enhance chronic disease management and appropriate access to available services in First Nations communities across Canada. The program ensures culturally appropriate implementation and integrates knowledge translation by involving relevant stakeholders throughout the entire program.
The FORGE AHEAD research program incorporates a series of 10 inter-related and progressive projects designed to foster community-driven initiatives with type 2 diabetes mellitus as the action disease. Projects include both community & clinical readiness consultations, development of a diabetes registry & surveillance system, quality improvement activities, cost-analysis, and development of scale-up tool-kits.
Core Objectives
Assess
Assess community and clinical readiness to address and adopt chronic disease care.
Assess the current healthcare delivery, funding models, and best practices used in First Nations communities in Canada.
Enhance
Enhance patient access to available community resources for chronic disease care.
Implement
Implement and evaluate community and clinical quality improvement initiatives, including a cost analysis of activities to improve chronic disease management. 
Develop
Develop sustainment strategies and a scale-up toolkit to improve chronic disease management in First Nations communities. 
Explore Our Program

FORGE AHEAD on ADA TV
Learn about the foundation of FORGE AHEAD in this clip shown at the American Diabetes Association 75th Scientific Symposium.
FORGE AHEAD Team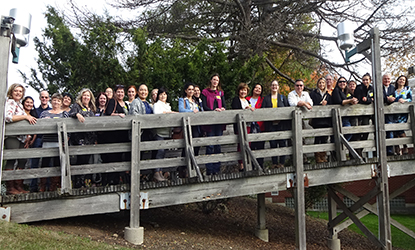 Meet our multi-disciplinary team of community leaders, healthcare providers and organizational partners from across the country.
Our Funding Partners
This program has been generously supported by The Canadian Institutes of Health Research, The Lawson Foundation and AstraZeneca Canada Inc.