Training Opportunities
Graduate Programs
Western's graduate program in neuroscience is unique within the province of Ontario, enabling students to obtain an M.Sc. or Ph.D specifically in Neuroscience. Learn More
---

Western's graduate program in medical biophysics
has a long and rich history of working with trainees who show great promise and aptitude for research. Learn More

Western's department of psychology offers graduate studies in many areas of psychology on a beautiful Canadian campus providing an excellent student experience. Learn More
---

Western's Graduate and Postdoctoral Studies offers a variety of resources for prospective and current students including information about programs and applications.
Learn More
---
Through various exchange programs, the Brain and Mind Institute aims to provide its researchers, students and external partners with extraordinary opportunities for enhanced learning, research collaborations and new funding possibilities. Learn More
---
The Brain and Mind Institute provided a funding opportunity for MSc or PhD applicants in psychology, neuroscience, medical biophysics, or another related discipline. Students from outside Canada were eligible to be nominated for one of four awards. 
Learn More
---
The Cognitive Neuroscience Cluster Fund supported up to 5 postdoctoral scholars each competition.  To see who has been awarded from past competitions, click here.  More p
ostdoctoral funding opportunities can be found on the BrainsCAN site.  
---
The Brain and Mind Institute has a new funding opportunity to support collaborative research projects conducted by BMI postdoctoral scholars from multiple labs. A postdoctoral retreat, for postdocs to learn more about this funding opportunity, will be announced later this fall, along with a call for proposals. 
Learn More
---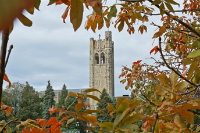 Western offers an extensive mentoring program to postdoctoral scholars to help strengthen CVs and maximize opportunities within the global job market. Learn More
---

Researchers in neurophysiology, psychology, and computer science at the Western University, York University, and Queen's University are teaming up to train the next generation of brain scientists. Learn More
---