Outreach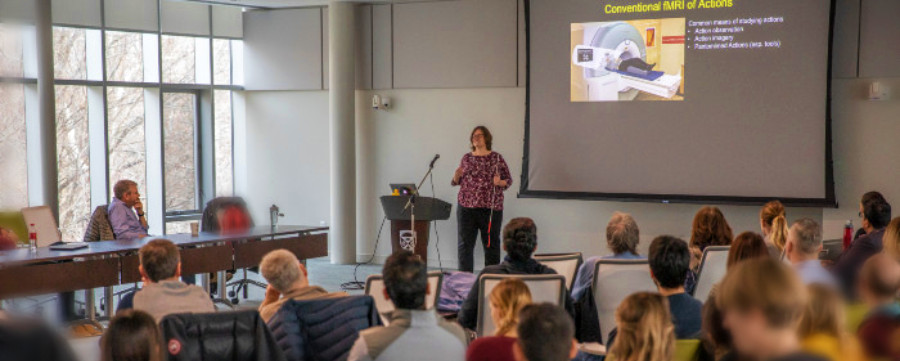 We appreciate assistance from our trainees, faculty, and staff to host groups like high school students, researchers, clinicians, and community organizations. Whether you are trained on specialized equipment or looking to learn more by helping, there is a spot for you. We need assistance with demos, tours and sometimes providing a short talk for events either on campus or off site. Individuals interested in gaining experience talking about their research with a variety of audiences may find this a rewarding experience. It also provides an opportunity to build your CV with extra-curricular involvement.
Community members who are interested in a first-hand look at the research happening are welcome to submit an inquiry. 
Please feel free to contact either Chantal Rochon <crochon4@uwo.ca> or Laura Gonzalez <laura.gonzalez@uwo.ca> with any questions.
Previous Outreach Events:
Brain Bee - London, Ontario
April 30, 2022
Organizers: Society of Neuroscience Graduate Students (SONGS) Outreach committee – Faraj Haddad, Aja Hogan-Cann, Karnig Kazazian, Harleen Rai, Marcus Doyle, Alaa Seif, Charlotte Liang
Volunteers (Neuroscience, Psychology, and BMI):  neuro.outreach@gmail.com
Winner: TBA
Funding Sources: The Brain and Mind Institute, The Department of Psychology, BrainsCAN, Schulich Medicine and Dentistry
2020 and 2021
Cancelled due to COVID measures
April 13, 2019
Organizers: Nicola Popp, Brendon Samuels and Faraj Haddad
Volunteers (Neuroscience, Psychology, and BMI):  neuro.outreach@gmail.com
Winner: Alessandro De Menech
Funding Sources: The Brain and Mind Institute, The Department of Psychology, BrainsCAN, Schulich Medicine and Dentistry, Government of Ontario Early Researcher Award to Andrew Pruszynski, The Purple Store and the Western Bookstore 
April 21, 2018
Organizers: Benedict Chang, Faraj Haddad, Nicola Popp and Brendon Samuels
Volunteers (Neuroscience, Psychology, and BMI): Abdullah Al-Jaja, Leah Brainin, Avyarthana Dey, Jessica Empringham, Celina Everling, Niveen Fulcher, Joyla Furlano, Melissa Liu, Alex Major, Christine Moreau, Mitch Nicholls, Natalie Ossowski, Kaitlyn Parks, Madhavi Prasad, Gabriel Soicher, Tamara Tavares, Madeline Taylor, Wesley Tin, Rajas Tipnis, Krystyna Wieczerzak and Deanne Wah
Winner: Ingrid Huang
Funding Sources: The Brain and Mind Institute, The Department of Psychology, BrainsCAN, Schulich Medicine and Dentistry, Government of Ontario Early Researcher Award to Andrew Pruszynski, The Purple Store and the Western Bookstore
April 22, 2017
Organizers: Benedict Chang, Heather McGregor, Scott Macdonald and Nicola Popp
Volunteers (Neuroscience, Psychology, and BMI): Abdullah Al-Jaja, Eva Berlot, Celina Everling, Pavlina Faltynek, Niveen Fulcher, Joyla Furlano, Aaron Gibbings, Faraj Haddad, Maedbh King, Rodrigo Maeda, Alex Major, Mark McPhedran, Natalie Ossowski, Brendon Samuels, Tamara Tavares and Deanne Wah
Winner: Fay Chong
Funding Sources: The Brain and Mind Institute, The Department of Psychology, BrainsCAN, The Department of Physiology and Pharmacology, SONA (Southern Ontario Neuroscience Association), Schulich Medicine and Dentistry, Government of Ontario Early Researcher Award to Andrew Pruszynski
April 16, 2016 
Organizers: Jordynne Ropat, Heather McGregor and Scott MacDonald 
Winner: Berk Rasheed
April 11, 2015  
Organizers: Alex Coros, Scott MacDonald and Heather McGregor 
Winner: Yao (Esa) Li  
April 5, 2014   
Organizers: Alex Coros and Scott MacDonald  
Winner: Brittany Smale  
April 6, 2013  
Organizers: Michael Barnett-Cowan, Scott MacDonald and Teressa McAdam 
Winner: Melanie Colvin  
April , 2012  
Organizers: Michael Barnett-Cowan and Teressa McAdam  
Winner: William Klanac  
April , 2011  
Organizers: Teressa McAdam  
Winner: Jamie Antonucci  
April , 2010  
Organizers: Teressa McAdam 
Winner: Pei Jun Zhaok  
April , 2009  
Organizers: Teressa McAdam 
Winner: Stella Park  
---
Canadian Medical Hall of Fame "Discovery Days" - London, Ontario
May 4, 2018
Keynote Speaker: Dr. Tavis Apramian Failure, Technology & Finding the Good in Both
Presenters: Grahn Lab - Music & the Brain II Workshop
May 12, 2017
Keynote Speaker: Dr. Sandeep (Sonny) Singh Kohli
Presenters: Grahn Lab - Music & the Brain Workshop
May 6, 2016 
Keynote Speaker: Dr. Nathalie Bérubé  Folding and organizing DNA in your brain
Sponsor: Dr. Cecil and Linda Rorabeck
May 1, 2015     
Keynote Speaker: Dr. Daniel B. Hardy Mentorship and Medical Research: A Personal Journey    
Sponsor: Dr. Cecil and Linda Rorabeck
May 2, 2014    
Keynote Speaker: Daisy-Mae Hamelinck One Person Can Make a Difference      
Sponsor: Dr. Cecil and Linda Rorabeck
---
Organizers: Denise Soanes, Jeff Brooks
Volunteers: Ashmita Singh, Mohamed Moselhy, Megan Fung, Minha Yoon and Justine Czajka
Presenters: EEG - Avital Sternin & Christina Vanden Bosch; TMS - Eric Taylor, Johannes Teselink & Celina Everling; Robot - Rodrigo Silva & Eshan Abolhasani; RRI - Jordan DeKraker
---
Banting Secondary School, Grade 12 Peer Leadership Class
---
MENSA London
---
Western's Movement Neuroscience course (KIN3480) taught by Dr. Vincent Liardi
---
Lambton Kent District School Board Enrichment Program