Undergraduate Programs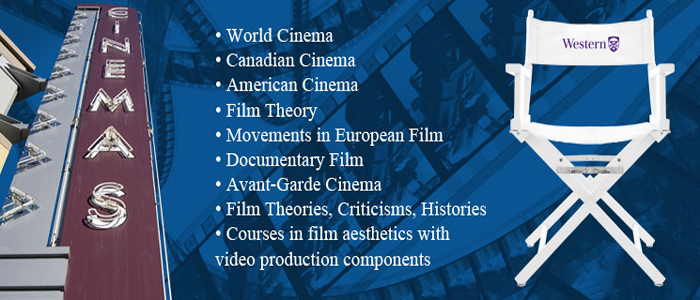 Critically engage in the art of cinema and explore the global and historical conditions that have made it one of the most influential forms of visual culture. Develop strong skills in critical thinking shaped by contemporary, interdisciplinary scholarship. All of our film programs offer the opportunity to study a wide range of contemporary and classic films. Narrative, documentary experimental film and video are examined within historical, theoretical and critical streams, with specific emphasis on the study of national cinemas. Attention to modes of film production, distribution, exhibition, and reception, places the study of cinema in larger social and political contexts. 
While Western's Film Studies Department does not focus on film production, we do offer courses in film aesthetics that include a video production component.
Get Involved!
WUFS is an organization with the goal of cultivating a new wave of budding filmmakers from the academic community. WUFS organizes film production workshops, film festivals, events, and their own publication, the Reel News. WUFS focuses on such areas as producing high caliber films for submission to the Western Film Festival. WUFS welcomes students with a passion for film, however lacking in productions skills, to join the organization and network with a group of like minded peers. WUFS isn't just about making films, it is also a group that organizes social events.
The annual $5.00 membership fee brings the student to the status of full membership which permits them entry into film production workshops, waives submission fees to WUFS festivals, allows them to contribute to the Reel'zine, and to also attend the annual end of the year film dinner party. Being a full member also gets you an invitation to join the Facebook page, where you can communicate with members.