MEET OUR PEOPLE
Janelle Blankenship
Janelle Blankenship specializes in 19th-century optical technologies; early and silent-era cinema; German film history, European avant-garde and popular science film. Learn more
Joe Wlodarz
Joe Wlodarz specializes in a number of areas including American cinema history, international queer cinema, African-American cinema, film theory, television studies, and more. Learn more
FROM THE ARCHIVES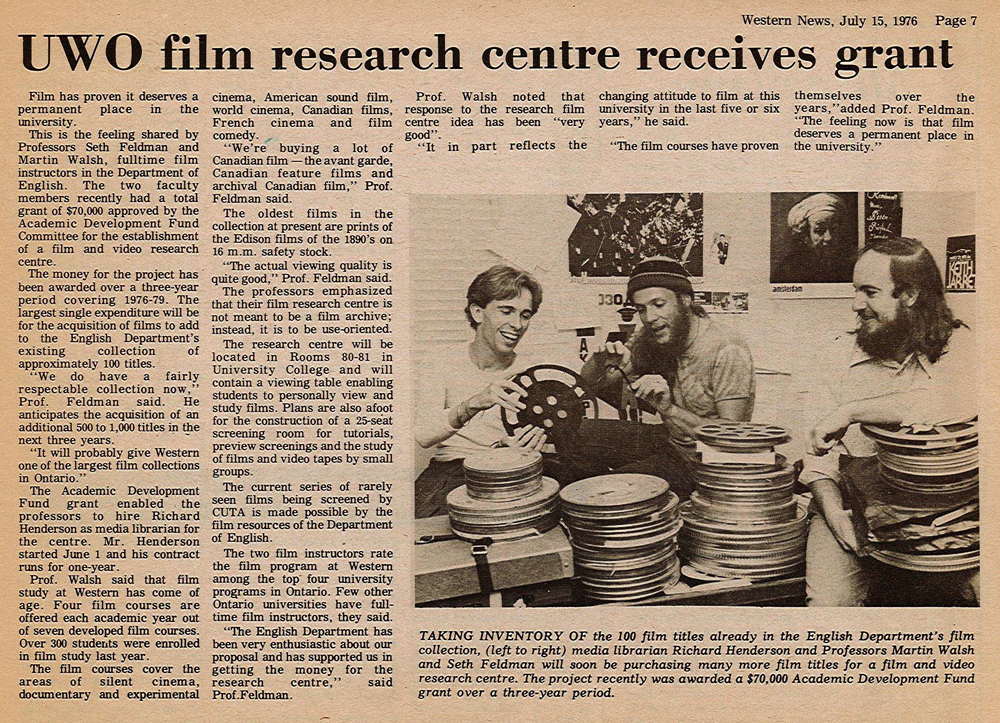 Film Studies 40 Years Ago – The Founding of the Martin Walsh Film Library. Learn more
ACADEMIC EXCELLENCE
KINO: The Western Undergraduate Journal of Film Studies

Point of View Magazine (Issue 82: "Focus on Education")

News

 Cameron Bailey, BA'87, Artistic Director of TIFF, comments on the current #OscarsSoWhite movement in The Globe and Mail.
---

Limina, the latest film by Florian Halbedl, BA'09 (Film Studies, Medical Sciences), left, and Joshua M. Ferguson, BA'09 (Film Studies), centres on an intuitive gender-fluid child named Alessandra. Read more
Western Film students take Best Short Documentary at Montreal Film Festival. Jayne Clarke, director, and classmates Sam McGuinness, Travis Pulchinski, Brad Capstick, and Angela Clemente won the prize for their film "Posted", a snapshot of Instagram celebrity Mina Gerges. View Film on Vimeo
What we offer
We offer several specializations and degree options that suit our students' needs, including a hands-on Community Service Learning component and internship option
Martin Walsh Film Library
With almost 9,000 titles, Western houses one of the largest University-owned film collections in Canada. It is open to A&H and FIMS faculty and students and also includes 8 viewing stations
Meet nationally and internationally renowned film and media scholars, filmmakers, and scriptwriters at one of our regular talks, workshops or film screenings. All events are free and are open to the public.