MEET OUR PEOPLE
Janelle Blankenship
Janelle Blankenship specializes in 19th-century optical technologies; early and silent-era cinema; German film history, European avant-garde and popular science film.

Joe Wlodarz
Joe Wlodarz specializes in a number of areas including American cinema history, international queer cinema, African-American cinema, film theory, television studies, and more.

FROM THE ARCHIVES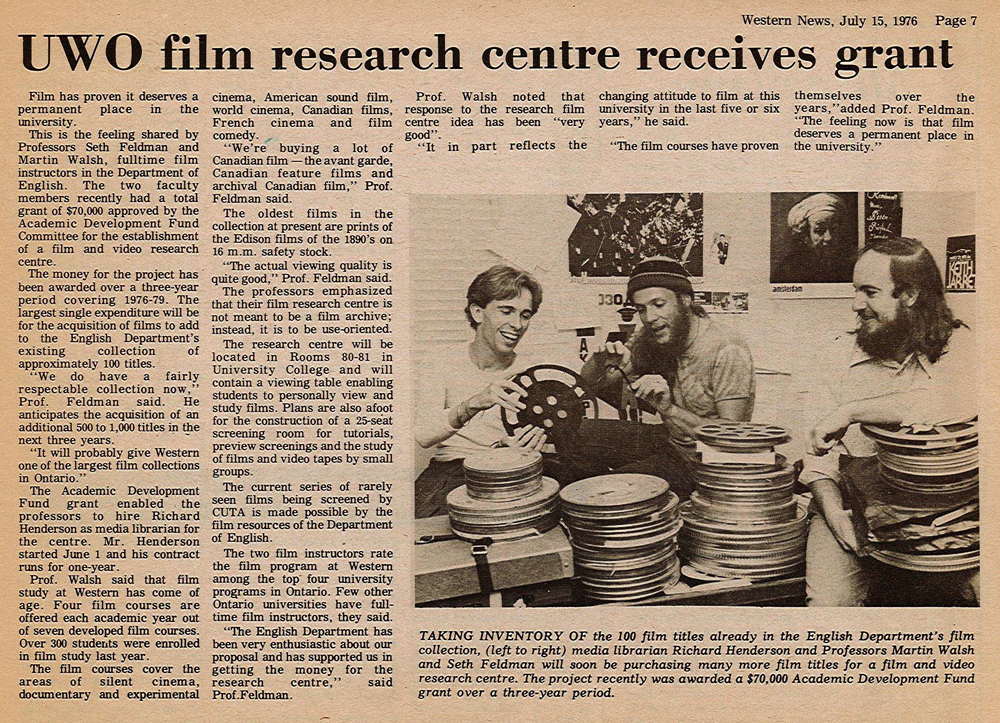 Film Studies 40 Years Ago – The Founding of the Martin Walsh Film Library. Learn more
ACADEMIC EXCELLENCE
KINO: The Western Undergraduate Journal of Film Studies

Point of View Magazine (Issue 82: "Focus on Education")

News
Directed by Film 1022 student, Jack Phoenix, Western students deliver a transcendent experience.
---
Honouring film and filmmakers from the region, showcasing new and compelling filmmakers and inspiring future filmmakers.
---
The Wall Street Journal reviews "Japan Sings - The Japanese Musical Film" at Japan Society, New York curated by Michael Raine.
---
Film critic Christopher Bourne reviews "Japan Sings - The Japanese Musical Film" at Japan Society, New York curated by Michael Raine.
---
Honors student Geoffrey Williams recently represented the Department of Film Studies at the Fourth Annual Society for Cinema and Media Studies Undergraduate Conference at the University of Colorado, Boulder (April 14-16, 2016). The Society for Cinema and Media Studies is the leading scholarly organization in the United States dedicated to promoting a broad understanding of film, television and related media through research and teaching grounded in the contemporary humanities tradition.
What we offer
We offer several specializations and degree options that suit students' needs, including a hands-on Community Service Learning component and internship option
Martin Walsh Film Library
With almost 9,000 titles, Western houses one of the largest University-owned film collections in Canada. It is open to A&H and FIMS faculty and students and also includes 8 viewing stations
Meet nationally and internationally renowned film and media scholars, filmmakers, and scriptwriters at one of our regular talks, workshops or film screenings. All events are free and are open to the public.