Current Research Projects
Rapid adaptation in introduced salmon in the Great Lakes – In my lab, we are interested in how individual variation contributes to the process of adaptation at ecological time scales. The proximity of introduced Chinook salmon populations in Lake Huron provide the perfect opportunity to study this problem in the field and in our hatchery at Western. Ph.D. student Mike Thorn is studying how environmental selection pressures affect early life history traits in multiple, reproductively-isolated populations. M.Sc. student Steve Sharron is comparing smoltification indices between a Lake Huron population and its ancestral population. Previous M.Sc. student Meghan Gerson studied individual variation in reproductive timing and resource allocation in relation to stream temperautre, and discovered a phenological mismatch because many individuals spawned too early in the season, when it was still very warm.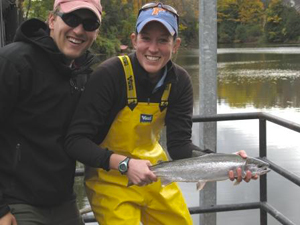 Stephen Marklevitz & Meghan Gerson at the Mill Dam, Owen Sound, Ontario
Female-only reproductive tactics – The strcuture of individual variation can vary from non-adaptive variation among individuals, to adaptive patterns of individual heterogeneity, polymorphism, and dimorphism (sexual or trophic). We have been studying the structure of individual variation in reproductive timing as a putative female-only reproductive tactic. M.Sc. student Yelin Xu is studying the role of growth rate variation on the expression of reproductive timing tactics related to arrival timing in kokanee salmon. Previous M.Sc. student Margaret Warren quantified the structure of phenotpyic variation in reproductive timing in kokanee. On the continuum of phenotypic structure, Margaret concluded that reproductive tactics were more consistent with adaptive individual heterogeneity than with a discrete dimorphism.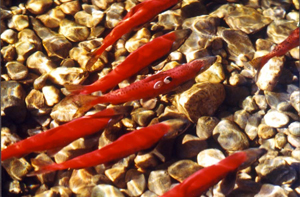 kokanee, Meadow Creek Spawning Channel, BC
Adaptation-by-time – Individual differences in seasonal timing may result from genetic adaptation of temporally-isolated components of the population or from state-dependent decisions (i.e., adaptive phenotypic plasticity). The phenomenon of a seasonal declines in reproductive lifespan is an excellent system for studying adaptation-by-time vs. adaptive phenotypic plasticity. In a collaborative project with Evelyn Jensen and Mike Russello (University of British Columbia), we characterized within-population variation at neutral and circadian-linked (e.g., OtsClock1b) loci, but found no evidence of reproductive isolation by time. Instead, we suggest that individuals may adjust their reproductive allocation - and therefore their reproductive lifespan - in response to their breeding timing.
Carry over effects of hatchery rearing and exposure to warm water temperatures – Carry over effects between life history stages are important contributors to individual variation - the raw material upon which selection acts. Ph.D. student Stephen Marklevitz is studying how hatchery rearing of Chinook salmon influences habitat use at multiple spatial and temporal scales. Previous M.Sc. student Dam Lim studied how early rearing temperature in a hatchery influences muscle morphometry and, in turn, swimming performance of juveniles. Undergraduate student Danielle Griffith studied genetic and material influences on the expression of carry over effects.
Phenology in birds – In many seasonally-breeding organisms, males arrive at breeding areas before females. This phenomenon is called protandry. I have long been interested in adaptive explanations for protandry in a diversity of taxa (e.g., birds, salmon, and butterflies), and in 2014, will start a new project to relate protandry to individual-level movement of migratory birds as part of a multi-institution and multi-agency telemetry project.
Intermittent breeding – In many long-lived and seasonally-breeding organisms, individuals may not breed annually after reaching the age at first maturity. In recent years, I have been studying this phenomenon of intermittent breeding as the outcome of a resource allocation strategy in lake trout. See my recent paper with Brian Shuter (University of Toronto and Ontario Ministry of Natural Resources) on this subject!