The Tea on the USC Accessibility Coordinator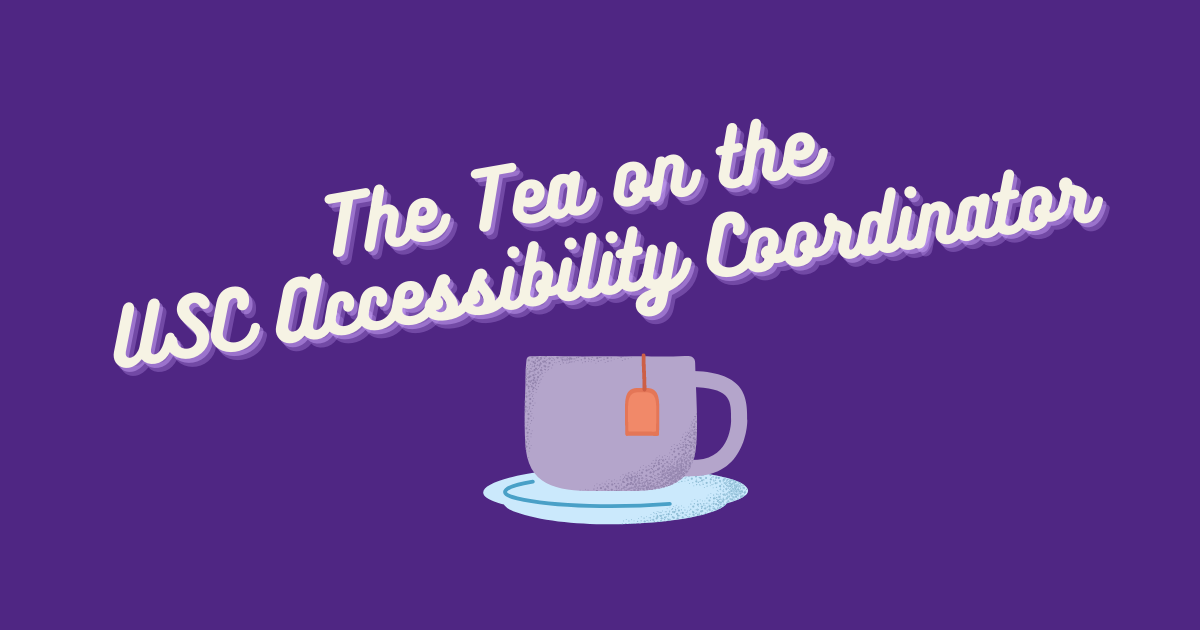 Podcast hosted by: Jalesa Martin + Elizabeth Mohler
In this episode of Accessibili-tea, Jalesa and Elizabeth sit down with Lauren Sanders who is currently a law student at Western. Lauren tells us about her experiences being the USC Accessibility Coordinator. Along with the committee, she also aims to make university a reality for every student no matter their abilities. 
Lauren also tells us about programming and events that the USC Accessibility committee puts on, including an event to explain everything students need to know about accommodations. She noted that as a disabled student herself, the process can often be frustrating when you don't know where to turn for accommodations. 
In addition, Lauren shares about her personal experiences with an IEP, and how she took on the role of an advocate from a young age. She tells us about the importance of accessibility being viewed as something that is necessary, and how hearing the struggles of other Western students highlights the importance of accessibility initiatives such as the USC Accessibility Committee. 
She notes that the privileges she has have encouraged her to advocate for others to receive the accommodations they need despite pushback from professors and other staff at Western. 
The episode ends with us chatting about the fact that in-person classes and events don't work for everyone, and the importance of the administration considering the different needs of students. 
Lauren stresses the importance of considering cases where protocols aren't followed and the need to enforce boundaries. 
To learn more about these topics in-depth, tune into the episode now! You can listen below or check it out on Anchor, Google Podcasts, Breaker, Radio Public, Spotify, or Pocket Casts. You can also access an accessible transcript of the interview below.  
To learn more about Lauren, you can follow her on social media on Instagram. Stay tuned for the next episode where Jalesa and Elizabeth will be talking to Sohini about her experience as an international graduate student with a disability. 
Listen now...
Jalesa
00;00;05;03
Hi, everybody, I'm Jalesa!
Elizabeth
00;00;07;06
Hi, everyone, I'm Elizabeth.
Jalesa
00;00;09;21
And today we're going to be spilling the tea with Lauren on the USC Accessibility Committee.
Elizabeth
00;00;15;22
So sit back, grab your cup and get ready to sip of some hot tea.
Elizabeth
00;00;23;26
So Lauren, thank you so much for being here with us today.
Elizabeth
00;00;27;03
We are so stoked to have you with us to talk about accessibility at the USC, but wondering to kick us off if you can tell us about yourself and your current program of study.
Lauren
00;00;40;16
Absolutely. And I just want to start by saying, thanks so much for having me.
Lauren
00;00;46;04
I really think this podcast is great for connecting with students about accessibility issues and spilling the tea on accessibility. So I am just so excited to be here today. Little bit about me. My name is Lauren. I guess that's obvious already.
Lauren
00;01;06;24
I am currently in the J.D. program, so I'm a Western law student and I'm part time. So I've already done half of my first year courses and I'm doing the other half right now. So I call myself kind of a 1.5 L and I'm loving it.
Lauren
00;01;24;14
I think it's a great program, great people.
Elizabeth
00;01;27;21
So what is a part time program look like? And just for those of us who are not in the legal field, can you can you give us a little a little bit of background on what that means?
Lauren
00;01;39;12
Totally, totally. So J.D. is a juris doctor, and it's just like, you know how a Bachelor of Arts is a B.A. or Bachelor Business Administration is a b b a. It's just like another designation like that. So it's just called the J.D. and it's what you get in Canada when you finish a law degree.
Lauren
00;02;01;04
So part time is something I am super excited about, something I love talking about because I feel like it is a more accessible option for going through schooling and especially a program like law where there is a huge crowd of like hours required.
Lauren
00;02;19;01
I think not even just people with disabilities, but people with other life situations that require a lot more balancing and have a little bit more trouble with that full on full time commitment. Like, for instance, people with kids, you know, people who are also working their way through school could see part time as a great option.
Lauren
00;02;39;21
And I know with law, it is a little bit selective in terms of whether you can be part time or not. But if anybody's interested, I'd say just, you know, read up on it. There's some good information online.
Lauren
00;02;51;27
Absolutely reach out to, you know, administrative people who can help you out with that because I would say, you know, it's nothing to be ashamed of or anything like that. I think it's a great option. And so definitely, if you're interested, check it out.
Jalesa
00;03;06;15
Yeah, thank you so much for sharing. I honestly didn't know that law school could be a part time thing, so it's really cool to know that Western offers that for students. So I know we mentioned in the beginning of the podcast that you are the USC Accessibility Committee coordinator.
Jalesa
00;03;21;28
Can you share a bit about your role with the USC Accessibility Committee?
Lauren
00;03;25;18
Yeah, I love the committee. I've been on the committee now for two years. This is my second year and in the first year I was a student outreach coordinator and I thought that was amazing.
Lauren
00;03;38;06
I had such a fun time with that. And then this year I stepped into the coordinator position, which has been really cool. It's been a huge learning experience. You know, now I see so much more of the like organizational side of things and the planning side of things, whereas before I was more like just doing kind of
Lauren
00;04;01;25
set things with the role. And now I'm kind of seeing a broader picture of all of accessibility. I have a great team guy to mention that I love my team, wonderful people. And, you know, they're all really dedicated to accessibility here at Western, which is amazing.
Lauren
00;04;20;09
It's amazing to have so many people who care about accessibility issues. And yeah, I really enjoy it. I think our mandate really just sums it up best. We're just trying to make Western the most accessible. It can be for the highest number of students, no matter what the accessibility concern is, what the problem is.
Lauren
00;04;41;05
We want to be there, whether they have a disability, whatever type of disability they have, we want to make university a reality if that's something they want.
Jalesa
00;04;51;17
Yeah, I think that's super important in just making university accessible to everyone.
Jalesa
00;04;56;18
So what are some events and programing that the accessibility committee puts on?
Lauren
00;05;02;16
Yeah we've got a number of really cool events kind of happened already. We were kind of involved with an early event just at the concrete beach to show people who we are.
Lauren
00;05;14;17
And that was kind of like a walk through event. But I think we got some good interest. And then we had one super exciting event all about accommodations, which was a really positive experience, talking about really everything students need to know about how to register for accommodations, whether they're accommodations for exams or they are accommodations for the
Lauren
00;05;38;15
classroom, how to go through that process, who to talk to. And I know firsthand, I'm a disabled student how frustrating that process can be, how hard it can be when you don't know where to turn, especially because with a university, especially a big university like Weston, there's so much of an organizational hierarchy within the administration it is hard
Lauren
00;06;01;21
to know who the right person to reach out to is. So we were very happy with how that event went, and we have another event coming up. Just a brief plug for that because I'm super excited. I think it's going to really also be incredibly intersectional, which is something I really want us to focus on this year , so I'm super excited.
Lauren
00;06;21;04
The event is called Combatting Imposter Syndrome. It's November eleven at 7:00 p.m. It's going to be a collaboration with us. So you see accessibility, and ISS, the international students society because I feel like those are two big groups where not only imposter syndrome, but the related issues of burnout and the mental health effects
Lauren
00;06;43;17
really are felt strongly. So it's going to be a really intersectional look at how to deal with imposter syndrome, how to move past it, how to fight burnout, all that' stuff coming up, as I said, November eleven, 7:00 p.m.. I'm super excited about it, and I hope, well, I hope we get a good turnout because I think it's going to be really educational, really informative and really fun.
Elizabeth
00;07;07;17
Lauren, that sounds incredible. I have two questions, but I'll start with the first one. I think that this is a really important topic around imposter syndrome. And so thank you for holding a space for students to talk about it.
Elizabeth
00;07;21;07
But do you think that having a disability can impact one's sense of imposter syndrome, perhaps around needing to ask for accommodations and perhaps needing to do things at a little bit of, a little bit of a different pace using crip time, as some folks would say, how do you think that might impact imposter syndrome?
Lauren
00;07;41;03
Elizabeth, I love that question. We're totally going to talk about that at the event, but to answer it a little bit now, I would say easily 100%, 100%. Having a disability does impact the experience of imposter syndrome. It makes you much more likely to have imposter syndrome.
Lauren
00;07;59;28
It makes imposter syndrome harder to combat. It's because you're looking at yourself, no matter how talented you may be, how smart you may be, how driven, ambitious. No matter all those wonderful personal characteristics you have, you might get into this mode where you're comparing yourself to people who don't have disabilities, and suddenly it looks unfavorable.
Lauren
00;08;20;01
Suddenly, it looks like, Oh, well, I take more time than this other person. So. So why would a company hire me? Or, Oh, if I need an accommodation that's costing people money, you know, maybe I'm not worth that.
Lauren
00;08;34;11
Maybe I shouldn't go for something like that. If that's going, I need an accommodation or whatever type of different, different experience that you might need just because of your disability. And I will say, you know, it is a huge problem among people with disabilities to just suffer from imposter syndrome and to suffer and not know how to
Jalesa
00;08;56;04
get help and not know how to get out of that. So that's something we will absolutely be working on and focusing on with this event. But I love that you brought that up because that is that is a big issue and a big topic.
Elizabeth
00;09;11;23
Absolutely, for sure. And you know, your your role around accessibility is really, really critical. But what does accessibility mean to you?
Lauren
00;09;20;28
For me, accessibility, it's about no barriers. I think in an ideal world, everybody would be able to do and to participate to the fullest extent in anything that they want to do.
Lauren
00;09;36;05
I think accessibility people act like, honestly, that it's like an additional thing, like it's an extra thing. And I say we shouldn't be doing it that way. We shouldn't be thinking about it that way. Accommodation to create accessibility, to allow a disabled person to participate is not something extra.
Lauren
00;09;56;07
It is the minimum. It is the bare minimum everybody. Regardless of their disability, should be able to participate if they want to. And that's what accessibility is not saying Oh, they need x thing. Oh, it's too much money, it's too much work.
Lauren
00;10;12;24
It's not, it's not. It's the basics. It's letting people have the life that they want, the life they deserve and participate fully in society. I mean, the accommodations are honestly a human right. That's just my opinion.
Jalesa
00;10;30;24
Yeah, I think it's a great opinion and just, you know, I really appreciate how you emphasize the fact that accessibility should be the standard and everyone should have be at the same level and have the same opportunities to pursue the things that they want to pursue. So I can tell you're very passionate about accessibility in general and at Western, and we were wondering what motivated you to take on this role as the accessibility committee coordinator?
Lauren
00;10;56;18
Well, for me and I think for a lot of people with disabilities, you kind of grow up being your own advocate and, you know, whether it's an IEP and going to those meetings and IEP for those who don't know an individual education plan.
Lauren
00;11;12;15
So that would allow you to have certain accommodations throughout school and starting in elementary school. I had to be going to those meetings with the IEP and talking to the teachers. And, you know, my parents were there, of course, helping me out and supporting me, and that was wonderful.
Lauren
00;11;30;29
But, you know, it really was starting to take on the role of an advocate for myself from a very young age, and that had always been something that stuck with me. You know, I'm lucky I do have parents that care about these things, and I'm lucky that I have the ability to advocate for myself.
Lauren
00;11;50;17
And not everybody is in that situation, and it just got me thinking about, you know? How to make it more of a reality for everybody that they can have a good school experience, the accommodations that they need. And so was something that was always in the back of my mind.
Lauren
00;12;08;17
I don't know. I came to Western, you know, being in law school and needing more accommodations by being part time, it was something I was thinking about even more. And then I heard of the accessibility committee. And at the time, it was run by Emily Good, who I can't say enough good things about.
Lauren
00;12;28;10
She is amazing. She's fantastic. She really, really made me feel like part of the team. And I just really loved the experience I had being on the team, doing student outreach last year. And, you know, she was moving on and they were looking for a coordinator and I was like, You know, this is something that I really enjoy this something I'm really passionate about it. Why don't I just throw my hat in the ring? Why don't I just see you know what happens? I'll apply. Maybe I'll get it. And I was very, very happy when I learned that. I did get the position, and it's been something that I've been working on since the summer, trying to plan our events trying to hire people. And I think it's all coming to fruition now, getting our team doing the work.
Lauren
00;13;22;07
I mean, we had our first peer discussion event recently and we're going to be having those throughout the month. I think it's going to be on a monthly basis throughout the month. And I think it's going to be really good.
Lauren
00;13;36;28
I think we're really coming into our own now as a committee, and we did so many great things last year. I'm just excited to continue that tradition that Emily set.
Elizabeth
00;13;48;00
And why do you think that this work is important?
Lauren
00;13;51;05
You know, my personal experience as a person with disabilities has always made me think about accessibility from an early age as something that was necessary because it was what I needed to participate, I guess. And then coming to university more spaces where more people were disabled, I didn't grow up knowing a ton of people who were disabled.
Lauren
00;14;18;18
But going into those spaces where more people were disabled are just sharing their struggles. Last year, what I was doing student outreach, I ran the peer discussion groups and we would have students come and they would talk about professors honoring their IEP.
Lauren
00;14;35;09
They're talking about being really treated with disrespect by the administration and by professors for trying to get the accommodations they need. And that's just what made me realize, you know, as lucky as I've been to have a comparatively easy time getting accommodations earlier on in life, you know, that's not everybody's experience.
Lauren
00;14;57;26
And if I have the privileges that I have to advocate for myself, I should turn that around. I should help other people to advocate and you get the accommodation that they need. That's just, you know, it's important to me that we lift each other up, that we see ourselves as a community.
Lauren
00;15;18;13
I think there's a lot of value in the disabled community and that we work together to kind of help each other and create change.
Jalesa
00;15;28;29
So, you know, you mentioned, you know, you ran the discussion groups and a lot of students mentioned various problems are facing and we did discuss that have been their very first episode.
Jalesa
00;15;39;26
But we're wondering what is the biggest challenge you've had during your advocacy work during COVID 19?
Lauren
00;15;46;17
Yeah, COVID has been well, it's really changed the world. It's I believe it's changed, you know, almost everything. And it's it definitely has led to more issues with accessibility like COVID has caused definite problems for us.
Lauren
00;16;05;20
It has also shown the way or paved the way to a pathway of solutions. And I guess I'd say my biggest challenge coming into things this year, the second year of COVID is the access hostility that we're facing and feeling from the administration and from professors and stuff.
Lauren
00;16;24;28
So I'll just give an example, because I know that may be kind of a niche term. And so let me just give a brief example in COVID during the COVID pandemic, we had a situation where unprecedented amounts of learning and university education was being done online, and there were setups with Zoom classes where the professor would be, you know, on camera and students could stay at home. There could be captions, there could be recordings, you could listen to it back. If you wanted to, not every professor was a techy and not everything was recorded.
Lauren
00;17;03;18
And certainly, technology was not all smooth sailing. But the idea of recording a class and allowing the students to enjoy it at home was something that a lot of people who came to my peer discussion groups last year said, Look, that's something I want to continue.
Lauren
00;17;19;29
And in fact, that's something I've been asking for, you know, asking the administration for for maybe years throughout my university education, they've said, No, no, it's too expensive. No, it's a copyright. Whatever the problem is, it's been no, no, no for students with disabilities who are looking for those accommodations.
Lauren
00;17;41;08
Suddenly, COVID hits. Suddenly, it's not just students with disabilities, it's everybody who needs that accommodation. And it's yes, go there. Yes, all my learning is just as good, which that's debatable. But anyway, the point is when it was a problem for disabled students, it wasn't a problem the administration cared about and when it's a problem for everybody.
Lauren
00;18;02;06
Suddenly, the administration stepped in. And now what I'm saying about access hostility. Is what's happening now is they're rolling back those accommodations. The administration, even though they knew it could happen, even though they had it, happen last year, even though it worked last year for everybody now that it's disabled students who are looking for those accommodations instead
Lauren
00;18;23;07
of the general population instead of everybody. The administration is, well, no, we don't want to do that either format. It's too much work, it's too much or whatever. And that's access hostility. That's them saying we could for other people, not for you.
Lauren
00;18;38;04
You don't deserve it. You know, it's that's an attitude that's really, I think, the biggest problem when we think of accommodations as extras, when we think of accommodations as something just for disabled people, not something to make all people learn better, not something to make everybody at the university have a better learning and have a better chance in whatever format that works for them. Because let's be clear, it's not just people with disabilities who are looking for those kind of accommodations. It's parents, the people who work. It's whatever the situation is. It's not just people with disabilities, but the the the administration.
Lauren
00;19;23;23
They're just not interested. If it's not everybody, and I think that's a real shame, and I think that's our biggest problem during COVID is trying to make sure the administration doesn't roll back those services, you know, try to convince them of the importance of keeping those in place for students who need them.
Lauren
00;19;44;11
And it's been an uphill battle for for sure, absolutely. But we keep fighting and hopefully, hopefully we turn things around.
Elizabeth
00;19;54;19
You know, it's really interesting because you're kind of what you reminded me of is that accessible learning is not special learning.
Elizabeth
00;20;01;16
It's frankly learning that that benefits everybody. But it's it's an interesting point you're making about the concerns around the workload and how how perhaps making something accessible could be seen as more work. And I wonder, as somebody who who is a teaching assistant and who is only paid for the time for that semester that we're allotted or a sessional whose only again paid for a certain number of hours. How could we support faculty and to in sort of making things more accessible and feeling like they have the support to to do that? Given that for a lot of us, we have caps on hours and it's an honor, frankly, to make a course accessible or to make something accessible within a course that I know is going to benefit everybody. But if it does take more time, how can how can the institution support that?
Lauren
00;20;56;09
I think that is such a great question because I think that is a big concern and that is a big issue, especially since our energies are out here doing the most, most, most here is anyway.
Lauren
00;21;10;29
The vast majority are doing, you know, absolute tons of work for that position. They are. They are really underappreciated. I would say so shoutout to the TAs because they're doing, they're doing great work.
Lauren
00;21;27;01
And, you know, it is hard. It is hard to make something accessible and it does take time. But I would say there are technology services that can make that so much easier, whether it's captioning whether it's, you know, whatever the actual thing that you're trying to accessible is, it would depend on what you're trying to do, right.
Lauren
00;21;46;15
But I'd say using technology to the fullest extent you can is is a big solution, and I think that's something a lot of professors are not super confident in. Maybe they're not as experienced with technology. Maybe they're a little bit older.
Lauren
00;22;04;05
They don't have those those life experiences, but you as a TA if you could come and say, look, Captia like the capture program is amazing, like this is worth spending the money that will make things so much easier.
Lauren
00;22;16;15
Like, instead of manually going into action and having those captions, also, they're all read that and, you know, just leading into technology in general, like when you have a PowerPoint making sure that all the images can be read by a screen reader.
Lauren
00;22;31;19
I mean, that's it's a bit of an extra step. But if your images are important or you're content and you have diagrams and you're learning and they can't be read by a screen reader that is a problem, you know?
Lauren
00;22;44;02
So it's about learning and just learning into the technology we have leaning into the supports we have available. And, you know, petitioning the administration, if there's if there's not enough support for professors and teachers to make stuff accessible.
Lauren
00;23;00;09
Well, they're they're required to make stuff accessible, like that's the law. They have to follow the law. They have to fulfill the requirements of the IEP. They can't say, well, that's too much work, I don't want you, that's not OK.
Lauren
00;23;14;10
And if it's too much work and they're having genuine troubles, then they should be supported by the administration, not just profs, but TAs who are doing that work should be supported by the administration to make sure that everybody is able to have a good learning experience and that are wonderful TAs in our professors don't get too overwhelmed and burnt out, so you know it takes it takes a village, as they say, but. Yeah, I firmly believe that that's that can help us, so.
Jalesa
00;23;47;17
Yeah, I think that's definitely some great advice for TAs and I know you mentioned this with being in the second year of COVID 19 and classes going back in person, there's still a large group of students with disabilities who are not getting the accommodations that they need because it's no longer considered, quote on quote necessary for students who may not have accessibility issues or have a disability.
Jalesa
00;24;12;17
So what suggestions do you have for faculty, staff and administration as western opens back up and you start back to in-person events and classes?
Lauren
00;24;23;01
Honestly, I think for me, the most important thing to remember as we're transitioning towards in-person is just that in-person does not work for everyone, and there's probably going to be a number of years where there are people who, for whatever reason, are left out of the returned in-person classes if you're immunocompromised. It can be very difficult even now with the vaccine to say, Look, I'm going to go enjoy in-person classes. Getting an infection that may not be a big deal for a lot of people could be very, very serious, and they won't have that ability to come back into the classroom until things have really gone beyond where they are now. And especially since the classrooms I have been to have not been socially distanced and there have been people wearing their masks improperly.
Lauren
00;25;16;25
There isn't a lot of support going on at the school. There's not a lot of checks and balances like you go into the building. Nobody stops you. Nobody asks you, even if you've completed the symptom checks. It's not important.
Lauren
00;25;31;03
It's important. It's super important. I don't mean it's not important for students to do. I mean, it doesn't seem to be important in the eyes of the administration to enforce that boundary, I put boundary in quotations. You can't see me when I'm doing the quotations.
Elizabeth
00;25;48;04
Thank you for the audio description, Lauren. I love that. I love that it's more accessible, right?
Lauren
00;25;55;14
That's right. Yeah, absolutely. So it's not a real boundary. You know, students could become any classic and the administration wouldn't know because they're not checking who is doing the symptom check or anything like that.
Lauren
00;26;11;15
When you go to the classroom and you put your little western card on the thing that's not tied to the results of your symptom, check whether or not you're led into the classroom. And there's no social distancing in the classroom.
Lauren
00;26;24;23
Like I said, everybody is literally seated beside each other. A lot of professors have urged plastic shields at the front of the room, and then they move it out of the way. They just move it to the corner.
Lauren
00;26;36;00
They're like, Yeah, it's it's irritating, right? We'll just move it. And that's not accessible either. Like, that's being put in place, you know, as a safety mechanism. And you shouldn't you shouldn't really be doing that. And then people wearing their masks wrong or people just not wearing masks, you know, you're supposed to be wearing your mask whenever
Lauren
00;26;57;14
you're on campus, not just when you're in the building. And you know, there's it's under the chin, it's under the nose. Different ways to wear a mask. Yes, exactly how different ways none of them correct.
Lauren
00;27;15;06
And so it is. That's, I think, the biggest challenge. Yes, the majority of people will be going to in-person and I'm in person. And, you know, for all the challenges, I am happy about it because I do feel it's easier to focus for me personally when I'm in person.
Lauren
00;27;31;02
I do like having that, that in-person relationship with people and getting to hang out in person. I think it's good. I think it's something to work towards. But I think it's also important to recognize that that is not something that everybody can participate in safely now, or maybe even safely a few years in the future.
Lauren
00;27;52;14
And to make sure that students are being left behind because of that.
Elizabeth
00;27;56;26
You know, I think those are those are really, really important points that you're making. And why do you think? Because I actually have seen I don't want to call them hall monitors because it sounds like we're back in grade five.
Elizabeth
00;28;05;27
But I have seen lovely folks when I've gone into Middlesex College that that basically are there to ask if you're OK and make sure you're wearing your mask. But I'm not seeing that in all buildings. And so why do you think there's this sort of gap in kind of monitoring and ensuring that we have a safe campus from from our leaders?
Lauren
00;28;27;24
I got to say that's great that you're seeing that at the Middlesex building. I haven't really seen much of that. I only basically go to the building and I haven't seen a ton of that.
Lauren
00;28;40;15
I did. See you one day, somebody telling people who were sitting kind of on sided, sorry seated on couches that they there couldn't be people on both couches, it had to be like people on one couch or people on the other couch.
Lauren
00;28;57;12
I see other days where there's like four people on each couch and like loads of people there. So I feel like there might be, you know, attempts by the administration to monitor things that I'm just not aware of.
Lauren
00;29;11;10
But I think it's a bit sportier than than we would necessarily think is necessary to kind of look after everything. So maybe it's just a personnel staffing issue. Maybe it's just the issue of people not being in the right place.
Lauren
00;29;33;28
I don't really know why this is happening, but yeah, it's it is something to keep in mind if you're thinking of returning to campus.
Jalesa
00;29;45;24
Yeah, I think it is really hard because you know I'm immunocomprimised as well. And when Western put out the mandate, you know, I felt safe.
Jalesa
00;29;52;14
I felt excited that I could go back to campus and that there would be enforcements in place. But just hearing that that's not a thing is definitely very disappointing. So we're going to take a step back and go back to the beginning of the interview when we talked about your role as the accessibility committee coordinator.
Jalesa
00;30;11;23
So how can students who are interested get involved with the accessibility committee?
Lauren
00;30;16;26
Yeah, that is a great big question. We haven't had a ton of engagement, and I think it might be people not knowing how to reach out to us.
Lauren
00;30;26;27
So I think that's just great. Hopefully, I can clear things up and we can get people able to connect with us all the better so they can come to our events. And just even we have like social media stuff with different educational stuff as well.
Lauren
00;30;43;04
So we we try to have a good amount of there for people. Yeah. In terms of getting in touch with us, lots of different options on Facebook, which is just your accessibility. If you just search out on Facebook, it comes up.
Lauren
00;31;01;25
It says Western. Our thing is like a purple or logo is a purple circle with a bunch of white figurines representing different disabilities and accessibility solutions. So there's a little figurine that's in a wheelchair. There's a little figurine with a white cane, for example.
Lauren
00;31;22;28
That's us. Check us out. We have lots of posts about our upcoming events and the Zoom links, and everything can be found there. We also have an Instagram. Again, if you just search the accessibility, we come up. Yeah, same logo.
Lauren
00;31;39;07
So. Really good stuff there. Most of our Facebook stuff is going to be on our Instagram as well, so if you're more Instagram, you can check us out there. I will plug my email, I guess, in case people want to get in touch with me, I do get emails actually, even after the accommodations event, I've gotten a
Lauren
00;32;04;15
couple of emails of people being like, Yeah, you know, I don't know how to do accommodations or I'm having trouble with accommodations. And if you do have questions about accommodations, I will say it's probably best to talk to your counselor because there is a real limit to what we can do as just being a student council base
Lauren
00;32;25;09
committee. But any questions you have, I'm happy to put you in the right direction. Don't be afraid to email me, even if you think it's something that's maybe not exactly what we do. We're all about increasing accessibility for students, and if that just means hooking them up with the right people, then that's something I'm absolutely happy to do, and I'll just plug my email here. Accessibility at western USC.ca. That's all small letters. And I'll say it again, accessibility at Western USC.ca. That's me. You can reach me. I'm usually pretty good at responding within 24 hours.
Lauren
00;33;12;28
48 hours is usually my max unless it's the weekend. So, yeah, totally, totally great info.
Elizabeth
00;33;20;06
Lauren, thank you. And just final thoughts. Is there anything that you'd like folks to take away from the interview and any kind of final things you want to share with with our audience today?
Lauren
00;33;31;09
Yeah, I just want to say to all students at Western and to particularly all students who live with disabilities or accessibility concerns or Western, you are not alone. You have a community behind you with so many great students and so many great people and you you really belong here. Don't don't let people think or don't let people make you think so that you that you don't belong in the university just because you have accommodations or just because you're disabled, because if you want to be here, you should be here.
Lauren
00;34;14;16
And that's period. Don't let professors tell you that your accommodations are too much work. You know, stand strong because you deserve every accommodation that you get and you deserve the best education that you can get. And that's all.
Elizabeth
00;34;34;17
Thank you so much. That's beautiful, and we really appreciate that. We got to talk with you today.
Lauren
00;34;42;03
Thank you so much, Elizabeth and Jalesa, this is amazing. I'm so happy to have gotten this chance to really chat with you guys.
Lauren
00;34;51;07
Love the podcast! Like I said, I'm super happy to be part of it.
Jalesa
00;35;00;27
Thank you so much for listening to this episode of Accessibili-tea.
Elizabeth
00;35;05;08
Stay tuned for next episode when we sit down with choking me to learn a little bit about what it's like to be an international student with a disability.
Check out more episodes!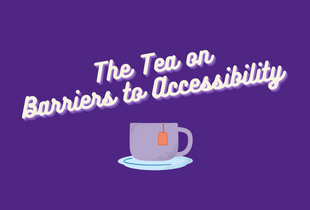 In this episode of Accessibili-tea, Jalesa and Elizabeth sit down with accessibility advocate, Melanie Stone.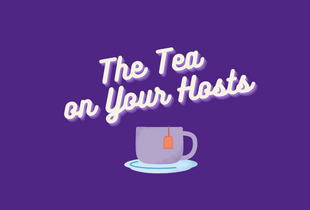 In this episode, get to know Jalesa and Elizabeth, the hosts of the Accessibili-tea podcast!
---
Published on