Clare's CEL Experience with Participation House
By: Clare Elizabeth Finlay, 3rd Year Criminology 
Take a listen to this podcast episode to learn about Clare's CEL experience! She talks about the work she did with her community partner, Participation House, skills she's developed, and more. 
Take a listen or follow along with an accessible transcript...
Podcast Host:
Welcome to the Western Friends podcast. Today, we'll be talking about an amazing program right here at Western University, students are given the opportunity to make a difference in the London community, working with different organizations through the Community Engaged Learning program.
Podcast Host:
Joining us today is Clare Finlay, who will be speaking on her experience with the program. Can you introduce yourself and what project you have been working on this year?
Clare:
Thanks for having me.
Clare:
My name is Clare, and I am currently completing my third year here at Western and I am in the criminology program and I took a course this year, Sociology of Deviance, in which I was able to participate in the community through the Community Engaged Learning program in which we were given a partner.
Clare:
I worked with Participation House, and so the program that we created was a pen pal program, which allowed students from Western to communicate, send letters and emails to members of the community in London who have a disability.
Podcast Host:
What skills have you developed through your experience?
Clare:
I have developed many skills, and this includes teamwork, collaboration and even business etiquette. So to start with teamwork and collaboration, we were first assigned to work with a group.
Clare:
Our group consisted of five different members, as well as our community member,which was from the Participation House. So through this experience, I never really collaborated with a team like this before, and it just gave me so much practical knowledge about how you're supposed to work with people, especially during Covid. I wasn't really familiar with Zoom or some of the other programs we communicated through, and this taught me a lot about not only how to work as a team, but also work remotely as a team, which I feel like will be more relevant in the upcoming years.
Clare:
The next aspect where I developed a skill was business etiquette. And this isn't something that's necessarily taught in a classroom and it's taught through real life experiences.
Podcast Host:
Was there a significant moment, in your experience, that stands out?
Clare:
The most significant experience that I had for this program that really stands out to me is when I first received my letter from the community partner at Participation House.
Clare:
I was so excited and it just showed us, especially my team that have been working so hard to set up this program, that this program is actually impacting the lives of community members in London. And it's making a difference in not only their lives, but my life as well.
Podcast Host:
How has your experience influenced your goals and or understanding of self?
Clare:
This experience has influenced my goals and understanding of self. Before this program, I haven't done much work with the community or even volunteer work. And so I was really excited to get started on this project. It kind of redirected a lot of my goals because it made me realize how important working with the community is and how I want to volunteer more in the future. I think that this was just a great way to understand myself.
Podcast Host:
Thanks for listening to Western friends.
Podcast Host:
I hope you enjoyed learning about Western's Community Engaged Learning program. See you next time.
Check another EL Storytelling blog!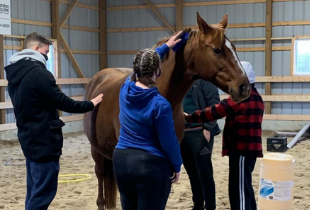 Rebecca shares what she learned during her CEL experience.
---
Published on