My Top 10 Netflix Shows & Movies to Binge During COVID-19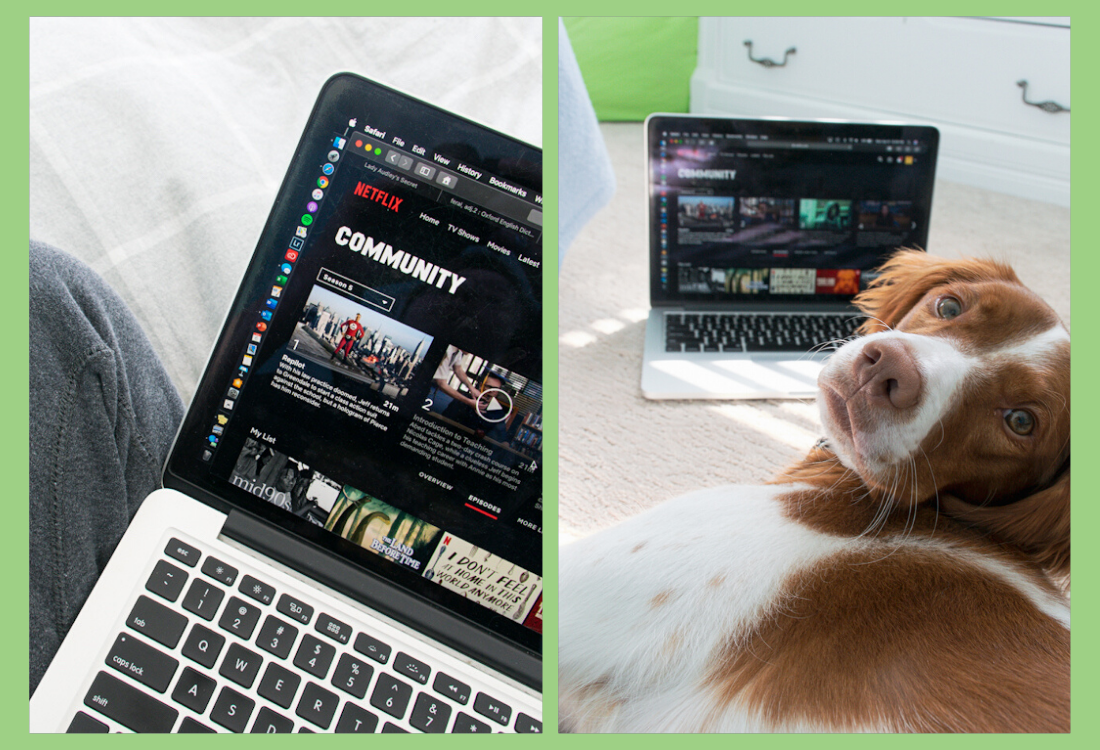 By Lauren Lee, 4th Year English & Writing Undergraduate (and her dog, Clover)
Photo Credits: Lauren Lee
I've had a lot more free time than usual now that physical distancing and working from home have become the norm. So, me and my dog, Clover, have been watching lots of Netflix together. Here's my list of Netflix shows to binge while you're at home! 
1. Feel Good
The first show I binged during quarantine was Feel Good. As a witty, romantic, and at moments quite relatable, show I finished it in one afternoon. The show follows a stand-up comic named Mae as she navigates through personal challenges with sobriety and mental health while starting a new relationship with her girlfriend. Over the 6 episodes I laughed, teared-up and laughed some more. Clover didn't understand why I was crying, but I still think she enjoyed the show.
2. Community
If you're looking for a laugh, watch Community. That's all I have to say. Clover likes this show because the episodes are only twenty minutes long, so there is lots of time between episodes for pee (and snack) breaks.
3. The World's Most Extraordinary Homes
If you're a sucker for interior design and HGTV shows like me — this show will satisfy your every home-show need. From Israel to Norway, from homes built in the mountains to homes built underground, this show explores homes all across the world. Clover likes to imagine herself in the homes, and dream of what it would be like to run in the giant backyards, swim in the fancy pools, and nap on a king-size bed.
4. Mamma Mia!
Because who doesn't love Meryl Streep! And sometimes, you just need to sing some ABBA. Even Clover sings along sometimes.
5. To All the Boys I've Loved Before (and To All the Boys P.S I Still Love You)
Nothing beats a good teen rom-com. I recommend watching both these movies with your friends on Netflix Party in one sitting with a bowl of popcorn — or whatever your favourite movie snack is. Clover's movie snack of choice is celery sticks, but she knows that not everybody loves vegetables as much as she does.
6. I Am Not Okay With This
If you liked Stranger Things, you might like this show. The show is based on a graphic novel of the same name that chronicles a young teenager's journey through high school, family, and her sexuality all while discovering her hidden superpowers. It's an engaging watch that has a stellar soundtrack — what more could you need? Well, Clover says it could use more dogs, but other than that, she thinks it's a stellar show.
7. Friends
A classic. Need I say more?
8. Unicorn Store
This movie is so quirky it kept my attention the whole way through. The plot follows an eccentric painter who takes a menial office job and follows her lifelong dream to adopt a unicorn. Clover was confused by the unicorn; it didn't look like the normal rabbits and birds she's used to seeing, but it kept her entertained. We both agree though that it's worth a watch (or two). 
9. Nailed It
With everyone trying to make bread while in self-isolation, why not watch a baking show? Not everyone can be a great baker, and while cake and bread are two very different baking processes, it might be comforting to know that you're not the only one whose baking didn't turn out as planned. Clover didn't see what was so bad about the cakes, she would've loved a slice anyway.
10. How to Get Away With Murder
If you're looking for a dramatic show to keep you on the edge of your seat, this show will do exactly that. There's five seasons, so there's a lot to watch, but with the amount of scandal this show has, you won't want to stop watching — not even Clover was able to fall asleep during this show!
We hope you find something new to watch from this list! Happy watching, folks! P.S. if you want to see more of Clover, check out her Instagram account that she shares with her sister, Bean: @clover.and.bean!
To explore more lists and continue searching for the best shows, check out the following links! You can find shows for Netflix and Amazon Prime. 
---
Published on