Stories About Being an Athlete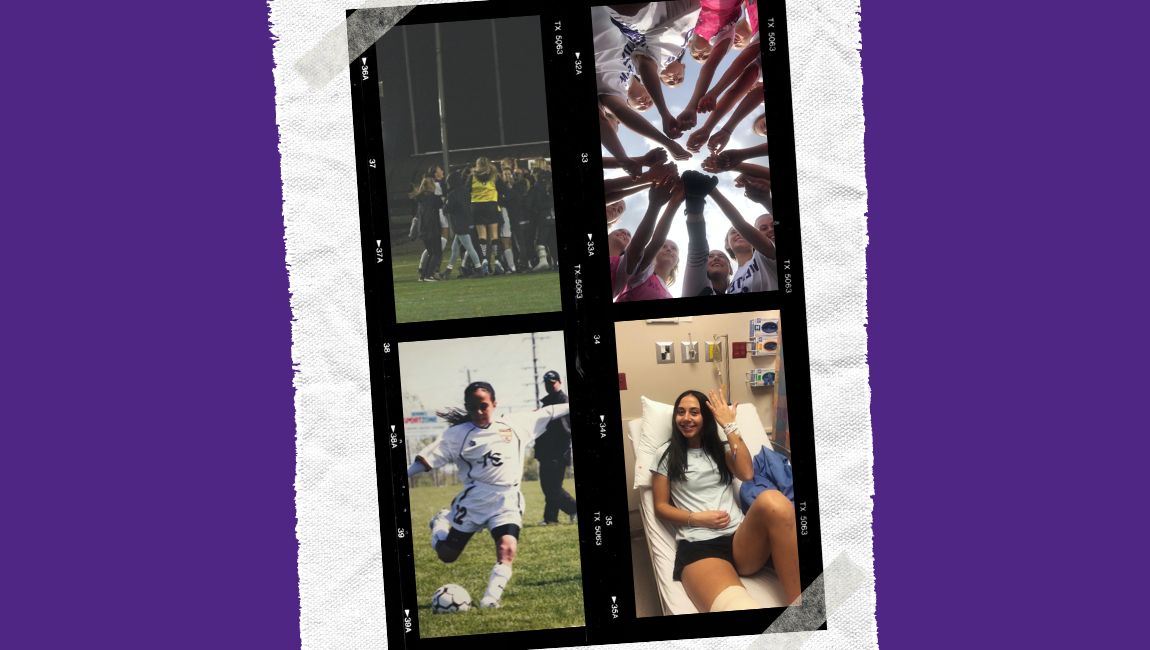 Written by: Angelica Galluzzo, UWO Women's Soccer
Photo credits: Angelica Galluzzo
The Merriam-Webster Dictionary defines an 'athlete' as: "a person who is trained or skilled in exercises, sports, or games requiring physical strength, agility, or stamina." However, there is so much more that contributes to that definition. Personally, over my 18 years of playing sports, I have learned an incredible amount about myself, other people, and the world that we live in.
There is this stereotype that athletes are strong, tough, and ready to perform at all times. But, what people fail to recognize is the amount of adversity that athletes face day in and day out: wins, losses, injuries, pressures, demands, changes, and countless others. Intense physical training has a major toll on our mental health, and it is up to us to stay focused, determined and committed to our athletic responsibilities. This is not always easy. Although adversity is not usually a positive experience, there is always an opportunity to learn, grow, and build new perspectives.
Individual
There is a reason why athletes make great prospective employees. They have the required traits that companies are looking for. They are mentally tough, resilient, adaptable, disciplined, and much more. We learn and build these traits through years of training, adversity, and managing fast paced and competitive environments. We have experience and expertise with what the business world faces every day. Being an athlete teaches you so much about yourself and what you are capable of. Principally, you learn your strengths and weaknesses, both physically and mentally, and you learn to adapt in a way that maintains your strengths and improves your weaknesses. Athletes succeed because they are familiar with failure. Their competitive mentalities despise the idea of not being their best and do everything they can to ensure success. We are constantly learning and building our character.
Personally, my unique experience of 'suffering' from 5 major knee surgeries in 5 years is something that I believe enhances the positive qualities of being an athlete. Injuries make you see your sport, yourself, and the world in a different way. They force you to reflect on so many aspects of life. I can't deny that each injury was heartbreaking and both physically and mentally exhausting. However, getting back on the field every single time was incredibly emotionally rewarding. My stubbornness to return to sport is something that people find difficult to understand but it has allowed me to grow both as a person and as an athlete in an extraordinary way. What I have learned about myself through these processes could never have been replicated with any other experiences. My athletic identity is a large part of who I am, and I have acquired a great deal of character traits through my athletic journey. 
Team
A team is something special. A group of people who have similar values, ambitions and responsibilities. A group of people who are working hard for the same thing that you are working for. Teammates, coaches, and others within your organization are people that are there to support and push you to reach your full potential. These people become your family. Every day at training, competitions, or social events, you are doing it together. During competition, you have a job to do and everyone will play their role in contributing to the result of the game, match, or event, depending on the sport. Out of competition, you are consistently building bonds with the team and understanding that you are a part of something larger than yourself.
These bonds that I have created within my teams over the years are truly something special; celebrating success together, dealing with hardships together, and building friendships that are so much more than what happens on the field. My teams have taught me that I am never alone. Through injuries, personal obstacles, or really anything troublesome, I have always had a group of people there to support me. A team picks you up when you are down. They are always there to motivate you and do what they can to help you through whatever it may be. I am forever thankful for the relationships I have built, the support I have received, and knowing that there were always others with me through the ups and downs of life, both in and out of sport.
Community 
Athletes are typically admired and adored for everything that they do, including their ability to maintain balance and perform at an elite level. Athletes are capable of promoting and supporting a great deal of initiatives and movements in the community. Similar to the team environment, athletes are always representing something larger than themselves every time they are in public. For example, representing your team, student-athlete community, institution, organization, or whatever else you are a part of. People look at you and you are responsible for maintaining an image that is consistent with accepted standards, values, and ethics. You are essentially an important public figure who is responsible for the upkeep of how the community views what you are a part of. The community itself is that which supports what we do; physically, financially, through resources, facilities, and opportunities, thus we owe the community our gratitude and commitment to meeting and maintaining their high standards.
Sports connect people all around the world. It is a universal sharing of values, integrity, desire, and much more. This sense of unity strengthens athlete's passions about why they do what they do. It is recognizing that you belong to a community that is responsible for affording you the opportunities to achieve your highest goals and propel you forward. There are many ways to 'give back to the community' that athletes tend to take part in. For example, volunteering or coaching with youth clubs to provide that strong leadership and devotion that they may have received as a child. These children look up to us and we have the ability to have a huge impact on their lives. The community plays a vital role in creating who we become, and it is up to us to recognize that support and play a similar role for others.
---
Published on