Meet People and Get Connected Through Western International's Peer Guide Program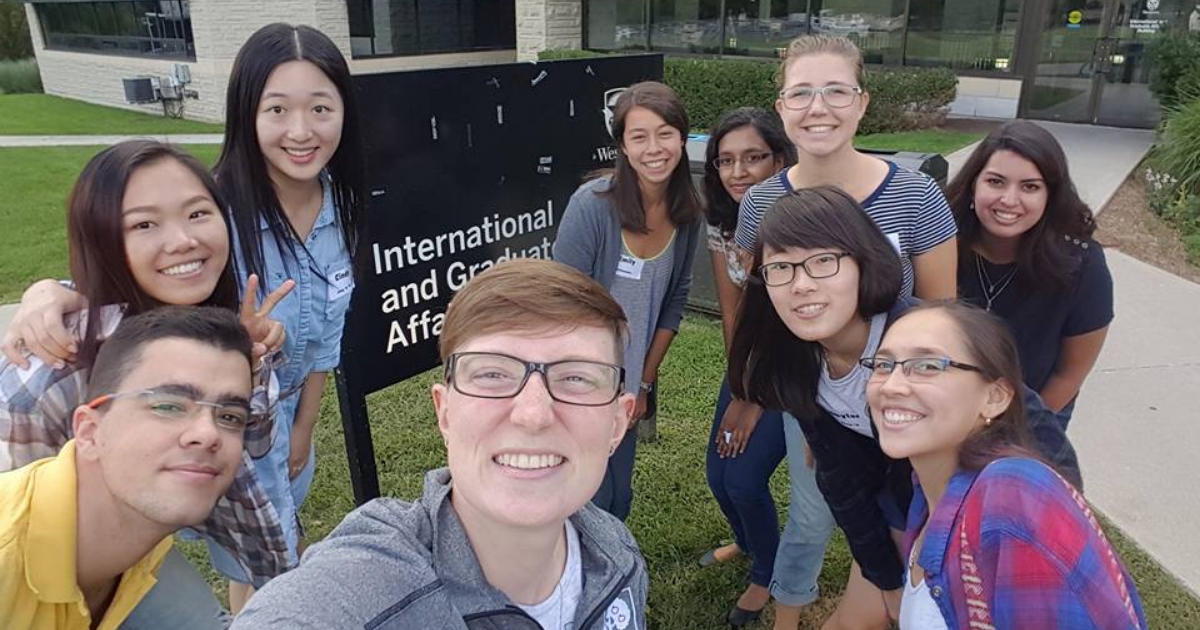 Written by: Elsa Wang, 3rd Year HR and Spanish Double Degree, and Emily Wang, 2nd Year HR Honours Specialization
Photo by: Western International Peer Guides (note: photo was taken pre: COVID-19.)
---
Elsa Wang:
Being a Peer Guide is an awesome experience for me. I've been participating in this wonderful volunteer program for 2 years so far. Emily was one of my Peers I met in my first semester as a Peer Guide, which was last September in 2019. At that time, I was a second-year international student. Since I'm an international student myself, I understand what kinds of difficulties first-year students can encounter. I'm aware of the specific obstacles in their daily life and academic study experience. That's also the reason why I'd love to devote my time and effort to this group. Meanwhile, it's a joyful experience to meet so many intelligent and nice people; I've had wonderful communications and friendships with many of them. Therefore, I'm continuing to be a returning PG and I'm also glad that I can be a Team Leader this year.
For my group, including Emily, we had many discussions about their experience and feelings since they have arrived in Canada to start their new journey in Western. Sharing my tips and thoughts for my Peers is a thing I'm always trying to do when I see they may be struggling with their study or life on campus. I think, to me, it's a precious thing that Emily and I can meet through the program and we can keep our friendship until now. Most importantly, it's very heartwarming that Emily is also part of the Peer Guide group this year so that we can help more first-year and international students together in the future.
I, as a Peer Guide, feel appreciated to have such a great and cooperative group of Peers. I'm thankful that Emily would like to write this blog with me so that we can record the period of fantastic experience on campus. I'd also like to share this for other (future) students who may be interested in this community.
Emily Wang:
People usually feel unsettled when they go to a new environment but don't know what will happen. That's exactly how I was when I first came to Canada. Everything was all new to me and I never felt so homesick and lonely at that time. Then I registered for the Peer Guide Program and was matched with my Peer Guide, Elsa. I was so glad I met Elsa and the other peers. We were so connected and became good friends. Even after the program, we got in touch from time to time. The Peer Guide Program truly helped me out during my tough time. It made me get involved at Western. Moreover, I gradually stepped out of my comfort zone and became more willing to accept changes.
This year, I decided to take the role of a Peer Guide. I know how hard it is when you have tons of questions and difficulties but nobody to ask. As a Peer Guide, I genuinely want to tell my Peers I understand their feelings and concerns  and I'd love to share how I dealt with those kinds of things. What also encouraged me to apply for Peer Guide, is how well this program embraces diversity. All the Peer Guides and Peers have different cultural backgrounds, study in different programs and even are at different stages of their lives. It's always fun to meet people and learn about their uniqueness. It does provide a broader view of the world to me. I'm so grateful that I joined the Peer Guide Program. The experience there means a lot to me.
---
Published on