My Journey as an Off-Campus Student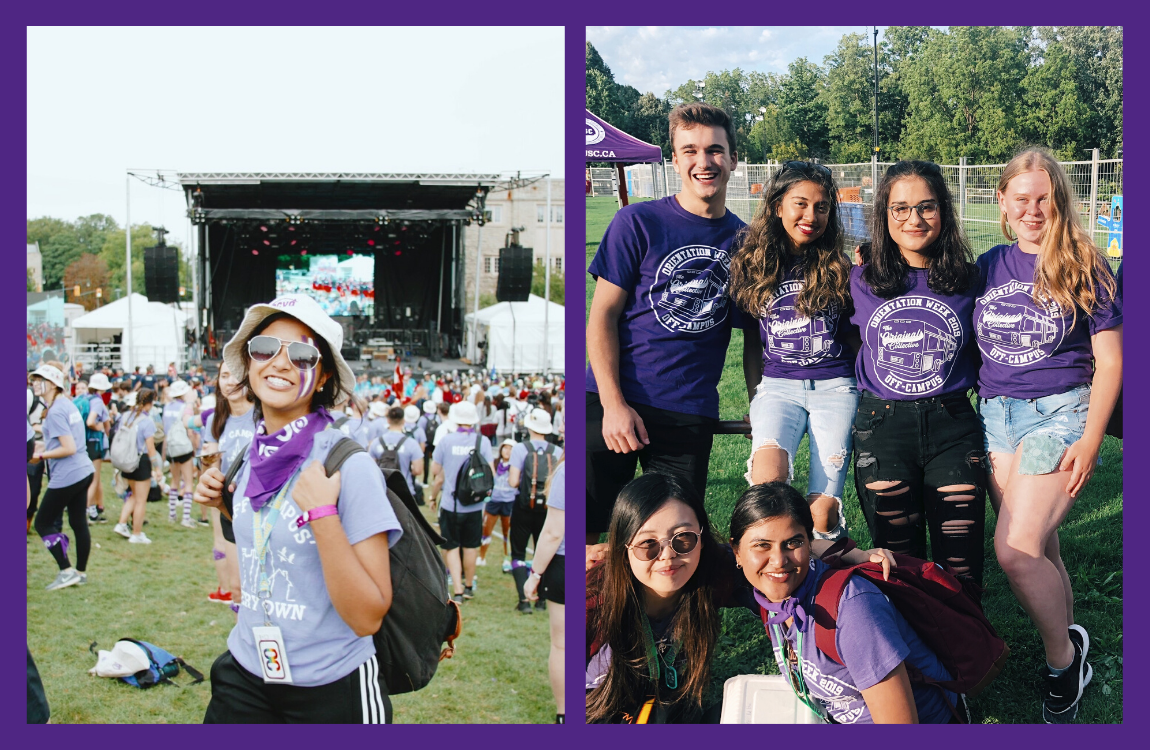 By Nadia Khan, Member of the Off-Campus Leadership Team, 2020-2021
Photo Credits: Nadia Khan 
As a fairly popular child in middle school, I was worried about my transition into high school. My anxiety became reality when I stepped foot in high school and quickly saw friend dynamics change and loved ones become distant. This definitely took a toll on my mental health and I struggled to form connections and find belonging, even though we had a peer mentorship program designed to help nineth grade students transition into high school. I knew the connections I had in high school were not the best, and was worried that living at home while attending Western in the fall was going to inhibit me from breaking away from those relationships.
Coming into university I expected a reboot of my high school experience and dreaded the first day of Orientation. That is, until I steped foot on Concrete Beach and was greeted by a group of cheery Orientation Leaders (Sophs). I felt like I was in another world of bright colours and loud cheers, but at that instant I knew that it was one where I wanted to be. I was later introduced to my Off Campus Sophs, two of the kindest and funniest humans to walk this Earth – they showed compassion for me, interest in myself, and a desire to help. The overt enthusiasm shown was my cue to open up and I started to become comfortable in my Orientation group. Within that group were soon to be some of my best friends who would challenge me, encourage me, and shape me to be the person I am today.
Deep down, I still feared that as the highly energetic environment of OWeek came to an end, the enthusiasm of my Sophs would also die down, and friends that I had made during the week would be lost forever in the busy-ness that was to come with school. After a horrible first day of being late to both of my classes, I texted my Soph "hey are you on campus to hang out?" and immediately she responded and was right by my side. Days and weeks passed by and one thing that did not change was the undying support from my Sophs all year round. Whether it be exam season, reading week, winter holidays, my Sophs were there for me and showed me that they cared.
Since then, eager to give back to the community, I have been a part of the Off Campus Soph Team for two years, being a Soph to my own groups of first-years. I am so thankful to have met them all, and they truly have made me a better person – whether through dinners at The Wave or Swiss Chalet, or dancing it out at Semi Formal! I understand how different each and every incoming first-year student is, and that they all come to Western for different goals and dreams, but they are all bound by the same need to just make one true connection.
Now as a member of the Leadership Team for the 2020-2021 year, I hope that I can give the incoming class of 2024 an OWeek that was just as impactful as mine was.
To all incoming students, and especially those living off-campus this year – I know you may not know what OWeek is going to look like, and that the uncertainty of how the year is going to go is daunting. Everyone's OWeek experience is different, and sometimes it takes more than just a week to truly feel like you belong, and I am sure this year will be no different, maybe even more so. But I want to promise you that you have countless Sophs waiting to just meet you and get to know you, and that you are in the safe hands of some of the most genuine, supportive, people you will ever meet. I am so excited for all of you to meet us, and for all of us to meet you. We are all in this together, as one big family – Welcome to the OC Family.
See you all in the fall!
---
Published on