6 Ways to Celebrate Halloween in a Pandemic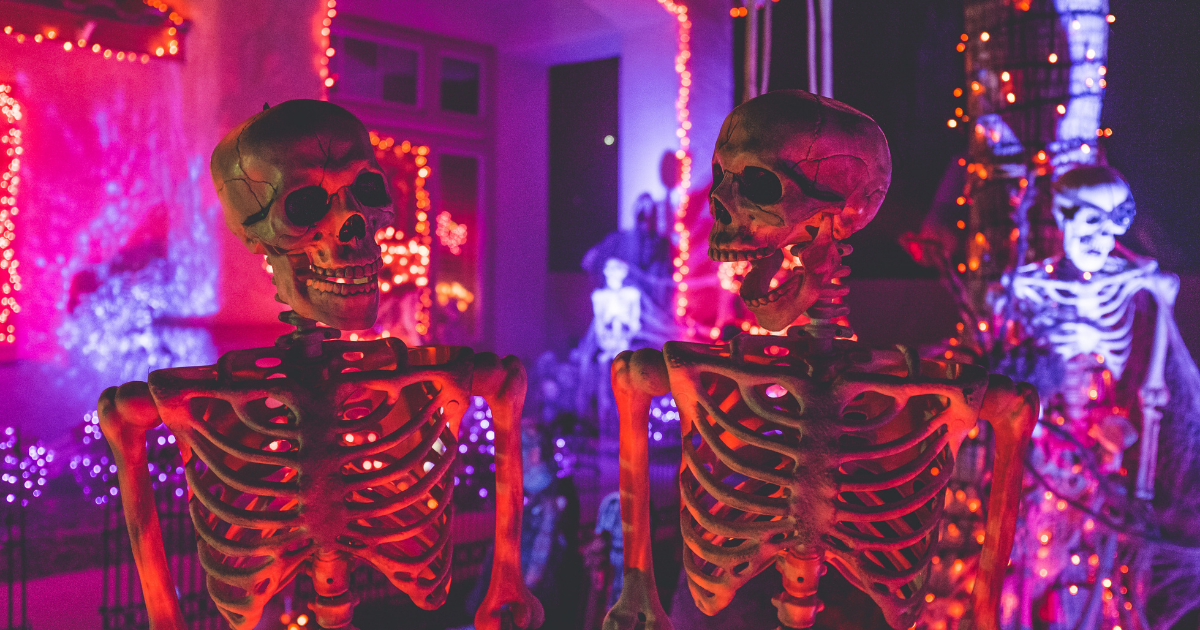 Written by: Clementine Kohl, 2nd Year Honours Specialization in Psychology
Photo by NeONBRAND on Unsplash
Halloween is a cherished tradition for many, and a staple holiday for students. It's usually right after midterms have finished, making it a great excuse to hang out and have parties with friends. This year, thanks to the pandemic, Halloween is not going to be what we're used to. Bars are closed, large gatherings aren't allowed, and people can't go trick-or-treating without worrying about the virus. All hope is not lost, though! You can still celebrate Halloween - it just has to be done from within the safety of your own home. To help jumpstart your holiday festivities, here are a few ways you can participate in this spooky holiday from home and have just as much fun as last year.
1
. Have a Scary Movie Marathon
Being stuck inside on Halloween is the perfect opportunity to curl up in a blanket, grab some popcorn, and watch scary movies. Late at night, either with your housemates, your family, or by yourself, there isn't a better time to play some good Halloween movies. If you're easily frightened, some classic flicks to watch are: Ghostbusters, Corpse Bride, Beetlejuice, Halloweentown, or The Addams Family. For a scarier movie marathon, watch: The Conjuring, Child's Play, The Witch, Rosemary's Baby and Halloween.

A still image from the movie, "Halloween."
2. Binge on Halloween Candy
Another Halloween tradition to incorporate into your celebrations this year is binging on Halloween candy. With a surplus of candy and no one buying it, this season will give some great sales on yummy treats. On top of candy being the perfect snack to eat while watching scary movies, you can also use it in recipes for other holidays coming up later this year.
3. Carve Pumpkins
Perhaps the most classic tradition of Halloween, you can carve a pumpkin. Even though children may not be trick-or-treating this year, street-goers will still appreciate your glowing pumpkins sitting on the doorstep or shining through the window. This is something that can be done solo or as a group, and really helps to get into the spirit of Halloween. There are so many different designs and types of pumpkins to carve, this iconic festivity is totally worth incorporating into your celebrations this year.

Carved and lit jack-o-lanterns sitting outside.
4. Trick-or-Treat Inside
Staying inside all night doesn't necessarily mean trick-or-treating is off the table; you just have to adapt to the situation. One great way to keep up the tradition of trick-or-treating is to create a Halloween candy scavenger hunt. One person hides a bunch of candy around the house, while everyone else follows a set of clues to locate each treat. To make things a little more challenging, skip the clues, and let it be a blind search.
5. Dress Up in Costume
A great way to feel the Halloween spirit is to dress up in costume! If you ever wanted to wear a costume but decided not to because it felt too extravagant or embarrassing, now is the perfect time to do so. Since you likely won't be leaving the house, feel free to dress up in the craziest costume you can think of without fear of judgment. On the other hand, if you were hoping to share your look with the rest of the world, do a spooky photoshoot! Get dressed up and either find a friend or use self-timer to snap some shots of your spooky attire. Then, you can post your get-up all over social media, or just keep the pics as a fun souvenir.

A person dressed up in a skeleton costume for Halloween.
6. Bake Spooky Treats
One last way to really make the night feel like Halloween is to bake some spooky desserts. Searching up "Halloween Desserts" on Pinterest will yield a ton of great recipes to try out over the next few weeks. A few of my favorites are witch's fingers (sugar cookies), vampire gingerbread men, and brain (jello). For a more modest take, try some autumn-themed recipes such as pumpkin spice cookies, apple cinnamon bread, and pumpkin pie.
Hopefully, these Halloween celebration suggestions were able to get you into the spooky spirit this season, giving you inspiration for how to make it fun in quarantine. Even though Halloween won't be the same as last year, it can still be a total blast. Now, all that's left is to wait for October 31st to roll around, and let the festivities begin!
---
Published on