4 Apps to Help You Get Through Your Online Lectures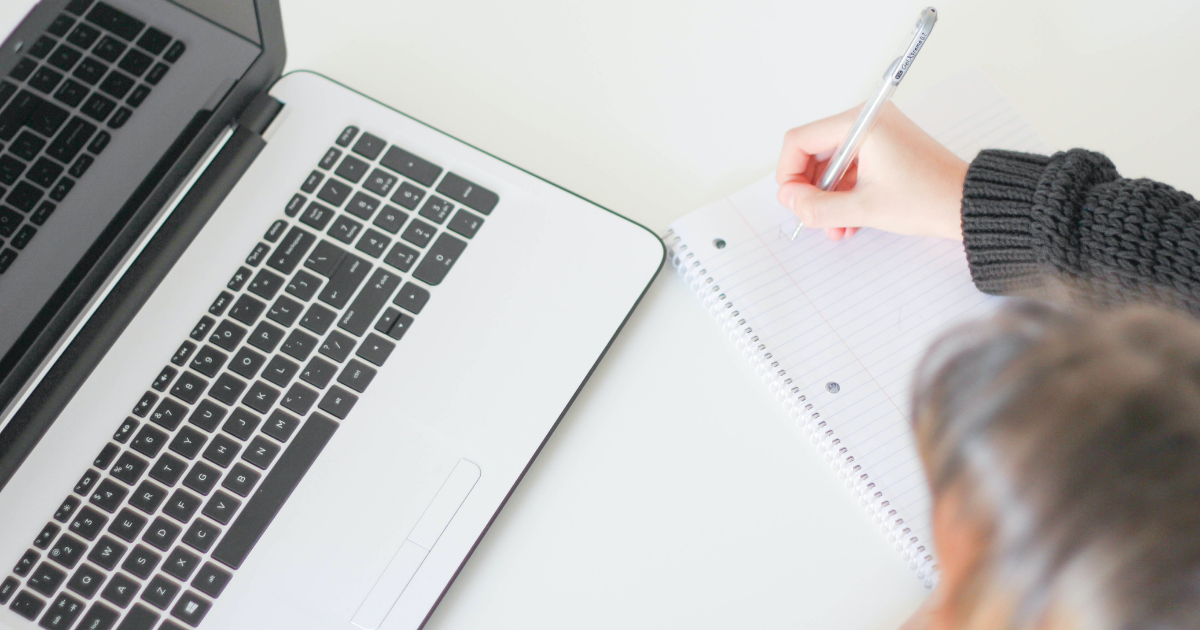 Written by: Fiona Lee, 4th Year Medical Sciences
Photo by J. Kelly Brito on Unsplash
This school year has only just started and one thing's for sure: online school is tough. When it was first announced that the majority of my classes would be delivered online, I fantasized over the thought of being able to attend lectures in my pyjamas from the comfort of my cozy bed. However, that fantasy was quickly shattered when reality hit by the second week of school, as I found myself struggling to focus on schoolwork and instead, absentmindedly picking up my phone and opening TikTok every 15 minutes.
Like many students, attending classes in person and studying on campus was a way for me to separate my home life from my school life. I associated being at home strictly with relaxing, and being at school strictly with studying. With the distinction between the two now blurred, I found my mind jumping back and forth in a state of constant confusion; the angel on one shoulder was telling me to finish my long overdue Discussion Forum Post and the devil on the other was telling me to take a nap and "treat myself."
Desperate to get myself back on the right track again, I dug up some old productivity apps I used in the past, and also scoured the internet for some new inspiration. So far, integrating these 4 apps into my daily life has already helped me immensely with regaining my focus, goal-setting and my overall productivity.
iStudiez Pro is a free online calendar app that you can download on your computer, phone or tablet. What makes iStudiez Pro unique is your ability to create a Planner, where you can categorize your assignments and exams by course and semester. Within your Planner you can also input lecture times, and these times will automatically be blocked off on your calendar. There's also a built-in grade calculator, which can be extremely helpful if you want to track your progress in the course, or figure out what mark you need to get on your next assignment.
Once you input all of your assignments and their due dates into the calendar, they can be viewed under the Assignments tab. Here, you can sort your assignments by due date, by course and by priority.
Immediate tasks and assignments are easily accessible from the Overview Tab, where you're able to see everything that's due for the day or for the week. There's also a monthly calendar, which provides a great overview for upcoming assignments or exams that you may want to start preparing for.
Overall, iStudiez Pro is a great minimalistic and aesthetically pleasing way to organize your academic life. If you use the Apple Calendar, you can also sync it to iStudiez Pro, which can help you better manage both your personal and school schedules and prevent any time conflicts and missed due dates from occurring.
Notion is an amazing organizational tool that I just downloaded recently on my computer and iPad! There are many pre-made templates already built into the app, ranging from task lists and grade calculators, to mood boards and travel planners. If there's no template that suits your needs, you can also start fresh on a blank page. Notion is a great way for you to integrate your personal, school and work life in a single app, in a way that's easy to access and navigate! What's best is that the changes you make on your Notion account sync across all devices you may be using, which really helps with accessibility and organization even when on-the-go!
I personally have pages set up for each of my courses this semester, and have added sub-pages that contain the course syllabus, upcoming assignments and exams, and a grade calculator that helps me keep track of how I'm doing in each course. With the new blended learning scheme this year, I've also found it helpful to create a master To-Do List, that contains all of the work I need to complete for both my synchronous and asynchronous lectures.
If you're tired of using boring to-do lists and habit trackers, then Habitica is for you! Habitica turns completing your daily tasks and tracking your habits into a fun and interactive game, that's accessible from your computer or through their app. You can personalize your own character and earn experience points for checking things off your to-do list, remembering to complete daily tasks and for engaging in healthy, positive habits. Once you earn enough experience points, you can level up and your character becomes stronger! You can also lose health points for forgetting to complete a daily task, or engaging in unhealthy, negative habits.
The best part about Habitica is that you can embark on 'Quests' with your friends, and use the experience points you earn to defeat monsters. Turning your daily mundane tasks into a game really helps with motivation; there are many times when I completed assignments early instead of procrastinating, purely because I wanted to fight the monster!
Game aside, the community within Habitica is also extremely supportive. There are many groups you can join that have amazing resources on productivity, time management and maintaining good habits while getting rid of bad ones. I would highly recommend checking out these resources, as they've helped shape my productivity and guide me in forming healthy, positive daily habits.
Flora (free) and Forest ($2.79) are both amazing apps that can be used to help you stay focused and minimize the distractions on your phone! The premise of the app is that you plant trees, flowers, and fruits by focusing for a certain amount of time. You can customize how long you want to focus for (anywhere from 15 minutes to a couple hours), and once you plant your tree, you're unable to leave the app or else the tree dies. This helps prevent you from wandering onto other apps like Facebook, Instagram, TikTok, etc. and limits phone distractions while you work! As you use the app more, you can unlock new trees/plants, which incentivizes you to continue using the app.
I've found that a fun and productive way to use Flora/Forest is by planting with your friends and holding group study sessions; it helps me stay focused as there's more on the line (I don't want to kill my friends' trees!) and it's also a great way to study alongside your friends in a socially-distanced, COVID-friendly way!
This new school year is undoubtedly different for many of us, and it'll take some time to adjust to- and that's completely fine. Rather than feeling defeated by the onslaught of assignments that are already coming my way, I've realized the importance of changing my perspective. It's important that I take control of my schoolwork and extracurriculars before they have a chance to take control of me. iStudiez Pro, Notion, Habitica and Flora/Forest have already helped me immensely with reclaiming my sense of productivity, motivation and organization, and I hope they can do the same for you as you navigate this upcoming school year!
---
Published on