Jamie Melling, PhD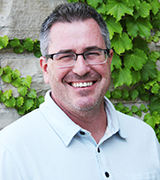 Associate Professor
Education
BSc, MSc, PhD (Western University)
Supervising Graduate Students
Research Interests
Roles and mechanisms of intracellular molecular signaling pathways in the development of cardiovascular disease/complications associated with Type I diabetes
Neurological influence of adrenergic signaling in the expression of stress-related cardioprotective proteins in the heart and vasculature
Cellular mechanisms involved in exercise-related reductions in glycemia in Type 1 diabetes
Additional Information
A comprehensive list of publications is available through Google Scholar.
Effect of Combined Exercise Versus Aerobic-Only Training on Skeletal Muscle Lipid Metabolism in a Rodent Model of Type1 Diabetes.
Dotzert MS, McDonald MW, Murray MR, Nickels JZ, Noble EG, Melling CWJ.
Can J Diabetes. 2017 Dec 4. pii: S1499-2671(17)30314-3.
Pathophysiology and Risk of Atrial Fibrillation Detected after Ischemic Stroke (PARADISE): A Translational, Integrated, and Transdisciplinary Approach.
Paquet M, Cerasuolo JO, Thorburn V, Fridman S, Alsubaie R, Lopes RD, Cipriano LE, Salamone P, Melling CWJ, Khan AR, Sedeño L, Fang J, Drangova M, Montero-Odasso M, Mandzia J, Khaw AV, Racosta JM, Paturel J, Samoilov L, Stirling D, Balint B, Jaremek V, Koschinsky ML, Boffa MB, Summers K, Ibañez A, Mrkobrada M, Saposnik G, Kimpinski K, Whitehead SN, Sposato LA.
J Stroke Cerebrovasc Dis. 2017 Nov 13. pii: S1052-3057(17)30522-0.
Nanostructured biosensor using bioluminescence quenching technique for glucose detection.
Chen L, Chen L, Dotzert M, Melling CWJ, Zhang J.
J Nanobiotechnology. 2017 Aug 22;15(1):59.
A chronic physical activity treatment in obese rats normalizes the contributions of ET-1 and NO to insulin-mediated posterior cerebral artery vasodilation.
Olver TD, McDonald MW, Klakotskaia D, Richardson RA, Jasperse JL, Melling CWJ, Schachtman TR, Yang HT, Emter CA, Laughlin MH.
J Appl Physiol (1985). 2017 Apr 1;122(4):1040-1050.
Aerobic Endurance Training Does Not Protect Bone Against Poorly Controlled Type 1 Diabetes in Young Adult Rats.
Hazell TJ, Olver TD, Kowalchuk H, McDonald MW, Dey A, Grisé KN, Noble EG, Melling CW, Lavery P, Weiler HA.
Calcif Tissue Int. 2017 Apr;100(4):374-381.
Nanostructured biosensor for detecting glucose in tear by applying fluorescence resonance energy transfer quenching mechanism.
Chen L, Tse WH, Chen Y, McDonald MW, Melling CWJ, Zhang J.
Biosens Bioelectron. 2017 May 15;91:393-399.
Exploring diabetes management amongst immigrant Sikhs in the Greater Toronto Area: a qualitative study.
Uppal G, Sibbald SL, Melling CWJ.
Ethn Health. 2016 Dec;21(6):551-63.
Metabolomic Response of Skeletal Muscle to Aerobic Exercise Training in Insulin Resistant Type 1 Diabetic Rats.
Dotzert MS, Murray MR, McDonald MW, Olver TD, Velenosi TJ, Hennop A, Noble EG, Urquhart BL, Melling CW.
Sci Rep. 2016 May 20;6:26379.
The glucoregulatory response to high-intensity aerobic exercise following training in rats with insulin-treated type 1 diabetes mellitus.
McDonald MW, Murray MR, Grise KN, Olver TD, Dey A, Shoemaker JK, Noble EG, Melling CW.
Appl Physiol Nutr Metab. 2016 Jun;41(6):631-9. doi: 10.1139/apnm-2015-0558. Epub 2016 Feb 10.
High Intensity Aerobic Exercise Training Improves Deficits of Cardiovascular Autonomic Function in a Rat Model of Type 1 Diabetes Mellitus with Moderate Hyperglycemia.
Grisé KN, Olver TD, McDonald MW, Dey A, Jiang M, Lacefield JC, Shoemaker JK, Noble EG, Melling CW.
J Diabetes Res. 2016;2016:8164518. doi: 10.1155/2016/8164518. Epub 2016 Jan 18.
The American Diabetes Association
The American Physiology Society
Canadian Society of Exercise Physiology
Systemic approaches to functional anatomy
Diabetes, metabolism and exercise