Jim Dickey, PhD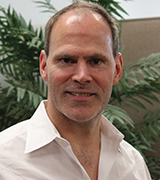 Associate Professor
Room 3G01, AHB
519 661-2111 x87834
jdickey@uwo.ca
Education
PhD (Queen's)
BSc, MSc (Waterloo)
Supervising Graduate Students
Research Interests
Biomechanics
Tissue mechanics
Joint mechanics
Joint injury
In-vivo studies of whole-body vibration (exercise platforms and occupational exposures)
Additional Information
Caryn, RC, Hazell, TJ, Dickey, JP Transmission of Acceleration from a Whole-Body Vibration Exercise Platform to the Head. International Journal of Sports Medicine. 35(04): 330-338, 2014.
Dickey JP, Eger TR, Frayne RJ, Delgado GP, Ji X. Research using Virtual Reality: Mobile Machinery Safety in the 21st Century.  Minerals. 3(2):145-164, 2013.
Dickey JP, Eger T, Oliver M. A systematic approach to simulating field-based occupational whole-body vibration exposure in the lab using a 6df robot. Work, 35(2):15-26, 2010.
Conrad LF, Oliver ML, Jack RJ, Dickey JP & Eger TR. (2014). Selecting seats for steel industry mobile machines based on seat effective amplitude transmissibility and comfort. Work, 47(1), 123-136.
Nevison SE, Jun Y & Dickey JP. (2015). The gluteus medius activation in female indoor track runners is asymmetrical and may be related to injury risk. Sports and Exercise Medicine - Open Journal, 1:28-33.
Stephen AJ, Wegscheider PK, Nelson AJ & Dickey JP. (2015). Quantifying the Precision and Accuracy of the MicroScribe G2X Three-Dimensional Digitizer. Digital Applications in Archaeology and Cultural Heritage, 2, 28-30.
Ji X, Eger TR & Dickey JP. (2015). Development of a seat selection algorithm to match industrial seats with specific forestry vibration exposures. International Journal of Forest Engineering, 26(1), 48-59.
Freedman JD, Jun Y, Humphreys DA & Dickey JP. (2015). Effectiveness of Bracing and Taping, and the Influence of Light Finger Touch, During Unexpected Ankle Inversion Perturbations. International Journal of Sports and Exercise Medicine, 1(1), 007.
Cullen KL, Dickey JP, Brown SHM, Nykamp SG, Bent LR, Thomason JJ & Moens NMM. (2015). A validated approach for collecting fine-wire electromyographic recordings in four canine shoulder muscles during highly dynamic tasks. Comparative Exercise Physiology, 11(2), 65-74.
Joint Biomechanics Laboratory
Director 
Principles of Biomechanics
Clinical Biomechanics
Scientific Instrumentation and Analysis
College of Biological Sciences Award for Excellence in Teaching, University of Guelph, 2007
Faculty Health Sciences Teaching Award – Recognition of Achievement
Member of the Canadian Society for Biomechanics
Member of the International Society of Biomechanics
Member of the Consortium of Canadian Chiropractic Research Centers (CCCRC)