Anita Christie, PhD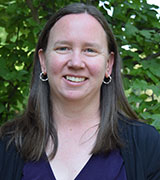 Associate Professor
Education
Supervising Graduate Students
Research Interests
Neuromuscular function
Neurophysiological and functional changes with advanced age
Neurophysiological and functional changes following mild traumatic brain injury
Additional Information
A comprehensive list of publications is available through Google Scholar.
Yasen AL, Smith J, Christie AD. Glutamate and GABA concentrations following mild traumatic brain injury. Journal of Neurophysiology, in press.
Edwards EK, Christie AD. Assessment of Motor cortex excitability and inhibition during a cognitive task in a concussed population. Brain Injury, 31: 1348-1355, 2017.
Lanning AC, Power GA, Christie AD, Dalton BH. Influence of sex on performance of fatigability of the plantar flexors following repeated maximal dynamic shortening contractions. Applied Physiology, Nutrition and Metabolism, 42: 1118-1121, 2017.
Yasen AL, Howell DR, Chou LS, Christie AD. Motor cortex function does not predict functional deficits following concussion, Medicine and Science in Sports and Exercise, 49: 1066:1017, 2017.
Yasen AL, Edwards EK, Smith, J, Christie AD. Reliability of glutamate and GABA quantification using proton magnetic resonance spectroscopy. Neuroscience Letters, 16: 121-124, 2017.
Green L, Christie AD, Gabriel DA. Spike shape analysis for the surface and needle electromyographic interference pattern. Biomedical Signal Processing and Control, 36: 1-10, 2017.
Fitzgerald L, Christie AD, Kent JA. Heterogeneous effects of old age on human muscle oxidative capacity in vivo: A systematic review and meta-analysis. Journal of Applied Physiology, Nutrition, and Metabolism, 11: 1137-1145, 2016.
Holste K, Yasen AL, Hill, MJ, Christie AD. Motor cortex inhibition is increased during a secondary cognitive task. Motor Control, 20: 380-394, 2016.
Christie AD, Foulis SA, Kent JA. ATP cost of muscle contraction is associated with motor unit discharge rate in humans, Neuroscience Letters, 26: 186-188, 2016.
Christie AD, Seery E, Kent JA. Physical activity, sleep quality and self-reported fatigue across the adult lifespan, Experimental Gerontology, 77: 7-11, 2016.


Cognitive Ergonomics
Physical Activity and Aging
Excellence in Teaching Award, National Society for Leadership and Success
Enzo Cafarelli Young Investigator Award, Exercise Neuroscience Group
American Physiological Society APSselect article, highlighting the "outstanding scientific discoveries" across all APS journals