About the Centre for Environment & Sustainability
Human activity has complex and far-reaching effects on our fragile environment, creating a need for integrative approaches that support effective stewardship. In the 21st century, identifying environmental problems and developing and implementing sensible and practical solutions will increasingly depend upon innovation and collaboration between industry, government, academics and communities.  The mission of the Centre for Environment and Sustainability (CES) is to foster interdisciplinary teaching and learning that advances the understanding of complex environmental and societal interactions. Through this mission, the CES aims to develop the next generation of environment and sustainability leaders. The CES is an interdisciplinary initiative supported by the Faculty of Science (host faculty), Faculty of Engineering and Faculty of Social Science, and other contributing faculties. It is home to the Undergraduate Environmental Science program, the Masters in Environment and Sustainability program, and the Collaborative Environment and Sustainability program.
News
Western's Ideas for Sustainability and the Environment (WISE) Competition was established in 2014 to foster innovative and high-impact ideas that reduce or eliminate today's most pressing environmental concerns. The aim of the competition is to generate ideas and initiatives among Western's students around the topic of sustainability, and officially recognize the winning ideas
This year, a team of students from the Masters of Environment and Sustainability program (MES) and a student in her third year of the  Environmental Science program earned first place in the graduate and undergraduate student categories.
MES Program team Dennis He and Michelle Clarke proposed an urban agriculture cropshare program known as "GreenYards". The proposal outlines a program that brings home owners and volunteers together to create space in urban areas for small scale production of locally grown produce. The produce would be both shared with the homeowner and sold at farmer's markets and restaurants.
Third year Environmental Science student Annabelle Laurin's proposal focussed on ideas for changing minds and "social norms" on campus in an effort to divert 500 tonnes of otherwise compostable paper towel waste from landfill. 
The Centre for Environment and Sustainability congratulates the students from our programs on earning these awards and for their  leadership and initiative. The students received their awards April 3rd at The Innovation and Impact Symposium, hosted by the university.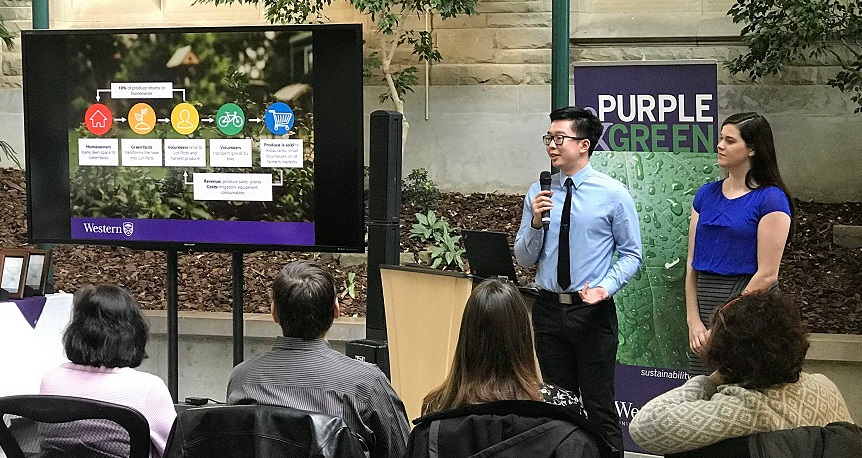 D. He and M. Clarke | W.I.S.E. Competition 2018 | Innovation & Impact Symposium | IGAB April 3 |