Upcoming Social Events
July 26, 2018
Journal Club - Gender differences in reference letters
Come join us for an exciting evening at the grad club to discuss gender differences in letters of recommendation!

Event details: 
Date & Time: Thursday, July 26th @ 4pm 
Location: Western Grad Club 

A link to the article:
https://drive.google.com/open?id=12wKeBXFz-_Wvdm_wX5UcvIe8JJ8GHIKk
Past Events
April 29, 2018 
Spring Social: Hike & Drinks 
Join us at Komoka Provincial Park for a hike, and then we'll head over to Backroads London for some post-hike relaxation and socialization!

Meeting point for Komoka hike @ 12pm:
503 Gideon Drive
Parking fee: $5.25 for 2 hours

Backroads London @ 2pm:
1295 Riverbend Road
(serves beer, wine, cider, kombucha, and coffee)

Come for the hike and brews, or skip the hike and just come for the brews! Friends, family, partners, pets, and kids are all welcome.
Please RSVP by April 22nd to let us know if you'll be coming.

Hope to see you there!
May 3, 2018
Journal Club - Role of Gender in Faculty Hiring
Come join us at the Grad Club to discuss articles evaluating the role of gender in academic hiring! 
Article 1: When Two Bodies Are (Not) a Problem: Gender and Relationship Status Discrimination in Academic Hiring
Article 2: The complex role of gender in faculty hiring

Date & Time: Thursday, May 3rd @ 4pm 
Location: Western Grad Club 
October 25, 2017 
Join us for a trivia night at Winks Eatery (551 Richmond St).
Meet new members, connect with old friends, and have a great evening!
Trivia starts at 8pm, but come after 7pm to grab a drink and a table!
October 14, 2015
We have scheduled a Q&A with Dr. Lorraine Tyler. This will be a great opportunity to chat with Dr. Tyler, ask questions and gain insight from a fellow woman in neuroscience. 
Lorraine K Tyler is Professor of Cognitive Neuroscience at the University of Cambridge. She heads the Centre for Speech, Language and the Brain, an interdisciplinary research group which combines neuroimaging, neuropsychological, and behavioural methods to reveal how the human brain is organised to support language, perception, and meaning.
https://csl.psychol.cam.ac.uk/people/lktyler.shtml
The Q&A will be held at 10:00 am, Wednesday October 14, location TBD. Please join us!
Please see the sidebar to view our upcoming talks and community efforts!
February 12, 2015
The Western WINS group enjoyed a night at Exodus London, solving clues to escape the Gemini rooms! Both teams were close, but neither escaped. We'll be back!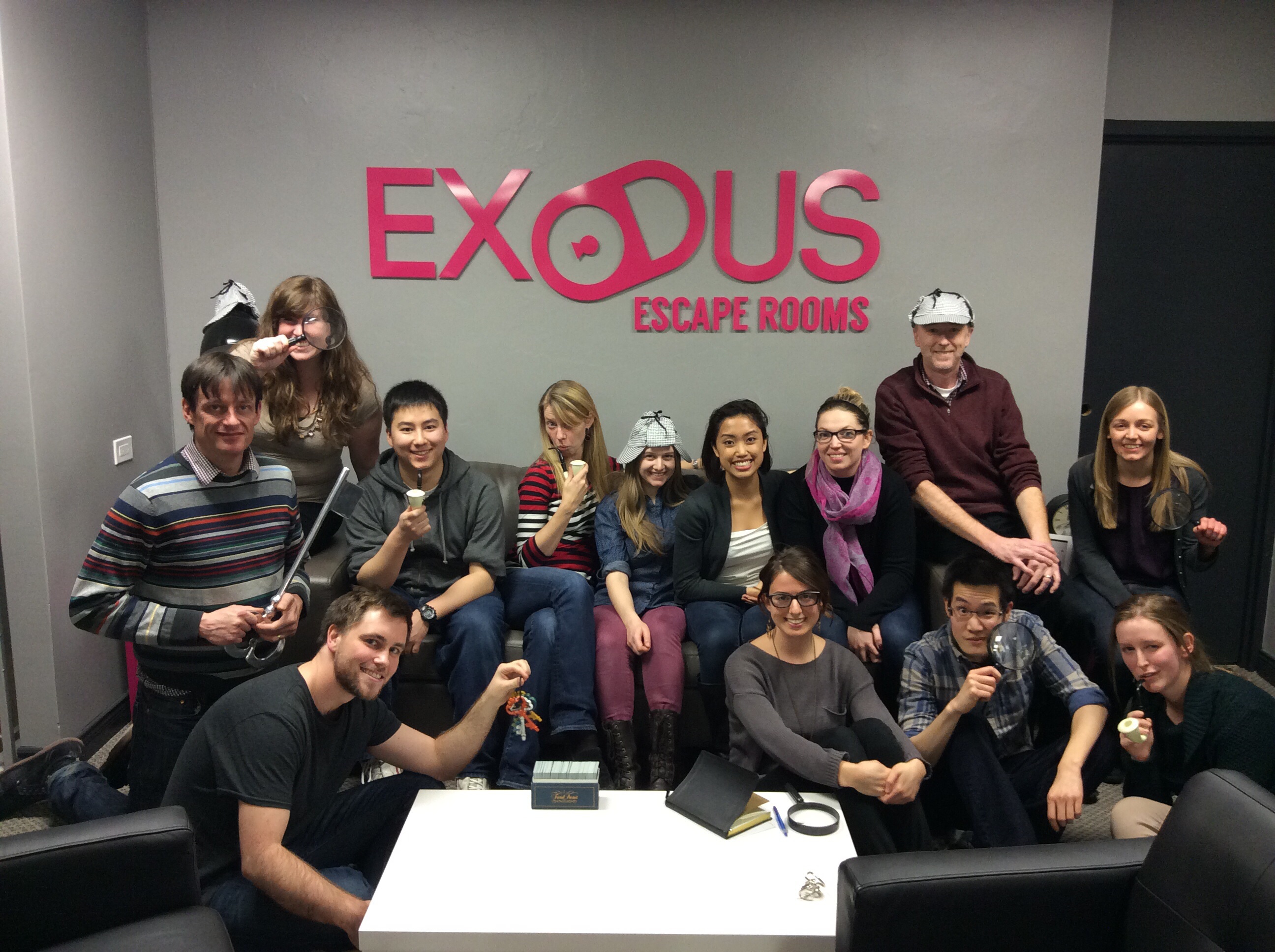 December 6, 2014
This weekend, we remember 14 young women who lost their lives 25 years ago. On this day, known now as the 'Montreal Massacre,' an enraged gunman roamed the corridors of Montreal's École Polytechnique and killed 14 women, 12 of whom were engineering students.
November 25, 2014
Our next social event will be lunch at the Wave, on Tuesday, November 25. Please RSVP as soon as possible so I can make a reservation!
September 29, 2014
Our first social event will be an informal lunch at the grad club this coming Monday, September 29, at noon. Please join us and get to know the rest of the group!