Course Information

The Department of Biology has an undergraduate curriculum that is comprised of 78 courses that range from Biology 1001A and 1002B each with over 2000+ students to a diversity of fourth-year courses where the enrolments are often less than 20 students.
---
Featured Courses
Biology of the Fungi - 3218G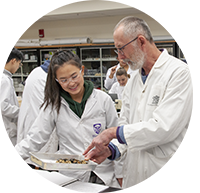 This course provides an introduction to the fungi with emphasis on their biology, ecology, genetics and interactions with other organisms, including humans and their crops.
All Courses
Biology is a diverse and ever-changing subject and the Department of Biology offers courses in all the major subdisciplines: genetics, evolution, biochemistry, cell biology, physiology and ecology.  We offer courses as different as plant diseases and marine environments, as well as courses in human molecular genetics and animal migration.   
A central feature of the curriculum is what is called the BioCore.  This is a group of foundational courses that almost all students are required to take.  The BioCore consists of two first year (1000-level) courses: 
1001A Biology for Science I
1002B  Biology for Science II
and six 2000-level courses:
2244A/B Analysis & Interpretation of Biological Data
2290F/G Scientific Method in Biology
2382A/B Cell Biology

2483A/B Ecology
2581A/B Genetics
2601A/B Organismal Physiology
The goal of the BioCore is to expose you to the breadth of biology early on so that you can find an area that really interests you and perhaps concentrate more in that area in years three and four of the program. Thus to be most effective the BioCore should be completed by the end of year two.
1000 Level Courses
2000 Level Courses
3000 Level Courses
4000 Level Courses
---
---