Publications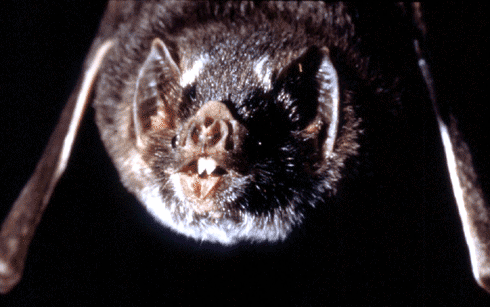 Desmodus rotundus. [photo: Brock Fenton]
Sampling of Recent Publications
Clare, E.L., A.M. Adams, A.Z. Maya-Simoes, J.L. Eger, P.D.N. Hebert and M.B. Fenton. 2013.  Diversification and reproductive isolation: cryptic species in the only New World high-duty cycle bat, Pteronotus parnellii. BMC Biology, 13:26 doi:10.1186/1471-2148-13-26
Fenton, M.B. 2013. Questions, ideas, and tools: lessons from bat echolocation. Anniversary Essay. Animal Behaviour, http://dx.doi.org/10.1016/j.anbehav.2013.02.024.
Jantzen, M. and M.B. Fenton. 2013. The depth of edge influence among insectivorous bats at forest-field interfaces. Canadian Journal of Zoology, 91:287-292.
McGuire, L.P., M.B. Fenton and C.G. Guglielmo. 2013. Seasonal upregulation of catabolic enzymes and fatty acid transporters in the flight muscle of migrating hoary bats, Lasiurus cinereus. Comparative Biochemistry and Physiology, part B Biochemistry and Molecular Biology, 165:138-143.
Fraser, E.E., F.J. Longstaffe and M.B. Fenton. 2013. Moulting matters: the importance of understanding moulting cycles in bats when using fur for endogenous marker analysis.  Canadian Journal of Zoology, 91:533-544.