August 16 – September 22, 2012
Closing reception: September 14, 2012
at the McIntosh Gallery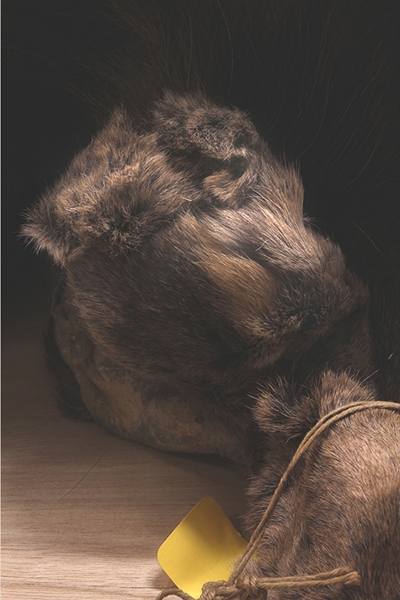 For the past two years, Brad Isaacs has photographed animal hides and dioramas at various natural history museums in North America, including the Royal Ontario Museum, the Canadian Museum of Nature, the Field Museum of Natural History and the American Museum of Natural History.
Hiding Place consists of digital photographs of these research collections along with an array of complementary images that reveal much about human/animal relationships, especially hunting, the natural sciences and the construction of masculinity. His photographs and videos examine the way that technologies used to look at nature alter our understanding and interpretation of it. The relationship between photography and taxidermy is currently his primary focus. He is interested in how they both reduce nature to an image, and how such images alter our understanding of nature.
Collectively, the works point to the underlying ideologies that inform scientific animal research, while opening up the possibility for other ways of approaching the often fraught relationship between humans and animals.
Brad Isaacs holds a BFA from McMaster University and is currently a master of fine arts candidate within the Department of Visual Arts, Western University. He has exhibited extensively in southern Ontario, with previous exhibitions at Hamilton Artist Inc. and the Print Studio in Hamilton, ArtLab Gallery, Department of Visual Arts at Western University in London, and the Art Gallery of Peel in Brampton. Isaacs has also curated projects for the Grimsby Art Gallery and the Burlington Art Centre.
Hiding Place, his MFA thesis exhibition, has been organized by the Department of Visual Arts and McIntosh Gallery.