MEET OUR COURSES
Philosophy 3991G: Purpose, Design, and Final Causes in Nature, a course that investigates the concept of teleology (telos meaning end or goal, and logos meaning account or explanation) and its application to various metaphysical and epistemological debates in philosophy.

Details here.
MEET OUR PEOPLE
Markus Mueller is an Assistant Professor in the Departments of Philosophy and Applied Mathematics. Trained as a theoretical physicist, he is interested in applying ideas from information theory to obtain new insights into fundamental physics. This involves research on the foundations of quantum mechanics, quantum information theory, (quantum) thermodynamics, and more broadly questions of epistemic approaches to physics, computability, induction, and probability.    
Tim Bayne is a Professor in the Department of Philosophy and member of the Rotman Institute of Philosophy. He is a philosopher of mind and cognitive science whose work is chiefly concerned with the nature of consciousness. He is particularly interested in questions relating to the detection and measurement of consciousness, both in neurotypical individuals and in individuals who have suffered from brain damage.
News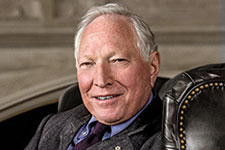 Western Chancellor Joseph L. Rotman, BA'57, LLD'09, O.C., a renowned Canadian business mogul and philanthropist, died Jan. 27 in Toronto. He was 80. As a memorial, Western Philosophy professors Henrik Lagerlund and Charles Weijer, the acting director and former director, respectively, of the Rotman Institute of Philosophy, as well as institute member Christopher Smeenk, offer thoughts on the legacy of learning Rotman leaves behind on Western's campus. Read more
Congratulations to
Corey W. Dyck
 who has received the 2015 Graham and Gale Wright Distinguished Scholar Fellowship. 
Read more
Congratulations to Anthony Skelton who is a recipient of the 2015 Arts & Humanities Teaching Excellence award.
Read more
We are very pleased to announce that a
Minorities and Philosophy (MAP)
chapter has recently been established at Western. Representatives can be contacted via 
email
.
Anthony Skelton and Barry Hoffmaster interviewed in the Gazette about Euthanasia.
Read more
What we offer