Construction Update
Week of September 15

Sept. 18 & 19; Closure to southbound, curb-side lane on Western Road near Huron College.
Week of September 22
At the Western Rd. and Lambton/Brescia intersection; continuation and completion of curbs, streetlights, traffic lights, sidewalks and centre median will result in intermittent single lane closures. The traffic signals will not be affected by the work. Delays can be expected throughout the day.

Brescia Lane access to Springett is closed. The new entrance intersection is open and may be subject to intermittent lane closures in all directions for infrastructure work.
Service Interruption
Western Road and sidewalks may be affected by closures on both sides. Motorists and pedestrians can expect delays along Western Road and accessing Springett lot. New lot gates are experiencing occasional hydro interruptions as construction continues on the lot and may lead to intermittent service. The lot is expected to fill by morning. See map for other lot locations on campus; http://uwo.ca/parking/find/map.html
Aerial View - September 11, 2014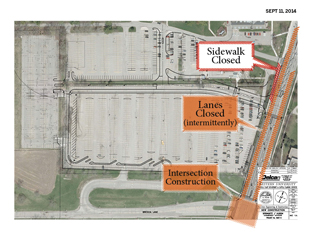 Upcoming Weeks
The sidewalk by the new entrance will be completed. Focus will turn to the completion of the eastern side of the Western Rd./Lambton Dr. intersection - followed by the west side.