2017 Evidence-Based Practice Conference
2017 Conference Details
Wednesday, April 12
8:30 am -  Noon
Room 1534, Elborn College
The Evidence-Based Practice Conference is an annual research symposium which provides second year MScOT students with the opportunity to disseminate key findings from their research projects to students, faculty, and clinicians from the Western community.
The poster presentation showcases the diverse research undertaken by students and is the culmination of the Supervised Research in Occupation course. The Conference also celebrates the exciting and innovative scholarship occurring in the School of Occupational Therapy.
Barbara Sexton Lectureship
The Barbara Sexton Lectureship was established in 1999 to reward innovation and excellence in occupational therapy teaching and to foster professional enrichment. Western's School of Occupational Therapy annually invites a distinguished visitor to give a public presentation for the Evidence-Based Practice Conference.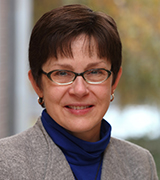 2017 Guest Lecturer
Marcia Finlayson, PhD
School of Rehabilitation Therapy
Queen's University
Dr. Finlayson's research program focuses on developing, implementing and evaluating self-management programs and rehabilitation services to enhance the health and well-being of people affected by multiple sclerosis (MS). These people include both individuals with the disease and their family caregivers. The ultimate goal of Dr. Finlayson's scholarship is to enable people affected by MS to lead healthy, meaningful lives, and exert choice and control over their participation in daily activities at home and in the community particularly as they age. Her specific topical interests include falls prevention, fatigue management, caregiver support, and utilization of health-related services. She is the lead and co-founder of the International MS Falls Prevention Research Network, which includes 9 other MS rehabilitation researchers from the US, Ireland, Italy, and the UK.
Registration and Coffee: 8:30 - 9:00 a.m.
Room 1534, Elborn College
Welcome and Award Presentation: 9:00 - 9:20 a.m.
Room 1330, Elborn College
Barbara Sexton Lecture: 9:20 - 10:20 a.m.
Room 1330, Elborn College
Poster Presentations: 10:30 - 11:45 a.m.
Room 1300, Elborn College
Effectiveness of Mirror Therapy for Upper Limb Stroke Recovery: A Meta-Analysis
The Role of Caregiver Play in Promoting Infant Mental Health
Evidence-informed Textbook Review: Process and Practice Implications for Driving
Mindfulness and Human Occupation: A Scoping Review Occupational Therapy Literature
Scoping Review of Mobile Device Apps That can be Applied to Diabetes Management Through the use of Occupational Therapy
The Use of Deep Pressure Therapy in Management of Symptoms Related to Concussions: A Scoping Review
Feasibility and Utility of Behavioural Mapping the Occupations of Older Adults in Public Spaces
Exploring Occupational Therapy Interventions for Youth Anxiety Disorders: A Scoping Review
Occupational Therapy Interventions for Informal Caregivers of Stroke Survivors: A Scoping Review
The Physical Activity Levels of Children on Natural Playgrounds
Behavioural Mapping Older Adults' Occupational Engagement in Public Spaces
Risk Factors Impacting the Safety of Older Adults in Inpatient Rehabilitation Settings
Considering the Implications of Barriers to Healthcare Accessibility for Occupations in the High North
Informal Leadership in the Clinical Setting: Occupational Therapist Perspectives
Exploring How Those Working in the Employment Sector Perceive the Labour Market Integration of Immigrants in London, Ontario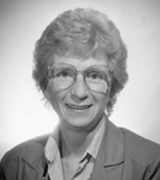 Professor Sexton dedicated her career to the profession of Occupational Therapy and its advancement, both nationally and internationally. Following a successful career as a clinician, Professor Sexton joined the faculty at Western in 1973, just one year after the inception of the School. Thus, she was involved in the education of every graduate in Occupational Therapy from Western prior to her retirement in 1995. Barabara's specialty was mental health with an emphasis on interviewing and small groups. She worked hard to ensure that every graduate of this program was not only educated in the relevant theories of the discipline, but also in the clinical skills required in the day-to-day practice of the profession.
During her tenure at Western, Professor Sexton served in many capacities and on many committees, both internal and external to the University. Most notably, she was the Assistant Dean in the Faculty of Applied Health Sciences from 1990 to 1994. She served as a member of the Review Board of the Canadian Journal of Occupational Therapy for nine years. She was actively involved with the World Federation of Occupational Therapists for 12 years, serving as an executive of the Federation for eight years. While functioning in this role, she served not only the World Federation, but also acted as an ambassador for Canadian Occupational Therapy. The University awarded her the status of Professor Emeritus in 1995.
Professor Sexton had numerous publications in professional journals, made numerous presentations at scientific and professional meetings, and is the author of the widely used textbook, "Small Groups in Therapy Settings: Process and Leadership" which is in its fourth edition.
Professor Sexton received the Life Member Award from the Ontario Society of Occupational Therapists and the Canadian Association of Occupational Therapists, and was an Honorary Fellow of the World Federation of Occupational Therapists. All of these honors recognize her major contribution to these Societies and to Occupational Therapists in general.
Professor Sexton's academic career was marked by dedication to the profession, to the University, and most notably to her students.
| Year | Lecturer | Topic |
| --- | --- | --- |
| 2017 | Marcia Finlayson - Queen's University | Building evidence to support practice: The example of managing fatigue in multiple sclerosis |
| 2016 | Bill Miller, PhD - University of British Columbia | Lessons Learned from a Life Woven in Occupational Therapy |
| 2015 | Charles Christiansen, EdD - American Occupational Therapy Foundation | The Path Ahead: A Conversation About Value |
| 2014 | Joyce Tryssenaar, PhD - McMaster University | Living the Questions |
| 2013 | Sue Forwell, PhD - University of British Columbia | The Chicken Soup of Occupation |
| 2012 | Rachel Thibeault, PhD - University of Ottawa | Going Against the Flow: Building Resilience Through Selective Occupations |
| 2011 | Mary Egan, PhD - University of Ottawa | Safety and Connection: Key Concerns of Occupational Therapy |
| 2010 | Huguette Pickard - Université de Montrèal (retired) | Engagement in Society: How can Occupational Therapists Make a Difference |
| 2009 | Elizabeth McKay, PhD - University of Limerick | Exploring the Essence of Exceptional Practitioners |
| 2008 | Helene Polatajko, PhD - University of Toronto | The Occupational Science Imperative |
| 2007 | Gail Whiteford, PhD - Charles Sturt University | Wellbeing: An Occupational Perspective |
| 2006 | Catherine Backman, PhD - University of British Columbia | Doing, Being, Participating |
| 2005 | Ruth Zemke, PhD - University of Southern California | Time, Space, & Occupations: Interactions Shaping Our Perceptions of Life |
| 2004 | Elizabeth Townsend, PhD - Dalhousie University | A Mediation on the Visibility and Viability of Enabling Occupation |
| 2002 | Mary Law, PhD - McMaster University | Participation in Everyday Life |
| 2001 | Loree Primeau, PhD - University of Texas, Medical Branch | Leadership as a Way of Being |
| 2000 | Anita Unruh, PhD - Dalhousie University | Application of the Spirituality Construct to Evidence Based Practice |
| 1999 | Thelma Sumsion, PhD - Brunel University | The Journey of Life |
Parking for the Evidence-Based Practice Conference is available in the Huron Flats Parking Lot at a cost of $7. The lot is located at the southeast corner of Sarnia Road and Western Road. Enter the Huron Flats lot by turning east off Western Road onto Philip Aziz Blvd. There is no parking available at Elborn College.
For more information about the conference, please contact: Trish Tucker, PhD - ttucker2@uwo.ca or 519-661-2111 x88977