2014 News
January 21, 2015 |Announcement

Elizabeth Hayden was named APS Fellow by the Association for Psychological Science (APS). Congratulations Dr. Hayden!
View APS page -
Here
---
January 21, 2015 | Canada AM

Alzheimer's Research at Western

Canada AM featured some of the cutting edge equipment found at Western University used to diagnose Alzheimer's. Watch the story -
Here
---
January 15, 2015 | Announcement
Congratulations to Jeremy Viczko who was awarded the Ralph S Devereux Award in Psychology and to Valya Sergeeva who was awarded the Reva Gerstein Fellowship for Masters Study in Psychology. Great work sleep lab!
---
---
---
December 9, 2014 | Announcement
---
December 3, 2014 | BMI Announcement
Postdoc needed for Sleep Lab
We are currently seeking to fill a 2-year funded position for a Postdoctoral Fellow to work collaboratively with Dr. Adrian Owen (
http://www.owenlab.uwo.ca
) in the BMI Sleep Research Laboratory (
http://bmisleeplab.uwo.ca
). Interested candidates can contact Dr. Stuart Fogel by email (
sfogel[at]uwo.ca
) to enquire/apply.
---
November 27, 2014 | New Publication
New study provides better understanding of person misidentification in dementia
New study by members of the Köhler Lab provides researchers and clinicians with insight into a particularly debilitating memory problem that is present in some patients suffering from neurodegeneration caused by Lewy body dementia or Alzheimer's disease. Western News
Read Full Article in Frontiers in Human Neuroscience
Read discussion of article in New Scientist
---
November 27,2014 | BMI Announcement
Graduate student Raechelle Gibson (supervisor: Dr. A. Owen) has been awarded a Canada Graduate Scholarship - Michael Smith Foreign Study Supplement (CGS-MSFSS) from NSERC for her current Vanier CGS. The CGS-MSFSS Program supports high calibre Canadian graduate students in building international networks through the pursuit of research experiences at institutions abroad. Rae will be conducting a research project at the University of Cambridge in 2015. Congratulations Rae!
---
November 26, 2014 | Frontiers
New ways of detecting covert awareness in patients with disorders of consciousness
Paper released today showing that some patients, despite their lack of behavioural response, are aware. Read Full Article
---
November 6, 2014
Interview on CTV London - Watch
BMI helps high school student publish scientific research 
After several years of supervised research at the BMI, a local high school student named Dan Alferov co-authors an original research article "Inter-element orientation and distance influence the duration of persistent contour integration" in the international scientific journal, Frontiers in Psychology. Read article
---
November 6, 2014 | CBC Radio
Shift work can age your brain
Listen to an interview with Stuart Fogel on CBC about shift work and how it effects your brain and memory. Listen Here or a second interview Here
---
October 9, 2014 | Announcement
Raechelle Gibson from the BMI will be speaking in the Scholars to Leaders Series on Wednesday, October 29th at 2:30 p.m. This is a unique initiative by the School of Graduate and Postdoctoral Studies to listen to academic and private-sector professionals who are uniquely skilled. This will be held in the International and Graduate Affairs Building – 1st Floor Classroom (IGAB 1N05). More Info
---
October 4, 2014 | YouTube
Neuroimaging Made With IBM Cloud. Made with IBM.
Researchers at Western University are using IBM Cloud and Analytics to watch regions of the human brain communicating with each other to diagnose and describe brain disorders in real time - Watch
---
September 18, 2014 | Western News
BMI Investigator named as inaugural member
Daniel Ansari, a Principal Investigator at the BMI, has been named among three Western professors and one King's University College professor, inaugural members of the Royal Society of Canada's College of New Scholars, Artists and Scientists. Those named to the College represent the emerging generation of scholarly, scientific and artistic leadership in Canada. Congratulations Daniel!
(Full Article)
---
September 15, 2014 | Western
Hitchcock movie used to detect consciousness in the Vegetative State
Researchers from the BMI at Western University have used a short Alfred Hitchcock movie to detect consciousness in vegetative state patients. Lorina Naci, and her colleagues, Rhodri Cusack, Mimma Anello, and Adrian Owen, reported their findings today in a study titled, "A common neural code for similar conscious experiences in different individuals." (Read More)
---
September 12, 2014 | Western News
Vanier celebrates the nation's finest
Seven Western graduate students, including Raechelle Gibson, a member of the Owen Lab here at the BMI, are recipients of the Vanier Canada Graduate Scholarship. Gibson's research will help identify the neural mechanisms that allow humans to coordinate movements with auditory and tactile stimulation. Congratulations! (Western News)
---
September 11, 2014 | Announcement
Congratulations to Stephen Beukema for his successful proposal to visit the School of Mind and Brain in Berlin! Stephen is currently in his second year of an MSc in Psychology and works closely under Dr. Adrian Owen. He will be representing Canada during his visit, along with 14 other students traveling from Argentina, Austria, Croatia, England, France, Germany, Italy, Israel, Japan, Serbia, The Netherlands and The USA.
---
September 2, 2014 | Western News
Western Neuroscientist explores nuances of 'touchy' subject
Andrew Pruszynski, a new addition to the BMI here at Western, and his collaborator and current supervisor Roland S. Johansson from Umeå University in Sweden shared their discovery, which redefines how touch signals are processed by the nervous system. (Full Story)
---
August 22, 2014 | Announcement
Graduate Student Kathryn Manning, a member of Ravi Menon's Lab and the BMI, has received an NSERC Canada Graduate Scholarship for her doctoral work studying MRI biomarkers of Concussion. Congratulations Kathryn!
---
August 22, 2014 | Western News
Banting fellowship adds up for Lyons' math anxiety research
Ian Lyons, a member of the BMI and Daniel Ansari's Numerical Cognition Lab, receives a Banting Postdoctoral Fellowship to assist his research of math anxiety. (Full Story)
---
July 24, 2014 | Announcement
Lindsay Oliver, a PhD student working at the Brain and Mind Institute with Drs. Derek Mitchell and Elizabeth Finger, has just been awarded the Alzheimer Society of London and Middlesex Doctoral Scholarship for her research involving patients with frontotemporal dementia. This award will help support her work using fMRI and other cognitive neuroscience techniques to elucidate and objectively measure the beneficial effects of the neuropeptide oxytocin on social cognition in these patients. Congratulations Lindsay!
---
July 10, 2014 | Announcement
Award-winning neuroscientist named first Western Research Chair
We are pleased to welcome Dr. Ingrid Johnsrude, one of Canada's most innovative neuroscientists, to Western and the BMI where she will further her research into understanding human behaviour through speech, language and hearing.
Article in Western News
Article in The London Free Press
---
June 27, 2014 | Neuron
Overt Responses during Covert Orienting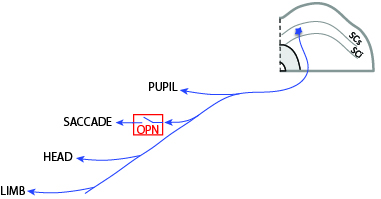 In a review published recently in Neuron, the Brain and Mind's Brian Corneil discusses the role of the superior colliculus (SC) during orienting. Because of differences in how SC outputs are processed, neck and limb muscle recruitment, pupil dilation, and microsaccades reflect covert oculomotor processes in the absence of saccades. (Full Story)
---
June 20, 2014 | Western News
Mel Goodale and Adrian Owen to lead human consciousness network
After a year-long international competition, the Canadian Institute for Advanced Research (CIFAR) has selected Brain and Mind's Adrian Owen and Mel Goodale to lead a new research network focused on the brain, mind and consciousness. Read more
---
June 19, 2014 | Western News
PET scans peer into minimally conscious mind
New research by Physics and Astronomy professor Andrea Soddu touts the ability of PET (Positron Emission Tomography) scans to identify patients in a minimally conscious state far more accurately than other imaging technologies. Read More
---
June 5, 2014 |
Postdoc unravels secrets to implant effectiveness
Dan Stolzberg, a postdoctoral student in Western's Brain and Mind Institute under the supervision of Professor Stephen Lomber, was recently rewarded with a Canadian Institute of Health Research (CIHR) Fellowship that will allow him to advance the understanding of why the performance of sensory prostheses implanted during adulthood is often limited by specific mechanisms in the brain. (Read More)
---
May 29, 2014 | BMC Medical Ethics
Ethics of neuroimaging after serious brain injury
Serious brain injuries place an enormous burden on patients, families, and the healthcare system. Patient outcome after serious brain injury is highly variable. Following a period of coma, some patients make a good recovery, while others progress into a vegetative or minimally conscious state. As it is difficult to predict recovery after serious brain injury, families and physicians are forced to make treatment decisions in the face of uncertainty. Recent advances in neuroimaging may address this problem. Neuroimaging offers the prospect of improved prediction of patient outcome and diagnostic accuracy in seriously brain injured patients. However, neuroimaging also raises difficult ethical issues that must be addressed. By utilizing the strengths of the Rotman Institute of Philosophy and the Brain and Mind Institute, our research team brings together philosophers, neurologists, and neuroscientists to provide genuinely collaborative and interdisciplinary approaches to these difficult problems. (Full Story)
---
May 26, 2014 | The London Free Press
BMI High School Student wins ISEF Special Award
Dan Alfrerov, who works with Li-Ann Leow and Lars Strother at the Brain and Mind Institute, won the first place $2500 Psi Chi International Honor Society in Psychology Award, at the prestigious Intel International Science and Engineering Fair. In exciting work crossing the fields of visual perception and music, Dan has shown that the perception of facial emotions is sensitive to changes in the individual's emotional state induced by music.
---
May 9, 2014 | Announcement
Western Cognitive Neuroscience Postdoctoral Fellowships
The Brain and Mind Institute (BMI) at Western University in London, Ontario, Canada has funding available for 5 new postdoctoral fellows. The BMI is recognized as one of the world's leading research institutes in cognitive neuroscience and aims to understand how the brain allows us to perceive the world, makes sense of what we see and hear, remember the past and plan for the future, communicate our thoughts to others, choose goals, plan actions and carry those actions out.
---
May 14, 2014 |
A journey through the mind
The Education-Neuroscience Symposium 'Minds on Minds" was held on Friday, May 23, 2014. Visit their website to read more and to listen to podcasts from the event.
---
May 2, 2014 | Western News
Graduate students connect education and neuroscience
Western graduate students Stephanie Budgen and Anna Matejko's work in the area of cognitive neuroscience is now part of a new web-based, open-access science journal recently launched by Nature Publishing Group.
---
April 22, 2014 |
The London Brain Bee 2014
The 6th annual London Brain Bee was recently hosted here at Western University for the best and brightest high school students from London and surrounding areas. Brittany Smale won the trivia contest and will go on to represent London in the National Brain Bee competition on May 31st in Hamilton. (Full Story)
---
April 11, 2014 |
Two New Faculty Scholars at the BMI
Western has announced 13 new Faculty Scholars across all faculties in recognition of their significant achievements in teaching and/or research. The recipients will hold the title for two years. Two of the new Faculty Scholars are PIs at the BMI - Marc Joanisse and Stefan Köhler. Congratulations Marc and Stefan! One of last year's recipients, Elizabeth Hayden (who still holds the title), is also a PI at the BMI!
---
April 9, 2014 |
The Sixth Annual "Psychology: The Science of Being Human" Lecture Series
The Sixth Annual "Psychology: The Science of Being Human" Lecture Series begins on April 10 and is being held at London Central Library. This years title is 'Sex, Drugs and Rock N' Roll'. Talks are free and no registration is required. (Complete details)
---
April 4, 2014 | Announcement
The International Conference on Unconventional Computation and Natural Computation
The International Conference on Unconventional Computation and Natural Computation (UCNC) will be held here at Western this July and will provide an exciting opportunity to build some interdisciplinary bridges. UCNC attracts folks from a wide variety of backgrounds (particularly maths, physics, computer science and engineering). To find out more and to register please visit - Here. Note -There is a special 1-day conference fee for Western faculty and students.
---
March 26, 2014 | CBC Radio
A lack of sleep may damage the brain
Research indicates that a lack of sleep may cause permanent loss of brain cells - Read More
Also, listen to BMI's Stuart Fogel discuss sleep loss on CBC's Calgary Eyeopener - Here
---
March 7, 2014 | Talk Announcement
Neurophilosophy Speaker Series: Howard Eichenbaum, March 12, 2014
Join us in March for a talk by Howard Eichenbaum, of Boston University. In his talk, Eichenbaum will review our understanding of the Hippocampus and its functionality in supporting episodic memory in animals.
The lecture takes place on Wednesday, March 12, 2014 at 5:00pm EST in The Great Hall, Somerville House at Western University. More details, including poster - Here
---
February 20, 2014 | Announcement
2014 London Brain Bee, Saturday, April 5th
High School students who are interested in topics like intelligence, memory, emotions or addiction come out and take part in the London Brain Bee! Click on the link below to get more information about this event including studying tips.
Brain Bee Information - Here
---
January 31, 2014 | BMI Announcement
Congratulations to Daniel Ansari, and Co-Investigators Adrian Owen and Charles Weijer, on their successful CIHR Operating Grant awards.
---
January 31, 2014 |
Big Brains, Big Data, Big Challenges
Join Mark Daley, principal investigator at Western's Brain and Mind Institute, for a complimentary lecture as he discusses the challenges and opportunities of "big data" with examples from cutting-edge neuroscience research. To find out more click – Here
---
January 30, 2014 | Western News
International collaboration develops clinical tool to measure activity of brain at rest
A research team led by Western University, in collaboration with The University of Liège in Belgium and Central University Colombia, has developed a new strategy to study the human brain while it's resting, which gives scientists and health care providers a baseline for measuring states of awareness. To read more click - Here 
CTV News Story - Here
---
January 27, 2014 | BMI Announcement
Stephen Lomber is the recipient of an APS [American Physiological Society] Career Enhancement Award. This award is designed to enhance the career potential of APS members through travel to other laboratories to acquire specific new skills. For more information please click - Here
Congratulations Stephen!
---
January 23, 2014 |
The London Brain Bee will be on April 5th
High school students from London and surrounding area, in grades 9 through 12, will demonstrate their knowledge about the brain and neuroscience. Read more - Here
---
January 20, 2014 | CBC News
Neuroscience journal edited by kids, for kids
Children pair up with scientists to edit neuroscience papers. Daniel Ansari, a professor of psychology at Western University and a member of the BMI, is among the 47 scientists who joined the project.
Find out more - Here
---
January 15, 2014 | Western News
New study shows alcohol impacts vision
Kevin Johnston and Brian Timney have shown that alcohol greatly affects the ability to adjust vision for brightness and contrast. Read more - Here
---
January 14, 2014 | BMI Announcement
Mel Goodale has just been elected a Fellow of the Society of Biology, a learned society in Great Britain that was created to advance the interests of biology in academia, industry, education, and research. Congratulations Mel!
---
January 7, 2014 |
BMI featured in Western's Be Extraordinary Campaign
Watch the Campaign video - Here
Get More Information - Here