Cohort One Kicks Off in WALS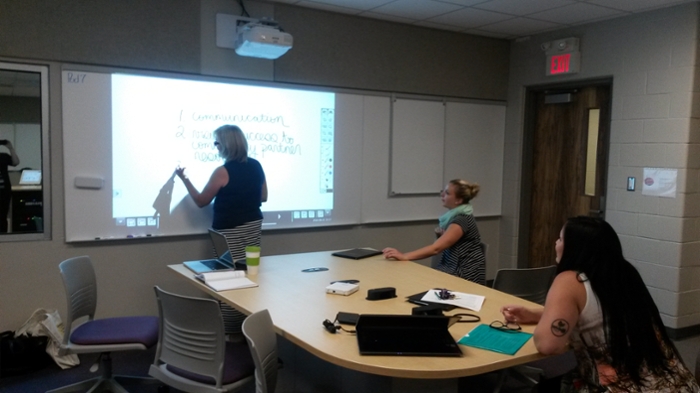 Members of Cohort One – the first group to be teaching in the new WALS classroom in UCC 66 – recently completed introductory WALS workshops and are using drop-in "Sandbox" times to prepare for their first classes in the new active learning space. Instructors from a range of departments and programs, including Applied Mathematics, Psychology, Geography, Modern Languages and Literature, and the Scholar's Electives Program, will be teaching in WALS in the Fall 2014 term.
A number of specialized workshops were also recently held in WALS, including sessions for those involved with the MMASc (Master's of Management in Applied Science) graduate diploma, a new program unique to Western that bridges the fields of science, management, and communications. The program is partnered with Western's Student Success Centre and instructors will be using WALS to facilitate active learning workshops on topics such as career leader training.
Members of the Teaching Support Centre and the Student Success Centre's Experiential Learning Team also held a workshop with a number of community partners for Dr. Aleksandra Zecevic's community service learning course "Gerontology in Practice." As part of the course, students work with community partners on projects focused on health and aging. A number of community partners, including the London Intercommunity Health Centre, the Thames Valley Family Health Team, the Alzheimer Society London and Middlesex, and the Glen Cairn 55 & Better Senior's Group, attended the WALS workshop and learned about the space's potential for collaboration.