The Tea on Faith and Disability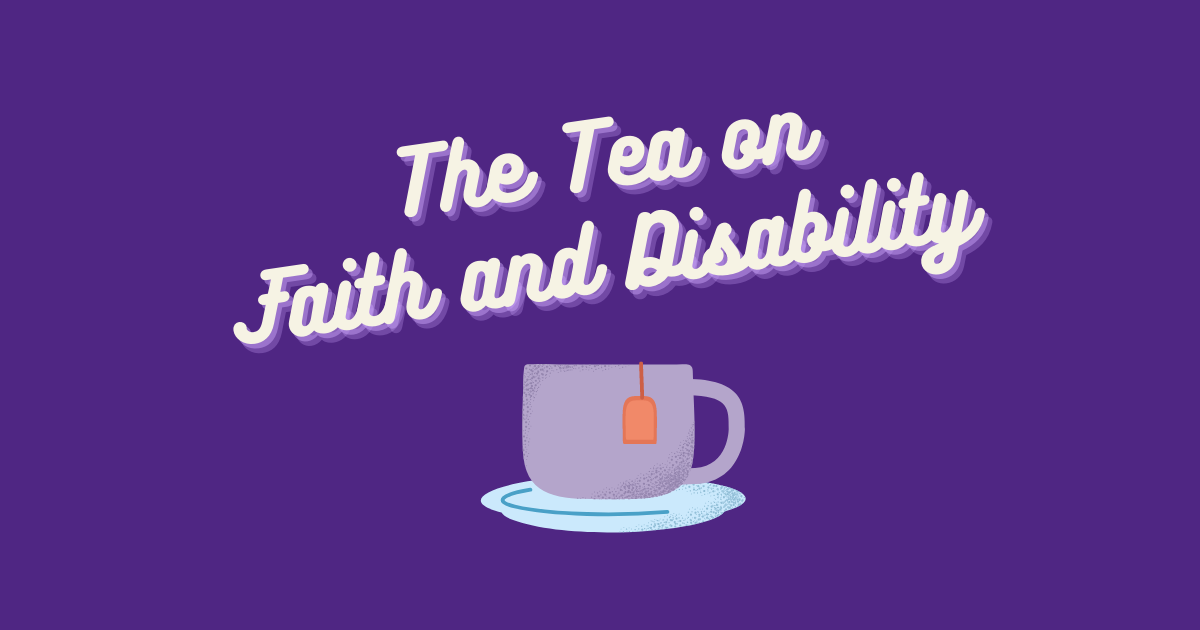 In this episode of Accessibili-tea, Jalesa and Elizabeth sit down with Katie, a 4th year music student with a keen interest in the intersections of faith and invisible disabilities. In this episode, Katie shares with us what having an invisible disability means to her and her passion for accessibility and advocacy on campus. We learn that Katie's own lived experience with disability helped her navigate her faith and ask the "big questions" around cure, living with illness, and managing her studies. 
Katie gives us some advice on how to support a friend living with an invisible disability, including: checking in; offering support; and, not taking it personally if someone with a disability or illness needs to cancel last minute. Katie shares with us the importance of being kind to yourself when you first acquire a diagnosis and are learning to live with disability. Katie also tells us that sometimes, it feels like accommodations aren't taken as seriously by faculty when a disability is not visible and reminds us that not all disabilities can be seen. 
The episode ends with Katie reflecting on the complex intersection between disability and faith. She notes that her faith has helped her to become more patient when navigating the challenges of living with a disability, and that changes take time.
If you have any questions for Katie, feel free to check her out on Instagram at  _katieallington_  or TikTok at _katie_allington_. To learn more about these topics in-depth, tune into the episode now! You can listen below or check it out on Anchor, Google Podcasts, Breaker, Radio Public, Spotify, or Pocket Casts. You can also access an accessible transcript of the interview below. Stay tuned for the next episode!
Listen now...
Jalesa
Hi. I'm Jalesa.
Elizabeth
Hi, I'm Elizabeth.
Jalesa
And today we're going to be spilling the tea on invisible disabilities and faith with Katie.
Elizabeth
So sit back, grab your cup and get ready to sip on some hot tea.
 
Excellent. Katie, we are so excited that you are here today. Can you tell us a little bit about who you are? Your background, all that good stuff?
Katie
Yes, of course. Hi, my name is Katie. I'm a fourth year music education student here at Western. I play the French horn, and, yeah, I don't know what else there is to really say about me.
Jalesa
Awesome, that's completely okay. So I know in our previous conversations, you mentioned that something you're passionate about is just advocating more about physical, invisible disabilities. So we were wondering if you could explain what an invisible disability is for those who do not know.
Katie
Yeah, for sure. I totally can. Invisible disabilities are when someone is disabled, but you can't directly see if they have a disability. And so, like, someone may need a mobility device, and that would be like a visible disability, but with invisible disabilities, it's...you can't really tell that someone is chronically ill or disabled a lot. I know mental illness falls under it.
Katie
The chronic pain that I've been in over the past couple of years falls under it. There's a lot more invisible illnesses that we don't really realize are invisible because we focus so much on the visible illnesses.
Elizabeth
Yeah, that's...that's a great point. You know, what, what made you, like as a two parter: Why do you think it is we focus more on those visible or, you know, kind of more seen illnesses and disabilities, and what made you so passionate about advocating for folks with invisible disabilities?
Katie
That's a great question. Thank you. I think a lot of it actually has to do with the fact that visible disabilities tend to be more easily able to be diagnosed. Like they're more easily diagnosed by doctors and physicians--nothing bad on them--sometimes it's harder to find an invisible illness. Like for me, it took me eight or nine years to get diagnosed with what I have, and it took a lot of advocating on that part. When it comes to wanting to advocate for these illnesses and everything.
Katie
I went through really frustrating times throughout high school and even especially throughout my first year at university where I was in and out of the hospital with many, many doctors. And I just wasn't listened to in a sense, and I had to really hop through all of these different doctors to kind of figure out some sort of answer.
Jalesa
Yeah, that's a great point. Thank you so much for sharing. And so my next question is how does living with an invisible disability impact your experience as a student at Western?
Katie
This one is actually really funny to me because...because of my invisible illness, and how long it's been taken to get diagnosed, I have new symptoms that pop up every single day. So in that sense, sometimes I will be perfectly fine. I'll have a great pain free day and I can continue my life on as normal. And then some days I will be on the floor, curled up in pain.
Katie
It's just something that I've had to deal with for such a long time. Right now, I'm actually not on any accessibility whatsoever. Throughout the pandemic, I had some really good days where I was able to get all of my work done. I was able to kind of almost function normally and, well, normally in a sense. Like I'm able to get up and do tasks and fix my routine and all that.
Katie
But now it's been, it's been a little more difficult. I've been very lucky to have some very accommodating professors and academic advisors throughout the Faculty of Music. So I guess in that sense, I'm just really blessed with having a good faculty to have, that has my back and yeah, otherwise that's about it.
Elizabeth
So, you know, I'm wondering if you can talk a little bit about, you know, some of the challenges when a person maybe needs accommodation sometimes and not other times and what that looks like in the physical world and then kind of what that's looked like in the virtual world.
Katie
Yeah, for sure. When it comes back to the physical world, I needed a lot of accommodation in my first year because as I said, I was in and out of the hospital a lot. But I think the hardest part for me, though, was being able to get some sort of doctor's note or some sort of like medical thing to just kind of help me through, whatever what was going on.
Katie
Like if I needed a couple of days extra on an assignment like that kind of stuff, like I needed those doctor's notes for. When it comes to virtual, I guess virtual was a little more lenient in a sense because we're all in the middle of a pandemic and people are bound to kind of get sick and whatever. So like that wasn't as big of an issue.
Katie
But for someone who needs to get those accommodations, sometimes it can, it can be difficult. I'm not going to sugarcoat it or anything. It can be really hard to get those accommodations, especially, as I've said before, having an invisible illness you can't really show people what's wrong with you or you kind of don't have as much proof, visual proof, I guess.
Katie
So when it comes to that, it's just reaching out. Reaching out's been a big thing for me. Like you'd be surprised at how many professors I didn't think would kind of support me through this and now they've had my back forever. I've had a really good rapport with my academic advisors who have been nothing but amazing. So it's just kind of having to speak out for myself and getting also friends behind me as well.
Katie
Having a really good support group can also change everything as well when it comes to getting accommodations.
Jalesa
Yeah, that's a great point. I think just the concept of documentation is just so prevalent just in society as a whole, and I know it can be super difficult, especially going through the diagnosis process and just having all of these symptoms but it's hard because I know at Western and many other universities, like you need to have documentation to prove it.
Jalesa
So I can imagine that that must have been a battle for you. So we want to switch the subject a little bit. We were wondering what role has faith played in living with an invisible disability for you?
Katie
Yeah, so I guess for the people who are listening to this now and don't know, I am a Christian, so I believe in God, I believe in heaven, that kind of stuff. But my faith has actually gone through like this whole loop throughout the entire process. So going into the very beginning, when I was first trying to get diagnosed, I was very confused and I was quite lost.
Katie
So there was a time where like I kind of lied about my faith at that time and I would still go to church every Sunday and I would listen to worship music and go to church band rehearsals. But really, I wasn't taking anything out of it. I was angry. I had a lot of angst, and that part was kind of scary.
Katie
But once again, I guess just a lot of my friends are also Christians and having them kind of supporting me, even if it's not directly and just kind of praying for me throughout the whole diagnostic process and everything, I think just having a good circle of friends that have been super supportive have been really helpful towards that. And then also just having those friend groups too, helped me kind of transform my faith back in.
Katie
Once I got diagnosed, I kind of realized that the reason why it took so long to get me diagnosed was because God was teaching me about being patient. I'm not a patient person in the least. I get very...I'm trying to think of the word. I guess I just don't like waiting for things like if I need to know something, I want to know it now, not like just a little bit into the future.
Katie
Like I need to know something at this second. I need to know why my body has been hurting, like all that kind of jazz. So yeah, I guess just in that once I got diagnosed, I kind of had to listen more to God and just be like, you know, whatever's going to happen at this point is going to happen and just kind of depending on him to kind of lead me across the next couple of years.
Katie
Like even today, like I'm I think this year marks four...no, this year marks three years since I've been fully diagnosed and I guess just I'd had to really watch through God and kind of follow his kind of guide in a sense to just see how things are going to go. And I just have to kind of just put all my worries onto him.
Katie
And yeah, I just guess that's probably it. Like otherwise, my faith, like I guess everyone's faith, is kind of subjective in a sense. I don't know if that's the right word to put, subjective...meaning like sometimes people have good days, sometimes people have bad days. Like even now, like I'm gonna be very open about this. I still struggle with my faith daily.
Katie
There are times where I feel lost and sometimes I kind of question things, but I just kind of have to pray a lot. Praying has been very big throughout doing all this. I just realized I totally went on a tangent there. I am so sorry.
Elizabeth
That is quite okay. We're happy you did. I wonder, you know what, what can, when we think about faith and disability in academia, are there things that Western is doing to support students with disabilities and faith? And are there things that maybe you wish they were doing?
Katie
I have to be honest, I'm not totally sure. I know that, I know that Western has great supports for people who are religious and are a part of different religions, and I think that's awesome. I know in UCC they have the Muslim prayer room. We have great clubs on campus that help support all of that. So everyone's like, you could literally like there's like three or four Christian clubs on campus.
Katie
There are so many different other religious clubs on campus as well. And just kind of that connection has been really good too. In the sense of both religion and disability, I'm not, I'm honestly not totally sure. When it comes to disability, I know that there's a lot in place, but how like Jalesa has said, like it's it's hard because there's a lot of documentation processes, and sometimes some of those documentation processes means you've got to go to a doctor and get all that signed off.
Katie
And sometimes that's harder for some of us. Like for me, I went to my family doctor to get a bunch of stuff signed off, and he wouldn't sign any of it because I wasn't visibly, you know, it wasn't like I was showing anything visibly right in front of his eyes at that point. So I guess in a sense I'm not sure how we can kind of keep on moving on with that.
Katie
And I wish I knew because as somebody who has an invisible illness, sometimes I almost feel like it's like a sense of imposter syndrome where like, yeah, I'm disabled, but also like I don't feel like I kind of deserve that title because like I...that doesn't, it almost doesn't sound right to say, but it's almost like I can get up and I can do things on a normal day and sometimes I can feel like absolute garbage, like it's kind of difficult and not in my position per se, but it's kind of weird to think about. I'm going on another tangent again, I'm so sorry.
Jalesa
No worries at all, Katie. That's completely fine. I love the opinions you shared and just how open you've been. So another thing we wanted to ask you is what advice would you give to someone who is navigating faith in disability or wants to learn more a bit about how the two intersect with one another?
Katie
All right. Thinking about this now, the biggest thing that I want to tell someone is that, like, it's not going to be easy. You're going to go through a big faith journey. If you're, if you are affiliated with a religion or any of that, you're going to probably go through a big journey. So it's, you're going to have to kind of take some time out of your day to pray or read, or, just I find that journaling been very helpful with all of going through all of this.
Katie
So it's going to be hard. Yeah, it's going to be quite difficult and it kind of stinks to say this because like I know in the Bible, like it almost seems completely easy just to kind of give all your worries away and then just live a happy, peaceful life. And sometimes that's not how it totally works. So I guess in a sense for that I keep on praying, get yourself a support group, especially like get a bunch of friends who, maybe have some that are in the same faith background as you and they can help you, pray for you, support you any way possible.
Katie
Just know that you're not alone going through this. And so many people have struggled with it. Like for a long time I thought I was by myself and that kind of sucked. But now it's just like I have these friends backing me and yeah, I'm grateful for it every day.
Elizabeth
That's fantastic. That's really beautiful. Interdependence is such a big part of faith and disability. It's a part of all our lives. We, you know, we, we don't do anything alone, but especially in faith and disability for sure. And what do you think some of the biggest misconceptions are when using your faith to navigate living with a disability?
Katie
Yeah. So I guess I can really open up about this now too. Kind of like what I said before, just because you're going to pray or read your Bible and whatever and just kind of giving your worries and whatnot away, it's not going to take everything away. Like that's, it sounds really sad, but you're not going to, I guess for me because my disease is kind of incurable, I had to really learn that.
Katie
Like, it's going to take a lot of patience, it's going to take a lot of time and a lot of, kind of, supports. A lot of supports are going to be needed. It's more than just kind of giving all your worries away and kind of praying. I had someone in my life, well, no longer in my life anymore...that makes it sound like they're dead.
Katie
They're not dead! But they had told me a couple, couple of months ago now, that my faith and my lack of it was the reason I was ill. And just that alone, that's just like, it's not nice. It's not very kind. But yeah, if people are saying that to you, they're not the right person to be around. And that took me a long time to kind of realize. Like I knew immediately when that person said that to me, like, it kind of made me feel almost sick to my stomach.
Katie
And I just hope that no one has to experience that ever because I guess in Christianity, in the way that I see it, is God loves everyone no matter what, and he's going to drag you through some challenges and devil's going to put you through challenges. And it's going to take a lot of willpower and patience and getting support systems.
Katie
And that's okay. Like not everything is going to be better in a snap of a finger. It just takes so much patience and it can be really difficult. So I guess, yeah, not everything's going to be better within a click of a thumb and you're just going to have to be patient and find something that brings you joy and kind of just keep on motioning along with faith, I guess.
Katie
Yeah.
Jalesa
Awesome, thank you so much. We were wondering if you could share a few resources for people who live with invisible disabilities or those around them just in regards to supporting them.
Katie
I have to be brutally honest here, I actually don't know too much. I know that a big one for people, especially with mental illness, is reaching out. When you're doing all the reaching out, there's at least at the university, we've got the Good2Talk, we've got Kids Help Phone, we have the CMHA, we have all of these different crisis health centres that have been really detrimental to a lot of people who have dealt with illnesses.
Katie
Honestly, I don't know a lot because I wasn't given a lot of resources. I know a resource that you might not want to use like totally is WebMD. That, that was a little more difficult to not navigate, but it can kind of boost up the health anxiety a little bit. But otherwise, like, yeah, I wish I knew more resources, to be honest.
Katie
I kind of came out like, came running out with the diagnosis, but also running around like a chicken with no head trying to realize what was going on. So I think the biggest step for me was going to counseling and going to kind of like figure that stuff out, like all the mental stuff that was going on, out.
Katie
So yeah, I wish I knew more. I got to be honest.
Jalesa
It's completely okay. Maybe could you provide any tips for people who have friends with invisible disabilities? Like I know when I talked about it with Elizabeth, many episodes back, we talked about, you know, not assuming how someone feels based on their visible disability. So do you have anything along those lines? Just in terms of tips and supporting friends with disabilities?
Katie
Oh, I do. I have, I have a lot. I guess the first tip and I think the most important, like you've already outlined, is don't assume that your friends are always doing amazing at all times. Like there has been several times where I have had to back out of things last minute because I've had a flare or any of that.
Katie
Just know that we're not trying to be rude or anything or kind of just flaking out on you. Pain is, can be pretty genuine and it can be kind of deceiving at times. It can come on out of nowhere. It can come on gradually throughout the day. It all, just that, just, kind of, yeah. Also checking in on your friends, making sure that they're okay.
Katie
I have two amazing friends, Lauren and Jen, and they have both really taken up the mark of checking in on me all the time and making sure that I'm feeling physically okay. And that kind of, I guess that's really nice as well. Just having those people, just checking in on your invisibly ill friends, it's just, it's just so important to even, even if you're not invisibly ill, just checking in on each other can do so much for us.
Katie
It can really benefit your mental health. So in general that as well. But yeah, the main point is just not assuming, it's just you shouldn't be assuming if, that your friends are doing fine just because they're walking, up and walking and doing whatever in the middle of the day and then quote unquote flaking out in the middle of like an event or something because they're not well, just yeah, just check in on your friends, see how they're doing.
Katie
Let them know, like if they need anything just to call you or whatever.
Elizabeth
You know, that's so beautiful. Checking in, radical love, showing people that you understand if they have to cancel last minute. Those are just great tips for a life, like Life Hacks with Katie. I don't know. I wanted to just ask you, do you have any closing thoughts, words of wisdom, advice, things that you really want people to know about faith, disability, navigating those intersections, anything at all?
Katie
I am so sorry about that. Could you please ask the question again?
Elizabeth
Absolutely. Wondering if you have any last thoughts, words of wisdom, advice for navigating faith and disability and the complex intersections of those things and just anything you want to share, any experiences. Last words of wisdom, advice. Any good stuff like that.
Katie
Yeah. So I guess quote unquote, my word of wisdom is if you are struggling with an invisible illness and you're having a hard time getting diagnosed or even just being seen or heard by a doctor, the best thing that I've ever had was having someone with me for support. Someone who could come with me to my appointments so they can learn more about the invisible illnesses that I have and whatnot.
Katie
Just having that kind of person of support. Find someone that you trust who can also not only just be there at your appointments to learn more, but help advocate on your behalf, because sometimes it takes more than one person to have that all in center. And then, yeah, just when it comes to faith, just know that everyone's faith and faith journeys can be different.
Katie
So it might not necessarily be like mine sometimes. Maybe you will have an easy time. Sometimes you'll have a really difficult time, and that's okay. Just know that you're not alone fighting through this and in the end, I can't say that it's always going to turn out amazing, but just know that getting up every day and just waking up and realizing that you're alive for another day just kind of makes everything feel a little better.
Katie
Find that one thing every day that makes you joy. If it's getting up in the morning or you eat a really good breakfast or you spend a couple of minutes talking to a friend that you haven't seen in a while, just finding those little sparks of joy between your day have been really beneficial towards my wellbeing and my mental health.
Katie
So yeah, otherwise that's all I have to say.
Elizabeth
That is beautiful, Katie. I love that. Checking in, talking to friends, enjoying the simple things like a beautiful breakfast...reminds me I'm getting hungry, but thank you so much for sharing with us today. And for holding some space to talk to us. And great, great words of wisdom and advice. Well, thank you for listening. That's our episode for this week.
Elizabeth
Stay tuned for the next episode when we sit down with the executive from Best Buddies to chat about their work.
---
Published on