World AIDS Day 2021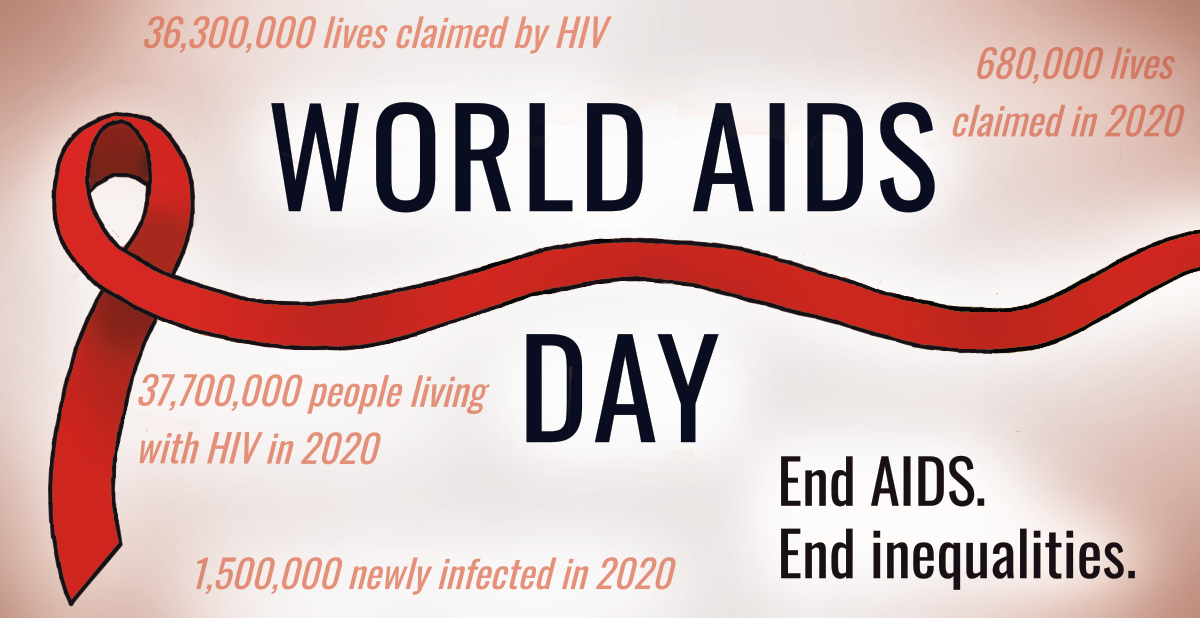 Written by: Emily Passfield, 4th Year Psychology 
Graphic created by: M. Bettencourt 
Acquired Immunodeficiency Syndrome (AIDS) is a life-threatening condition caused by the HIV virus. The HIV virus attacks the immune system of the patient and reduces their natural resistance to other diseases. Around 38 million people have HIV, 680,000 people died from HIV-related causes in 2020, and 1,500,000 people were newly infected with HIV in 2020 - which is why awareness and support is so important.
World AIDS Day was first established in 1988 by James Bunn and Thomas Netter, and takes place on December 1st each year. The primary goals of this day are to empathize the significance, scope and impact of the AIDS pandemic, as well as to highlight national responsibilities regarding universal treatment, support and care for those living with HIV/AIDS. World AIDS Day follows AIDS Awareness Week, which was recognized in 1984 and is held the final week of November. Today, World AIDS Day is the longest-running disease awareness initiative of its kind in the history of public health. It is an international campaign that features awareness-raising activities around the globe and allows for people with HIV/AIDS to make their voices heard on important issues in their lives. The first conference to discuss the HIV/AIDS epidemic was held on September 15, 1981 in an attempt to develop a treatment.
This year, the theme for World AIDS Day is "End inequalities. End AIDS. End pandemics." - we need to fight AIDS and COVID-19 together, simultaneously. Without action against inequalities, the world risks missing its targets to end AIDS by 2030. We already missed important global targets for 2020, so we need to step up and address the social issues and inequalities that drive the AIDS pandemic. Past themes have included "Global solidarity, shared responsibility," "Communities make the difference," and "know your status." It has been 40 years since the first reported cases of AIDS, but it still burdens individuals around the world. This is not due to a lack of knowledge or tools to deal with the crisis, but instead inequalities that obstruct proven solutions. As a whole, we can't afford not to act since millions of lives are at stake.
The 2021 World AIDS Day campaign also emphasizes a renewed focus on those left behind - a focus on countries and populations that are still left out of the global response to HIV and AIDS. This includes many marginalized and equity-deserving communities and people who are at a higher risk of contracting HIV. WHO (the World Health Organization) is calling on everyone to act and do what they can to help combat HIV; they are calling on Health Care Workers to advocate for maintaining access to HIV services during COVID-19; community leaders to advocate for those with HIV and raise awareness, and all people to work towards ending HIV. 
Another AIDS movement is the Red Scarf movement. It is a movement to raise awareness and bring the community together by standing against the stigma surrounding HIV/AIDS. HIV stigma is negative attitudes and beliefs about people living with HIV; it's a prejudice that leads to harmful labels and discrimination. The Red Scarf movement started in 2012 and over 7000 homemade scarves have been donated since. Like cancer ribbons, the red scarf symbolizes awareness and support for those with HIV/AIDS. Campaigns such as this help reduce tht stigma by talking about HIV and taking action. The Gay Men's Health Crisis (GMHC) was the first community-based AIDS service provider in the United States.
In its first few years, World AIDS Day focused on children and youth, but was criticized because it did not focus on all age groups. However, the intention with this focus was to bring awareness to AIDS being a family problem, not just restricted to adults.
In addition, December 1 also starts off Indigenous AIDS Awareness Week (IAAW) and they target women, youth, people who are incarcerated, Two-Spirit, Inuit, Metis and Indigenous Leadership. The week is intended to bring awareness to the struggles the Indigenous communities face in regards to HIV/AIDS and work towards responding to intersecting pandemics - COVID-19 and HIV/AIDS. There are various different virtual talks and events happening during this week to talk about harm reduction through an Indigenous perspective, how HIV effects 2-Spirited People, hearing from elters, and more. Ultimately, this week works hand-in-hand with World AIDS Day to recognize those left behind and to end AIDS; it is a further opportunity to increase awareness, establish educational campaigns, and address attitudes that may be interfering with prevention, care, and treatment. 
To learn more about World AIDS, visit these websites: 
https://hivaidsconnection.ca/community/aids-awareness/world-aids-day
https://en.wikipedia.org/wiki/World_AIDS_Day
https://www.verywellhealth.com/the-history-of-world-aids-day-48717
https://www.unaids.org/en/World_AIDS_Day
https://www.unaids.org/en/2021-world-aids-day
https://www.hiv.gov/hiv-basics/overview/history/hiv-and-aids-timeline
---
Published on