Friendsgiving: Celebrating the Strangers You Decided to Get to Know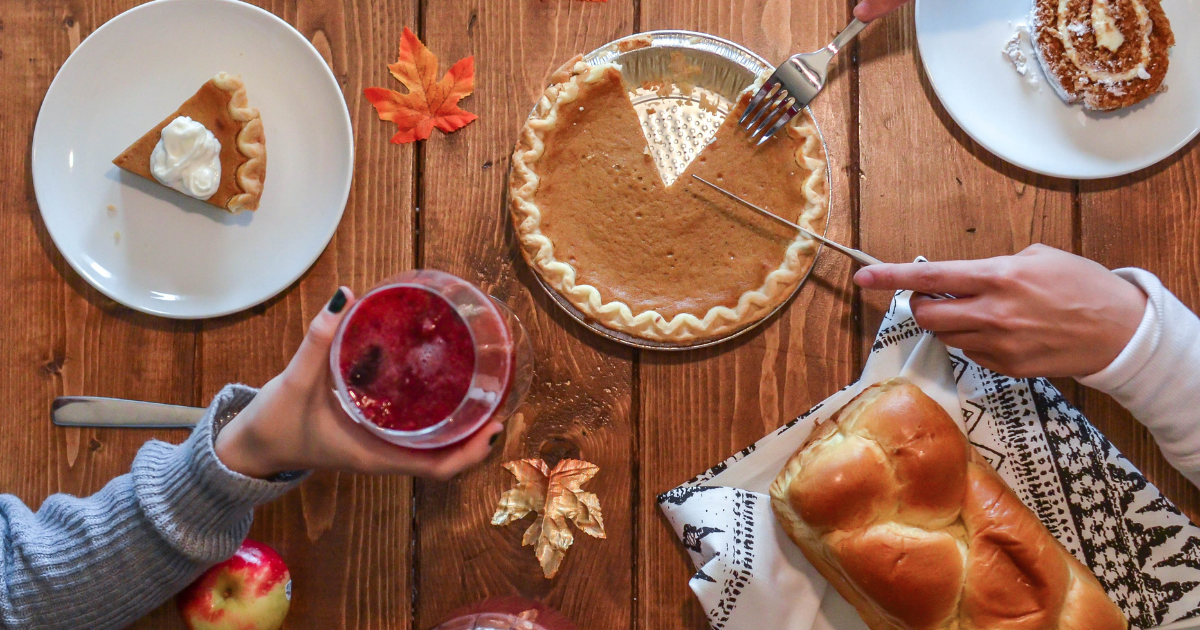 Written by: Ankita Mishra
Photo by: Element5 Digital on Unsplash
During the busy kickoff to midterm season, it is always difficult to find time to just sit back and relax. Fortunately, the Thanksgiving long weekend provides us with an opportunity to do just that! I understand that after the draining weeks at school, excessive planning for what to do during your break can turn what is supposed to be a fun time, into a dreadful time. That is why I am going to give you some quick and easy ideas on how to have a blast with your friends.
What is Thanksgiving without a hearty meal, am I right? For that reason, throwing a potluck with your friends is always a great go-to idea. Everyone can cook a particular dish and when you bring them all together, voila! You have a buffet of options to choose from! Not only does this make dinner versatile, but it gives everyone a chance to show off their cooking skills. Now if you're like me and you lack cooking abilities, you can choose to bring pre-made items such as a fruit board, charcuterie board, champagne, and even some nice glasses to drink this champagne. Not only are all these items very simple to put together, but they're also visually appealing and will be an asset to your Instagram boomerang videos.
Now that the main course is finished, it's time to get your sweet on! If you don't want to spend a good portion of your Thanksgiving standing in the kitchen for hours preparing dessert, an ice cream bar is calling your name. Include your favourite toppings such as sprinkles, marshmallows and chocolate or caramel sauce, and flavours (and please don't be mean to those who like mint chocolate chip). If you are willing to go the extra mile, have a cookie decorating session. Bake some cookies (maybe several different flavours such as pecan shortbread, caramel-chocolate-walnut thumbprint, macadamia nut, oatmeal chocolate chip, etc.) and then add some drawings with coloured frosting!
After eating until you need to unbutton your pants, there are many activity ideas out there as you wait for your food to digest. Buy a giant puzzle and try to complete it by the end of the night. Nothing brings people together like trying to put together 1000 pieces of painted paperboard to paint out a picture. Although most puzzles are ages eight and up, I can guarantee that they do not get any easier for those who are older than eight. If puzzles are not for you, then you can watch a movie together instead. Pick a genre of your choice but my personal favourite is horror because horror movies always turn into comedies when you're watching with friends
For all you artistic folks out there, the possibilities are endless. Karaoke is fun, especially when you have your favourite songs ruined by your friends' out-of-tune singing. Bringing old but gold songs back into your working memory is always great. If you're feeling like channeling your inner Micheal Jackson, playing Just Dance is the way to go. Don't worry if you don't own the actual game. Streaming the YouTube version on your TV or laptop works just fine! Or even better, try to learn a TikTok dance so you can fill up your drafts with 100 failed attempts and one mediocre attempt. If you're willing to get your hands dirty, buy a couple of pumpkins and carve them. If you don't feel like getting pumpkin goop all over your hands, you can buy white pumpkins and decorate them with paint instead. Make yourself hot chocolate and turn on the fireplace (an artificial fireplace in my case) and get decorating!
All these simple ideas are great, but here are some ideas for those who are willing to crank it up a notch. Unlike my friend group, if your friend group is filled with non-couch potatoes who would rather be in the great outdoors, parks look the best during this season with all the leaves changing colours! To build-up your appetite, play Don't be afraid to dress up a little and stroll through the park in hopes to take a new instagram picture, or maybe have a picnic outdoors. If you don't feel like battling insects for your food, having an indoor photoshoot will suffice. Set up a photobooth with Thanksgiving themed props or put up fall-themed decorations.
Finally, if you and your friends are not in the same city for Thanksgiving, you can always have a virtual zoom dinner. Everyone can cook themselves a meal of their choice, light up a candle and enjoy the mere presence of each other. Besides, sometimes having the ability to turn your camera off while gobbling down that turkey can be in your favour.
I understand that taking a break from your busy daily schedule is different for everyone. I know that engaging in social interaction can be tiring for some people. In that case, order yourself some food, grab your laptop and catch up on those Netflix shows you've been meaning to watch! Afterall, my favourite friends to spend time with are my bed and laptop.
However you decide to spend Thanksgiving, make sure you stay safe and follow COVID-19 guidelines because we are still in a pandemic afterall. I hope you were inspired by this article to spend Friendsgiving your way! Remember to tell your friends how much they mean to you. Yes, it's alright to get a little sappy at this time of year. Happy Friendsgiving!
---
Published on