In July 1995, Mayor Dianne Haskett decided against a proclamation for a pride weekend for London's gay community. Subsequently, the mayor was sued for her decision on the grounds of discrimination.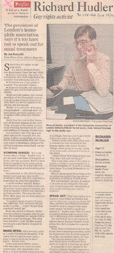 In 1997, She was found guilty of discrimination as a result of the lawsuit. The 3 exhibits illustrate the newspaper articles which documented the event surrounding the proclamation challenge to the mayor.
This site was developed for LIS 695, Archival Reference Services and Outreach, by Students of the MLIS program at UWO.
Last modified: October 2002