Living Well @ Western
Want to be well and live well at Western? We have some ideas for you.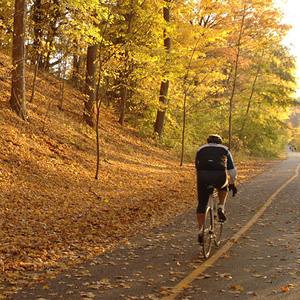 Living Well @ Western is a cross-campus initiative designed to encourage and promote a wide variety of physical, cultural, and intellectual activities to improve health and wellness at Western.
Based on a survey of all faculty and staff at Western conducted in January 2015, 81% of respondents indicated that they are looking for more physical activity to be well and 59% said they are looking for new approaches to stress management. Living Well @ Western has responded by developing a series of activities (many are free), open to faculty, staff and students who are looking to be more active and reduce stress levels. 
---

Outdoor Zumba - Thursday, August 30th
To celebrate the last day of the Global Challenge, we will be hosting a special outdoor Zumba class. Join Angelica, Heidi, and Sabrina from 12:10-12:50pm on Thursday, August 30th. The class will take place at the bottom of UC Hill in front of the Don Wright Faculty of Music. The class is open to all employees at Western, with GC participants earning 10 wellness points and 8,360 steps!!! 



Global Challenge Event - Outdoor Zumba class held outside McIntosh Gallery (June 2018). 
---
Virgin Pulse Global Challenge - Wellness Points
Throughout the 100-day journey, compete in the Wellness Points Challenge offered by Living Well @ Western. Completing challenges rewards your team with points - points earn ballot entries for prizes!! 
 Looking to accumulate more steps? Participate in an activity class!


Zumba! = 8, 360 steps
Kick-Start to Active Living = 6, 870 steps
Pilates = 2, 150 steps
Yoga = 1, 775 steps
For every 5 classes attended, earn 25 Wellness Points for your team!
Cards are available in SSB 3101. 


---
Bring Living Well to You
We are pleased to announce the launch of a new service available to all members of our Living Well @ Western community. A wellness coach will travel to your place of work to provide customizable wellness activities.
Please click here for more details. 
To arrange for a wellness opportunity, please contact the Wellness Coordinator at 
acraig7@uwo.ca or x85562.
Daily Break - 5 Minute Stretching Video for Neck & Shoulders
Lunch-Hour Activity Classes
MEET OUR INSTRUCTORS
Click HERE for instructor bios! 
Other Campus Activities and Resources 
Thompson Arena offers free public skating throughout the fall and winter seasons. If you aren't a skating enthusiast, you can still beat the winter blues by walking, or running, the rubberized track. For the daily schedule, please visit the Western Recreation page.
The Don Wright Faculty of Music offers 350+ (mostly free) concerts each year, many of which take place during the most stressful times (mid-terms and end of the academic year). Take time away from your work or studies to enjoy the exceptional talents of our Music students, faculty and visiting artists. All are welcome! Almost all events take place over the lunch hour, or during evenings and weekends.
For more information or to sign up for Music's monthly events email, contact musicevents@uwo.ca or visit the Music Events Calendar.
For those faculty, staff, and postdocs who commute to campus on a bicycle, or like to get out at lunch for a jog, Living Well @ Western has arranged for day use lockers and showers to be available in the Thames Hall men's and women's locker rooms.
Locker room are located in the basement of Thames Hall
Doors to the locker rooms are generally open, but it is advised that those interested in using the locker rooms on a regular basis arrange to be granted key card access

To arrange key card access, email livingwell@uwo.ca and provide your staff ID number (required to grant access)

Day use lockers are marked with stickers

Women's: Lockers 101 to 156
Men's: Lockers 305 to 348
For more information, contact: livingwell@uwo.ca
Does your definition of wellness include a relaxing stroll through campus or sitting under a tree and reading a book? If so, the resources below might help you add some relaxation to your day.
For more information, contact: livingwell@uwo.ca
Other Campus Wellness Events
Wellness Calendar
The goal of Living Well @ Western is to have others on campus join the movement, initiate activities or promote all the good things already happening here at Western that will help us to live well. Many of these activities are already posted on Western Events Calendar.
Retirement Planning
Offered through Western's Human Resources Office, these Full-Day Financial and Pre-Retirement Planning Workshops are aimed at members aged 45 plus who are considering retirement within the next 10 years. The sessions are facilitated by an external consultant who will lead an unbiased discussion of the role of the Western pension, government pensions and private savings in retirement income planning. These sessions are held four times per year.
For more information, visit the Human Resources website.