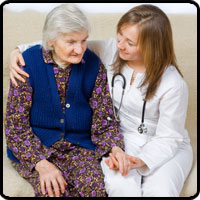 "Transitions in Care" has been defined as the movement of patients from one care setting to another as their conditions and care needs change (Coleman, 2003). Transitions occur at many different levels: within a given health system setting (transitioning from ICU to a hospital ward); between settings (primary care provider and hospital, or hospital to home) and across health states or trajectories of care (curative care to palliative care).
Ineffective care transitions lead to poor patient outcomes including: sub-optimal treatment, delays in diagnosis, severe adverse events, patient complaints, increased health care costs and system utilization due to increased lengths of stay in acute care settings.
Current areas of study include:
The transitions during initial investigation and treatment of cancer
Post treatment transitions between specialists and primary care providers
Transitions between acute (hospital) and community care and studies of the transitions at the end of life.
Recent Works include: