Associate Director, Dr. Mel Katsivo
Associate Director, Dr. Mel Katsivo
Associate Director (Programs & Partnerships), the Africa Institute
Equity, Diversity and Inclusion Specialist, Schulich School of Medicine & Dentistry
Email: mkatsivo@uwo.ca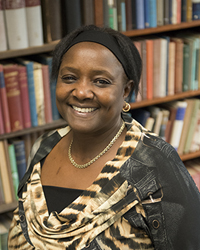 Dr. Melanie Katsivo is The Africa Institute's Director of Programs and Partnerships. In this role, Melanie oversees the development and management of strategic partnerships and programs, in accordance with the Institute's Strategic and Action Plans.
Melanie also leads the effective implementation and embedding of Equity Diversity and Inclusion (EDI) tactics and strategies for the Schulich School of Medicine & Dentistry (Schulich), in the role of EDI Specialist.  She oversees EDI related projects, provides guidance and advice on best practices and collaborates with a wide range of stakeholders to identify key areas of activity and build a commitment for change.
Prior to this Melanie held various research development and academic positions at both Western and Schulich; the most recent one being International Research Officer. 
In Africa, Melanie was a researcher as well as the Director of the Center for Public Health Research, at the Kenya Medical Research Institute.  She later became the Kenya Country Coordinator for Gender and Human Rights for the Netherlands Development Organization.
She sits on steering committees for many initiatives in London, Ontario that are focused on health equity, diversity and inclusion. Melanie also serves as Western University's Ambassador for the Association of Commonwealth Universities, and Board Member-at-Large, of the Project Management Association of Canada.
Melanie has a PhD in Educational Communication and Technology, a Master's Degree in Sociology and a Bachelor's Degree in Education.