VASA: The Visual Art Supporters Association
The Visual Art Supporters Association (VASA) at Western University is dedicated to supporting Visual Art students, generating community within the Visual Art faculty and beyond, and integrating Visual Arts further into the culture at the University of Western Ontario. VASA represents a network of individuals in the Visual Arts department, including undergraduate students, graduate students and faculty members.
President
Lucas Cabral

VP Events
Joanna Li
VP Events
Samantha Roberts
VP Finance
Lilian Gordon
VP Communications
Alexis Perlman
Secretary and Outreach Coordinator
Rosie Elphick
VASA will also be looking for two first year student representatives to join our team in September.
More information will be posted in September.
---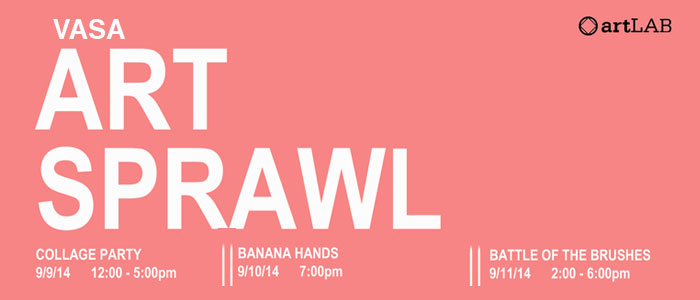 VASA ART SPRAWL presents:
Special Events in the Gallery
Sept. 9-11, 2014
Collage Party
Tuesday September 9, 2014 > 12- 5PM
BANANA HANDS
Videos by Mike Kelley and Kelly Kaczynski
Guest Curated by Christine Negus
Wednesday September 10, 2014 > 7PM
Battle of the Brushes
Thursday September 11, 2014 > 2-6PM
All events are free. Everyone is welcome!