Art in The Public Sphere Winter 2016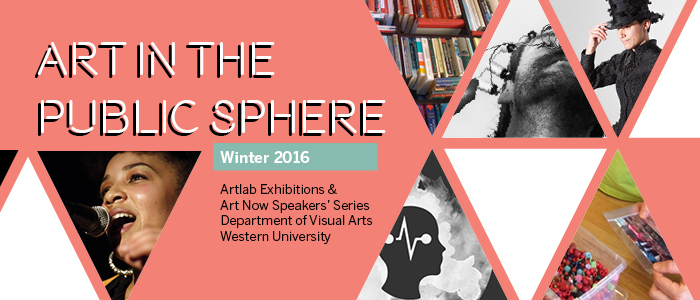 The Department of Visual Arts at Western University is pleased to present the Art in the Public Sphere series of speakers and exhibitions. This important series provides unique opportunities to engage with local, national, and international artists, curators, and scholars. All events hosted at Western University are free and are open to the public. The Winter 2016 series is organized by Prof. Christof Migone as part of ongoing academic offerings at the Department of Visual Art at Western University. 
Lectures are held at 7pm in the North Campus Building, room 113.
A full list of Upcoming Exhibition Can be found on the Artlab Website.
---
Karin Jones
Karin Jones is a Vancouver-based artist with a background in jewellery and metalsmithing. While in the Master of Fine Arts program at NSCAD University in Halifax in 2012/2013, she began exploring hair as a craft medium, a marker of race and culture, and an expression of feminine identity. Halfway through her MFA, she was hired as an instructor at Vancouver Community College's Jewellery Art and Design program, where she now teaches part-time, and will return to Halifax to complete her degree in 2017. Her work has been exhibited internationally, most recently at the Royal Ontario Museum, and the National Ornamental Metal Museum in Memphis, Tennessee. Presented in collaboration with the McIntosh Gallery.  See Karin's Exhibition on view, January 21st to March 12th, 2016. 

January 21, 2016, 7pm > NCB 113
Followed by Opening Reception at the McIntosh Gallery at 8pm.
---
cheyanne turions
cheyanne turions is an independent, Toronto-based curator and writer who holds a degree in Philosophy from the University of British Columbia. From the farmlands of Treaty 8, she is of settler and Indigenous ancestry. Her work approaches the space of exhibition as alive—the gallery is a space of dialogue where artists, curators and publics can reflect on and experiment with ways of seeing and being in relation. Most recently she curated Talking Back, Otherwise, a year-long exhibition at the Jackman Humanities Institute and co-edited C Magazine's poetry issue with Danielle St-Amour and Kari Cwynar. She is the director of No Reading After the Internet (Toronto).

January 28, 2016, 7pm > NCB 113
---
Paola Poletto
Paola Poletto's work shifts between DIY and institutional-based practices. With both, she's interested in the representations of collaborative productions. She is Manager of Adult Learning and Residency Programs at the Art Gallery of Ontario. She is also artist coordinator of Oh Dear (2013), Tel-talk (2012) Boredom Fighters! (2008); and co-founder/co-editor of a lit-art zine called Kiss Machine (2000-5). Paola has held programming positions at the City of Mississauga's Culture Division (2008-13), Design Exchange (2000-8) and the Italian Cultural Institute/Consulate General of Italy (1993-98). She holds an MFA from Western University and BFA from York University.

February 4, 2016, 7pm > NCB 113
---
Kim Solga
Kim Solga is Associate Professor, Theatre Studies, in the Department of English and Writing Studies at Western. She is the author of Violence Against Women in Early Modern Performance (2009) and Theatre& Feminism (2015), and has edited numerous essay collections and anthologies, including Performance and the Global City (2013) and the award-winning New Canadian Realisms (2 volumes, 2012). She is the incoming editor of Theatre Research in Canada, the journal of record of the Canadian Association for Theatre Research. She blogs about performance, teaching, and activism at http://theactivistclassroom.wordpress.com. 

February 11, 2016, 7pm > NCB 113
---
LaTasha N. Nevada Diggs
A writer, vocalist and sound artist, LaTasha N. Nevada Diggs is the author of TwERK (Belladonna, 2013). Her interdisciplinary work has been featured at the The Kitchen, Museum of Modern Art, the Whitney Museum of American Art, the Walker Art Center, Modern Art Museum of Fort Worth Texas, REVERSE in Denmark, Poesiefestival in Berlin and the 2015 Venice Biennale. As a curator and director, she has staged events at BAM Cafe, Lincoln Center Out of Doors and El Museo del Barrio and is the co-founder and co-editor of Coon Bidness/SO4 magazine. A native of Harlem, LaTasha is the recipient of numerous awards; of them include New York Foundation for the Arts, The Jerome Foundation, Lower Manhattan Cultural Council, The Laundromat Project, the National Endowment for the Arts and a 2016 U.S. - Japan Creative Arts Fellow.
Presented in collaboration with the Department of Women's Studies and Feminist Research, Theatre Studies, Department of English, Performance Studies Research Group/

March 3, 2016 7pm > NCB 113
---
Tom Sherman
Tom Sherman is an artist and writer. He works across media (mostly in video, radio, performance, print and the Web). From a phenomenological perspective, he is obsessed with description and writes all manner of texts. He represented Canada at the Venice Biennale in 1980, and over five decades his interdisciplinary work has been featured in hundreds of international exhibitions and festivals, including the Vancouver Art Gallery, National Gallery of Canada, Museum of Modern Art, and Ars Electronica. He has published extensively, including Before and After the I-Bomb, Banff Centre Press, 2002. He received the Bell Canada Award for excellence in video art in 2003, and Canada's Governor General's Award in Visual and Media Art in 2010. Sherman is a Professor in the Department of Transmedia at Syracuse University. Presented in collaboration with LOMAA and Vibrafusion Lab.

March 10, 2016 7pm > NCB 113
---
Ian Doig-Phaneuf
Ian Doig-Phaneuf is a London based musician, DJ, proprietor of the record label A Person Disguised as People, and is both Music Director and a radio host at 94.9 CHRW. As a musician Doig-Phaneuf has been a member London's avant-rock group the Riderless (2001 to 2013), one of London's premiere live and improvisatory groups, having opened for The Necks, Stars Of The Lid, DoMakeSayThink, Don Caballero, Akron/Family, Explosions In The Sky, Damo Suzuki, and others. As a solo artist, Doig-Phaneuf has released several recordings under both his A Souvenir moniker and as Ian Doig-Phaneuf, producing electronic works and improvised guitar and synth loop structures. Doig-Phaneuf was Music Director for the London Ontario Live Arts (LOLA) Festival from 2006 to 2011, and has collaborated on several events as both booker and promoter for Museum London, Forest City Gallery, Aeolian Hall, Call The Office, London Music Club, and others.

March 24, 2016, 7pm > NCB 113
---
Location & Parking
Please note that the location of the Art Now lectures has been moved to a higher capacity room in the North Campus Building (NCB-113). NCB is located just south of the John Labatt Visual Arts Centre (VAC). Metered parking is available in the parking lots between VAC & NCB. For more information or directions please see Western's Map Tool and search for "NCB".
Select Videos from the Speakers Series are now availible on
YouTube.