Art in The Public Sphere Winter 2015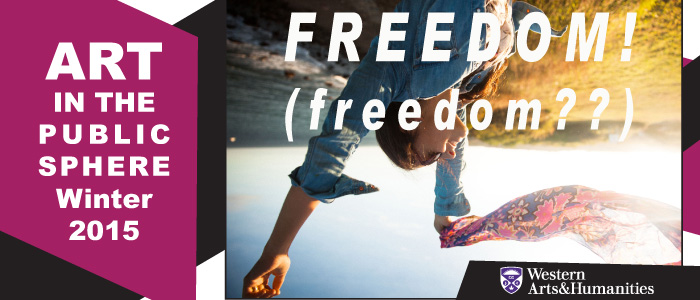 Image: © 2013 Chris Ford; Flickr Creative Commons
The Department of Visual Arts at Western University is pleased to present the Art in the Public Sphere series of speakers and exhibitions. This important series provides unique opportunities to engage with local, national, and international artists, curators, and scholars. All events hosted at the VAC are free and are open to the public.
Bridget Moser
Performance and artist talk by Toronto-based performance artist Bridget Moser. Her engaging work is suspended between prop comedy, experimental theatre, performance art, absurd literature, existential anxiety, and intuitive dance.
Thursday, January 22, 7PM > NCB 113
---
Kitty Scott and Tom McDonough
Kitty Scott, curator of modern and contemporary art at the AGO will be speaking in tandem with Tom McDonough, author, art historian, critic and writer for numerous publications, including Art Forum, October and OSMOS.
Thursday, January 29, 7PM > NCB 113
---
David Balzer
Critic and writer David Balzer will be speaking about his new book,Curationism. Balzer has contributed to publications including The Believer, Modern Painters, Artforum.com and The Globe and Mail, and is the author of Contrivances, a short-fiction collection. He is currently Associate Editor at Canadian Art magazine.
Thursday, February 26, 7PM > NCB 113
---
David Rokeby
David Rokeby is an internationally renowned artist and Governor General's award-winner based in Toronto. His work has been performed and exhibited across Canada, the United States, Europe and Asia, including The National Gallery of Canada, the Whitney Museum in New York and the Venice Biennale of Art.
Presented in partnership with the McIntosh Gallery
Thurday, March 19, 7PM > NCB 113
---
Please note that the location of the Art Now lectures has been moved to a higher capacity room in the North Campus Building (NCB-113). NCB is located just south of the John Labatt Visual Arts Centre (VAC). Metered parking is available in the parking lots between VAC & NCB. For more information or directions please see Western's Map Tool and search for "NCB".
Select Videos from the Speakers Series are now availible on
YouTube.