Art in The Public Sphere Fall 2014
The Western University, Department of Visual Arts is pleased to present the Art in the Public Sphere series of speakers and exhibitions. This important series provides unique opportunities to engage with local, national, and international artists, curators, and scholars. All events hosted at the VAC are free and are open to the public.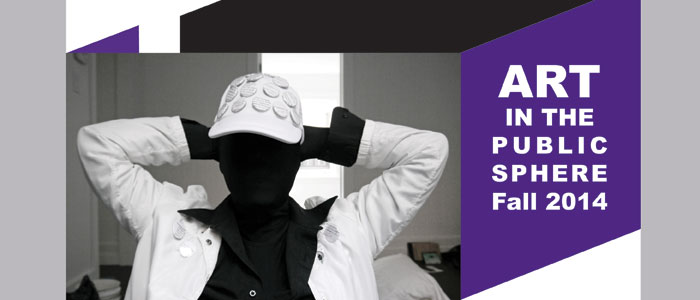 Christine Swintak, Artist Contract Outfit, 2014, Image courtesy of the artist.
Erin Sexton
Montreal based Artist with Respondent: Professor Felix Lee, Department of Chemistry, Western University
Thursday, September 18, 2014 > 7PM > NCB-117 
---
Derek Jarman, Tasman Richardson
A screening of a selection of Tasman's video work alongside a screening of Blue (1993) by Derek Jarman
Thursday, September 25, 2014 > 7PM > NCB-117 
---
Aja Rose Bond & Gabriel Saloman
Vancouver based Artists, collaborators, artists, activists on projects such as the STAG Library, the Lower Mainland Painting Co., and the Her Jazz Noise Collective
Thursday, October 2, 2014 > 7PM > NCB-117 
---
Ame Henderson
Choreographer (Toronto), Artistic Director of Public Recordings, AGO Artist-in-Residence
Thursday, October 9, 2014 > 7PM > NCB-117 
---
Nandita Biswas Mellamphy
Associate Professor, Department of Political Science, Western University
Thursday, October 16, 2014 > 7PM > NCB-117
---
Christine Swintak
Montreal/Toronto based multimedia, installation and performance Artist
Thursday, October 23, 2014 > 7PM > NCB-117
---
Louise Déry
Director/Curator, Galerie de l'UQAM, Montreal
Presented in partnership with McIntosh Gallery
Thursday, November 6, 2014 > 7PM > NCB-117
---
Nihilist Spasm Band
Legendary London, Ontario based noise band founded in 1965
Thursday, November 20, 2014 > 7PM > Artlab
---
Please note that
the location of the Art Now lectures has been moved
to a higher capacity room in the 
North Campus Building (NCB)
. NCB is located just south of the John Labatt Visual Arts Centre (VAC). Metered parking is availible in the parking lots between VAC & NCB. For more information or directions please see 
Western's Map Tool
 and search for "NCB".