Art in The Public Sphere Winter 2015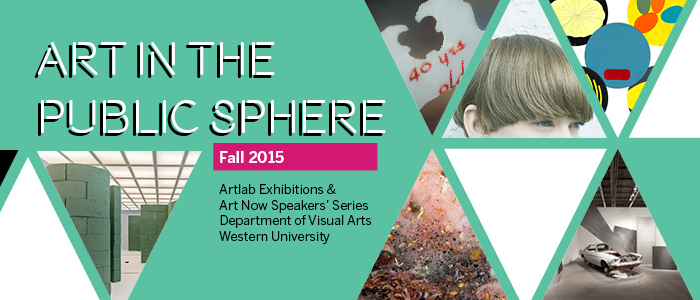 The Department of Visual Arts at Western University is pleased to present the Art in the Public Sphere series of speakers and exhibitions. This important series provides unique opportunities to engage with local, national, and international artists, curators, and scholars. All events hosted at the VAC are free and are open to the public.
---
The Fall 2015 series is organized by Prof. Jason Hallows as part of ongoing academic offerings at the Department of Visual Art at Western University. Lectures are held at 7pm in the North Campus Building, room 113.


Sandra Meigs
For over 35 years Sandra Meigs has created vivid, immersive, and enigmatic paintings that combine complex narratives with comic elements. Meigs is dedicated to the possibilities of enchantment that painting presents through colour and form. She believes that the very authenticity of one's experience offers proof that what is imagined when looking at a painting is as real as anything else that one experiences in the world. Born in Baltimore in 1953, Meigs studied at the Rhode Island School of Design, the Nova Scotia College of Art and Design (B.F.A. 1975) and Dalhousie University (M.A. 1980). Sandra Meigs has been a dedicated teacher at the University of Victoria for over 20 years. Represented by: Susan Hobbs Gallery
September 24, 2015, 7pm > NCB 113


---
Lili Huston-Herterich & Laurie Kang 
Nadia Belerique, Lili Huston-Herterich, and Laurie Kang have recently wrapped their Power Plant collaboration entitled The Mouth Holds the Tongue. Huston-Herterich and Kang will discuss the project, their collaborative process, and their personal practices. Lili Huston-Herterich has maintained a studio and curatorial practice since her BFA at York University (2010). She has recently exhibited at Peregrine Program, Chicago (2015); 8-eleven Gallery, Toronto (2014); and Birch Contemporary, Toronto (2014). Laurie Kang works in image-based sculpture and installation. Exhibition and project sites include the Art Gallery of Ontario (2014); Feldbuschwiesner, Berlin (2014); and Erin Stump Projects, Toronto (2013). She holds an MFA from Bard College.
October 8, 2015, 7pm > NCB 113


---
Derek Liddington
A graduate of Western University's MFA program, Derek Liddington has exhibited in numerous public settings, including his intervention at the Art Gallery of Ontario (2014). Some recent solo exhibitions include: Cambridge Galleries (2013), and Daniel Faria Gallery, (2013). He has exhibited internationally at Art Berlin Contemporary (2013), Onagawa AIR, Japan (2013) as well as NADA New York (2014). In the fall of 2014 Liddington staged a 12 hour ballet electric guitar ballad in collaboration with Zev Farber and Cara Spooner as part of Toronto's Nuit Blanche. Liddington is based in Toronto.
October 15, 2015, 7pm > NCB 113


---
Danielle St Amour 
Danielle St. Amour is an artist, writer, and curator based in Toronto. In 2008 she co-founded Palimpsest Magazine and continues to be active in publications and print-based work. She co-edited the publication Rearviews with Xenia Benivolski, and recently co-guest-edited the upcoming issue of C Magazine, with Kari Cwynar and cheyanne turions. St-Amour has produced projects nationally and internationally – in Vancouver, Halifax, Frankfurt, and North Adams, MA. In addition to several projects as co-director of WWTWO in Montreal, she has more recently curated shows at The Banff Centre and Erin Stump Projects. She has an upcoming project with Rosa Aiello and Tess Edmonson at Saphrophyt in Vienna. In 2013 she was listed as one of ARTINFO's Top 30 Under 30.
November 5, 2015, 7pm > NCB 113


---
Christine Negus
Christine Negus received her MFA from Northwestern University (2010), and her BFA from Western University (2008). She has exhibited her work both national and international venues, including the Montreal Underground Film Festival, Cambridge Galleries, Art Gallery of York University, Xpace Cultural Centre and Images Festival where, in 2008, she won the National Film Board of Canada's Best Emerging Video/Filmmaker. Her first solo exhibition, you can't spell slaughter without laughter, opened in January 2012 at Gallery TPW. Negus' short "the loneliest animals" is included in the anthology Blast Counterblast edited by Anthony Elms and Steve Reinke.
November 12, 2015, 7pm > NCB 113


Sandy Plotnikoff
Over the course of his career Sandy Plotinikoff's work has demonstrated his interest in transcending the expected possibilities of a given material. The results have teased limits of humour and absurdity (with his early work with such mundane objects as tube socks and baseball caps) or the sublime (with his shockingly beautiful recent holographic foil works). Plotnikoff's work has been shown widely including at the Art Gallery of Ontario, and the National Gallery of Canada, as well as in exhibitions in the United States, the Netherlands, and France. Plotnikoff is represented by Paul Petro Contemporary Art.
November 26, 2015, 7pm > NCB 113
---
Location & Parking
Please note that the location of the Art Now lectures has been moved to a higher capacity room in the North Campus Building (NCB-113). NCB is located just south of the John Labatt Visual Arts Centre (VAC). Metered parking is available in the parking lots between VAC & NCB. For more information or directions please see Western's Map Tool and search for "NCB".
Select Videos from the Speakers Series are now availible on
YouTube.