Upcoming Exhibitions & Events
AJE (Annual Juried Exhibition)
November 23 – December 6, 2017 Opening Reception: Thursday, November 23 >5-7pm
People's Choice Voting: from 5 - 6pm AJE Award Announcements: 6:30pm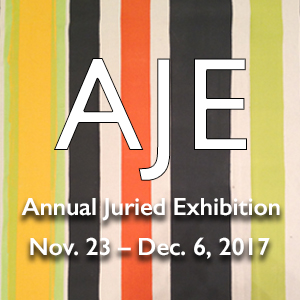 Back for the 16th year, this highly anticipated exhibition features a diverse selection of artworks by Undergraduate students from the Visual Arts Department, Western. This exciting exhibit supports the production of new artwork from a variety of mediums which includes painting, sculpture, digital media, photography, installation and performance. Works in this large group exhibition are selected by a professional jury who consider originality, creativity, process and engagement as some of the criteria for inclusion. ALL WELCOME Admission is Free.
Click here for submission and eligibility criteria.
ECOCREATIVITY: Bringing Art & Biology Together in Conversation
Tuesday Nov. 28th from 1-3pm
Followed by a tour of Western's Biotron (Advance sign-up required for tour)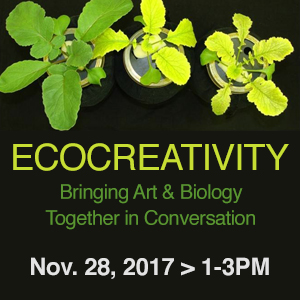 TDr. Sheila M. Macfie and Dr. Danielle Way, Department of Biology, whose research focuses on plant responses to global change will present their work at the Artlab Gallery. After the talk an organized tour of Western's Biotron will take place. The Biotron plant modules are 'experimental facilities focused on the elucidation of the molecular mechanisms by which photosynthetic organisms as diverse as crop plants, conifers, green algae, and cyanobacteria adjust to climate change'
PLEASE Note: Advance sign-up is required for the tour. Space is limited to 12 people.
Contact: Christina Battle at cbattle@uwo.ca to take sign up for the tour.
Photography & Social Change Student Conference
Tuesday, December 5, 2017 > 11:30 am - 4 pm (doors open at 11am)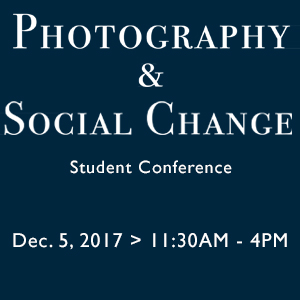 The Photography and Social Change conference showcases the research of undergraduate and Master's art history students who have spent the term exploring how photography has figured in modern conflict, social movements, and political upheavals of the late 20th and early 21st centuries.
Conference Participants
Undergraduate Students: Leah Abaza, Nak Alariaq, Celinna Biffis, Rachel Binder, Nick Coté, Brenda Fuhrman, Jessica Jenkins, Jennifer Kovalick, Jessica Matthys, Adam Mulder, Dayna Obbema, Aleda Roberts, Sarah Rooth, Amy Skodak
Master's Art History Students
Michelle Rosenblat, Bruno Sinder
Professor: Sarah Bassnett