Leaders in Learning

2004-2005





Preliminary Draft Guide
---
Department Authors

Using the Preliminary Draft

---
About the Preliminary Draft


The preliminary draft has been created using information downloaded from online databases. The intention of this new process is to decrease the amount of work required from unit contacts and faculty members.
As online databases are stronger in some disciplines than in others, your draft may contain anywhere from 10-100% of your usual submissions.
Databases may not include certain types of publications, such as Books, Book Chapter, Electronic Publications, Works of Art, Maps, and Music/Video productions. Where applicable, please pay particular attention to these types of publications to ensure that they are included in the bibliography.
The draft has been made available as a web page to provide for access within the department. The url will be given to the department only and will not be available through links from other web pages.
Units may find that a new internal process is needed to manage the new system for collection.
Some departments may request that faculty members check their own listing and fill out and submit a web data entry form for missing publications.

Department Authors

The task of attributing authors to articles and departments was done manually using the Western Directory or department web pages.
Authors may have been incorrectly identified under your unit list. This is a particular issue with cross-appointed and adjunct faculty. If a significant number of authors are erroneously listed on your bibliography, please contact us and the bibliography will be corrected.
Please remember that staff are also included in Leaders in Learning.

Post-doctoral students and students with full-time permanent jobs in the department may be included but other students should not be included.

Using the Preliminary Draft
Check for completeness. This is probably best handled be reviewing author by author
Ensure that articles are not attributed to authors incorrectly.
Ensure that all department members who authored an article have the article listed under their name.
The "type" listing after the citation has been included for your information only. If an item is incorrectly identified, please correct it as this affects how the citation will be listed and counted.
Where possible, the full date has been included to help clarify the appropriate academic year. Only the year will be listed in the final bibliography.
For Journal Articles, a "Refereed/Peer-Reviewed: Yes No" line has been added to the citation. Please print out the list of citations, circle the correct response and send the paper copy to: Leslie Thomas-Smith, Western Archives, WL 140B. Authors may do this individually or it can be done centrally by the contact for the department. This line will not appear in the final bibliography.

Sample Entry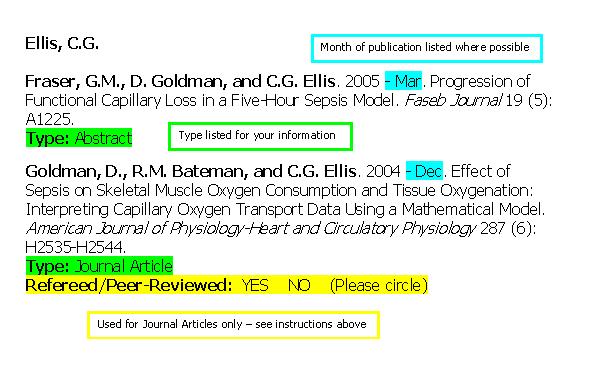 Adding New Publications


Before adding new publications, please ensure that they were published between July 2004 - June 2005 and that they have not been listed in previous bibliographies. For more information about criteria for submissions and how to add new entries, please see Data Entry.



Changing Publication Listings
If a department author is not given credit for an article that is listed under the name of another author, send an email requesting that the article be added to the author's list (you do not need to re-submit the article).
If an item has been missed, please follow the instructions on the Data Entry page.

Deadlines

Departments will be receiving their Preliminary Draft Bibliography at different times. The deadline for corrections and additions will be provided when you receive the link to your draft page. You will notice that less time is being give for submissions this year because it should take less time to make additions to the draft than it took for the old process.

If you need more time to complete the process, please contact me at leadersinlearning@uwo.ca.


---

If you have any questions or need assistance, please contact:
Leslie Thomas-Smith
Western Archives
WL140B (ARCC)
(519) 661-2111 x88207

---
Back to Data Entry Homepage

Back to Publications Homepage
---
leadersinlearning@uwo.ca Last revised: 2006/01/09