Wild Western Days
Trip dates will be available soon!

We can accommodate your group Monday – Friday between 8:00 AM and 4:00 PM (or any time-frame between those times that is convenient for you).

Swimming - Please note swimming is not available as a sport option for Friday programs due to our long course in the pool.


A Sport Western representative will contact you within two weeks (10 business days) of your form submission.
If you have additional questions or concerns contact us at swcamps@uwo.ca or call 519.661.2007.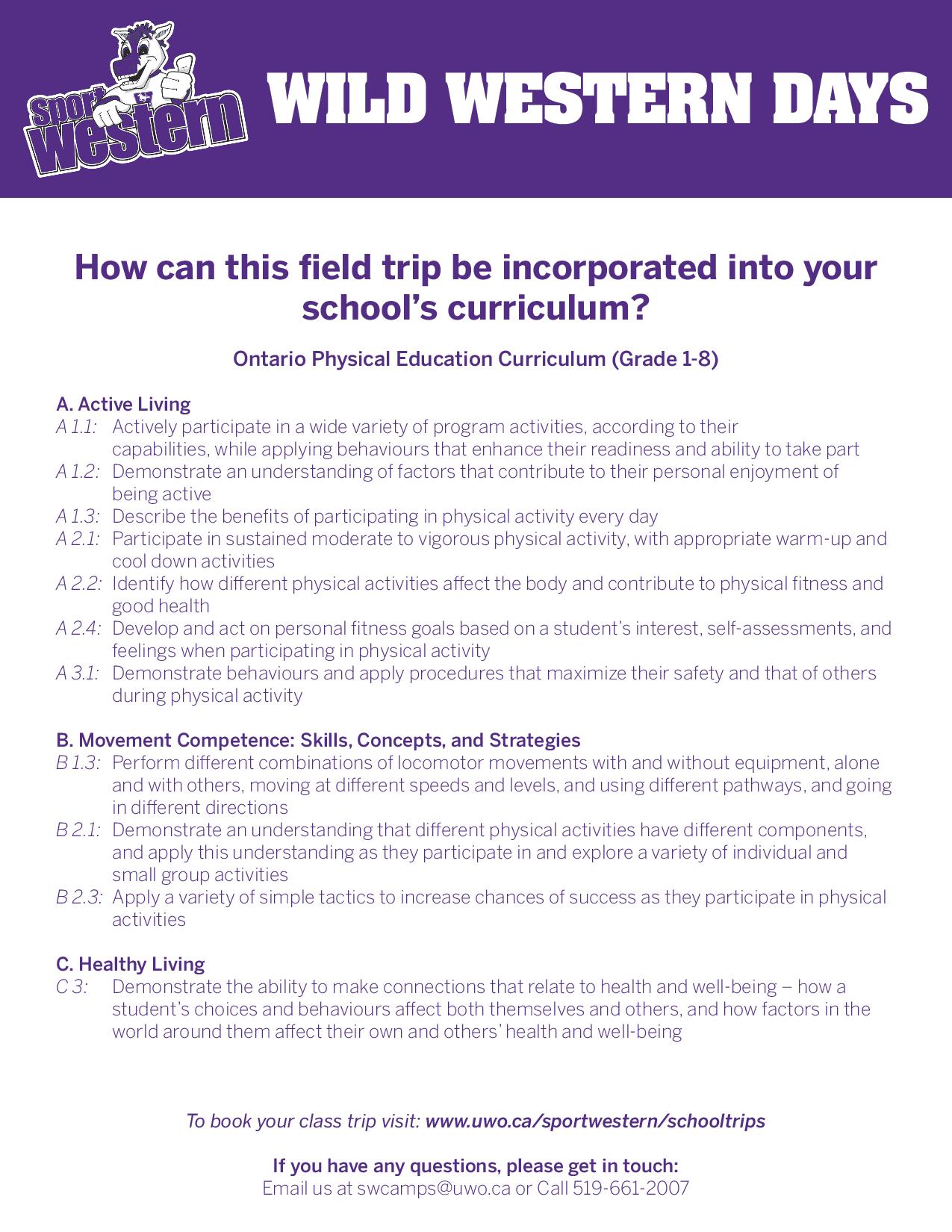 Costs
4

-6 hrs and max 4 sports/activities

: $27 per student 
*Please note: three sport selections are available with an optional fourth selection only if time permits.
 

2-3 hrs and max 2 sports/activities

: $17 per student
Pizza (Cheese or Pepperoni), snack, and juice: $6.00 per student
*Please indicate on the booking form how many students you would like to recieve the lunch plan. This number may be altered up to 5 buisness days prior to your trip.

Activity Options
Max 4 sports/activities Full Day Trip & max 2 sports/activities Half Day Trip
Basketball
Capture the Flag
Circle Games
Dodgeball
Parachute Games
Soccer
Swimming
Track & Field
Max 4 sports/activities Full Day Trip & max 2 sports/activities Half Day Trip
Archery
Ball Hockey
Basketball
Capture the Flag
Cooperative Games (gr 7/8 only)
Dodgeball
Flag Football
Lacrosse
Soccer
Swimming (no swimming on Friday)
Tchoukball
Track & Field
Ultimate Frisbee
Volleyball
Facilities
Wild Western Days programming will primarily take place in the Western Student Recreation Centre. The centre is a state-of-the-art facility with five gymnasia, three multi-purpose activity rooms, and a fifty meter pool. Programming will also take place at the University Tennis Centre, Thompson arena, Thames Hall gymnasia, outdoor floor hockey rink and multiple outdoor fields. For more information on our facilities please CLICK HERE.