News

September 2020
Congratulations to our diverse palette of paid internship placements for the 2020-21 academic year!
Internship Placement Listing

| | | |
| --- | --- | --- |
| Name | Position | Organization |
| Nadia Aiaseh | Software Developer | IPG Photonics |
| Emma Davis | Manufacturing Technician | Sanofi Pasteur |
| Luke Enright | Manufacturing Technician | Sanofi Pasteur |
| Jennifer Evans | Asst. Environmental Planner | Ontario Ministry of Transportation |
| Jack Hostrawser | Soil Sampling Technician | SGS Canada |
| Cassandra Janozeski | QA Technician | McCormick Canada |
| Akym John | Analytical Chemistry Technician | Ingredion Canada |
| Shayna Kay | Research Assistant | Spartan Bioscience |
| Jacob Mortensen | Occupational Health and Safety Asst. | Western University |
| Jenna Veugen | R&D Optical Instrumentation Co-Op | Vivavi Solutions |
---
July 2020
Congratulations to the Class of 2020, our first cohort of Integrated Science graduates! We wish you all the best in your future endeavors. Gold medals were awarded to:
Jermiah Joseph (Integrated Science with Computer Science)
Laurel Moyse (Integrated Science with Biology)
Alexander Watson (Integrated Science with Chemistry)
Check out where some of our graduates will be going!
Select List of Graduate's Next Program

| | | |
| --- | --- | --- |
| Name | Program | Institution |
| Athy Aravinthan | M.Sc. in Gravitational Astro-Particle Physics | University of Amsterdam |
| Jermiah Joseph | M.Sc. in Medical Biophysics | Western |
| Manraj Khurana | Juris Doctor in Corporate Law | University of British Columbia |
| Katelyn Melo | Masters of Forensic Science | University of Strathclyde |
| Nicholas Popiel | M.Phil. in Physics of Quantum Phase Transitions | University of Cambridge |
| Devanshi Shukla | Doctor of Medicine | Western |
| Katherine Teeter | M.Sc. in Plant Agriculture | University of Guelph |
| Carmen Venier | Masters of Environmental Science | University of Guelph |
| Alexander Watson | M.Sc. in Chemistry | Western |
---
WISc Featured in Chemical & Engineering News
October 2019: Our Integrated Science program, as well as several students, are highlighted in Chemical & Engineering News, a publication of the prestigious American Chemical Society. Read the Chemical & Engineering News story.
---
Annual WISc Research Symposium a Success
October 2019: Many of our Integrated Science students were successful in obtaining science-related employment over the summer. Fourth-year students Devanshi Shukla and Jermiah Joseph organized an evening symposium where Integrated Science students, ranging from second-year to fourth-year, were able to share their research projects and experiences with the university community.
---
WISc at Ontario Universities' Fair!
September 2019: Several WISc students and faculty represented Western and the Faculty of Science at the Ontario Universities' Fair! Photo from left to right: Felix Lee (program director), Himani Sharma (second-year student), Kaiss Almajai (second-year student), Spencer Craddock (fourth-year student), Miranda Postma (fourth-year student currently on an internship at Sanofi), and David Brock (instructional faculty). Absent from the photo are Elise Woodward (second-year student) and Rob Cockcroft (instructional faculty).

---
Welcome to WISc Class of 2023!
September 2019: We are delighted to welcome our class of 2023! Incoming students were invited to a meet-and-greet during Western's Orientation Week where they were able to learn more about each other and meet the personnel involved with the program.

---
Irene Zhu Receives Killam Fellowship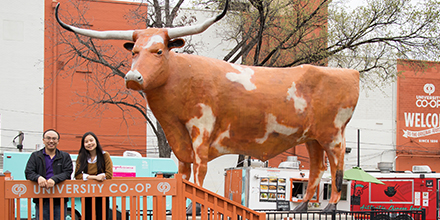 Irene Zhu, currently a third-year WISc student, received a prestigious Killam Fellowship – only one of 21 in Canada. Through the Fellowship, Irene was able to study on exchange at The University of Texas at Austin during the January-April 2019 semester. Our program director, Felix Lee, had the opportunity to visit Irene and the UTA during our February break. Congratulations, Irene!
---
WISc Students Receive MiHR Council Summer Internships

From left to right: Reese Gartley, Jenna Veugen, Ali Coyle, Miranda Postma, Adrienne Iannicca, Shayna Kay, Carmen Venier, Ridwan Mohammed Bari, Alexandra Ly
In the summer of 2018, nine WISc students – the majority of whom had just completed first-year – received funding from Canada's Mining Industry Human Resource (MiHR) Council. Congratulations! This funding allowed them to work in a research lab that collaborated with many Canadian industry partners. The students solved real-world, interdisciplinary problems for the partners.
Shayna, Carmen, and Jenna (pictured right), presented their work at the 2018 Educating for the Future: Learning Outcomes and Experiential Learning Symposium, organized by the Ontario Universities Council on Quality Assurance, to showcase the MiHR funding program.
---
WISc Guest Speaker: Gordon McBean
Gordon McBean delivered an outstanding lecture on climate change and science policy to 3002A students in the Fall of 2018. Gordon is a world-renowned climatologist; a past president of the International Council for Science; a Member of the Order of Canada; and a long-standing contributor to the Intergovernmental Panel on Climate Change, which was the shared recipient of the 2007 Nobel Peace Prize.