10th ANNUAL
Earth Day Colloquium
April 11-12, 2013
Thursday April 11, 2013
Campus Nature Walk (1 hr starting at 11:00 am) Sign-up here
History of Sustainability Workshop - Bron Taylor (11:00 am to 12:30 pm) Register here
Campus Nature Walk (repeat; 1 hr. starting at 2:00 pm) Sign-up here
Keynote Address - Dr. Bron Taylor (4:30 pm UCC 37)
Opening Reception (6:00 pm, The Grad Club)
Friday, April 12, 2013
Invited Speaker - Sandra Tavares (9:05 am, NCB 117)
Invited Speaker - Brian Craig (11:55 am, NCB 117)

Invited Speaker - Adam Scott (4:05 pm, NCB 117)
Student presentations (8:30 am - 6:00 pm, various rooms, NCB)
The Green Ball (9:00 pm, The Wave, UCC) In support of RARE More Information here



_______________________________________________________________



Thursday, April 11, 2013



WORKSHOP





Dr. Bron Taylor,

Professor of Religion and Environmental Ethics, University of Florida

Title: Radical Environmentalism from Earth First! to Revolutionary Resistance: past, present, and future prospects

Register to Participate here! Lunch to follow workshop is free to registered workshop participants
Abstract: The Earth First! movement emerged forcefully in the early 1980s and soon developed international branches. Its activists were animated by a bricolage, namely, an amalgamation of bits and pieces, of diverse spiritual, ethical, and political beliefs and practices. While they disagreed about much they agreed that civil disobedience and sometimes sabotage were permissible if not obligatory tactics in defense of Mother Earth. They were most directly and fundamentally in contention with what they considered to be intrinsically destructive industrial civilizations. Their tactics, rarely but often labeled terrorist, led eventually to the incarceration of dozens of these activists, especially over the last decade, but there are signs of the movement's revitalization. This workshop provides a historical overview of these movements, their political, ethical and spiritual claims, their successes and failures, and their future prospects, as a way into opening conversation as to whether these movements offer a viable and salutary path to a green future, or a dead end both for these activists and the earth they revere.
Workshop Recommended readings for background:
Bron Taylor, "Radical Environmentalism" and "Earth First and the Earth Liberation Front" in the Encyclopedia of Religion and Nature; they are available as Sample Entries.
Alternatively or for more historical detail, see "The Tributaries of Radical Environmentalism" Journal for the Study of Radicalism 2(1):27-61, 2008, at
Other articles about the movement can be found at Professor Taylor's website as book chapters and journal articles, or as a chapter in his book Dark Green Religion: Nature Spiritualty and the Planetary Future.
Workshop Time: 11:00 am - 12:30 p.m. (you must register to participate in this activity)
Workshop Location: 2270D Lawson Hall
KEYNOTE ADDRESS


Dr. Bron Taylor, Professor of Religion and Environmental Ethics, University of Florida

Title: "Spirituality After Darwin: 'Dark Green' Nature Religion as a New, Global Religious Movement"

Bio: Bron Taylor is Professor of Religion and Environmental Ethics at the University of Florida, and a Carson Fellow of the Rachel Carson Center for Environment and Society in Munich Germany. His research involves both ethnographic and historical methods, and focuses on the emotional and spiritual dimensions of environmental movements. He has led and participated in a variety of international initiatives promoting the conservation of biological and cultural diversity. His books include Dark Green Religion: Nature Spirituality and the Planetary Future (2010), the award winning Encyclopedia of Religion and Nature (2005), and Ecological Resistance Movements: the Global Emergence of Radical and Popular Environmentalism (1995). He is also the founder of the International Society for the Study of Religion, Nature and Culture, and editor of its affiliated Journal for the Study of Religion, Nature and Culture. For more information see www.brontaylor.com.
Abstract: New Religions come and go but some persist and become major global forces. In this presentation Professor Taylor presents evidence that, especially since Charles Darwin published On the Origin of Species in 1859, a new, global, earth religion has been rapidly spreading around the world. Whether it involves conventional religious beliefs in non-material divine beings, or is entirely naturalistic and involves no such beliefs, it considers nature to be sacred, imbued with intrinsic value, and worthy of reverent care. Those having affinity with such spirituality generally have strong feelings of belonging to nature, express kinship with non-human organisms, and understand the world to be deeply interconnected. In a recent book Taylor labeled such phenomena 'dark green religion', noting that its central ethical priority is to defend the earth's bio-cultural diversity. Taylor provides a wide variety of examples of new forms of religious (and religion-resembling) cultural innovation among those promoting such nature spirituality, from individuals (including artists, scientists, filmmakers, photographers, surfers, and environmental activists), to institutions (including museums, schools, and the United Nations). By tracking these, Taylor provides an opportunity to consider what such spirituality may portend for the religious and planetary future.
Keynote Address Time: 4:30 - 6:00 pm
Keynote Address Room: University Community Centre (UCC) Rm 37
All Welcome
OPENING RECEPTION
Thursday, April 11, 2013 at 6:00 p.m.
The Grad Club, Middlesex Building
We will be welcoming all speakers and guests at our opening reception, following the Keynote Address.
_______________________________________________________________



Events for Friday, April 12

INVITED SPEAKERS
Sandra Tavares, Principal of Tavares Group Consulting
Title: 'Embedding Sustainability - The Toolkit'

Bio: Sandra Tavares is the Principal of Tavares Group Consulting Inc. Since 1995, Sandra's experience has ranged from local Environment and Health & Safety (EHS) management with small firms to global Corporate Social Responsibility (CSR) management with large multinationals. Sandra, a certified Environmental Management System Lead Auditor and Greenhouse Gas Verifier, has conducted EHS management and compliance audits throughout Canada, the U.S. and Mexico. Sandra is an active member of the Canadian Advisory Committees on Environmental Management and Social Responsibility; these committees provide Canadian feedback to the ISO Technical Committees who develop the ISO 14001 and ISO 26000 standards, respectively. Sandra is a Director of the Board for the Small Business Centre in London, Ontario; formerly a member of the Canadian Council of Ministers of the Environment's (CCME) Pollution Prevention Awards Advisory Board and the Canadian Manufacturers & Exporters Environmental Quality Committee and former Director of the Board for the Environmental Management Resource Centre for Business.

Sandra earned her M.Sc. (Plant Science/Environmental Science) from the University of Western Ontario, where she returned to lecture at the Masters of Environment & Sustainability program. She is fluent in English and Portuguese and has a working knowledge of Spanish and Italian.
Abstract: Sandra Tavares, Principal of Tavares Group Consulting, presents a research project which has been supported by the National Research Council's (NRC) Industrial Research Assistance Program (IRAP) and developed for industry use. The toolkit integrates the "Plan-Do-Check-Act" management system framework found in such standards as ISO 14001 with the principles and core subjects of the ISO 26000 Social Responsibility guidance document. The launch of the beta version of the toolkit will be presented at the 2013 London FIRST Sustainability Conference on April 24, 2013 which will feature various key speakers - sustainability leaders from Staples, 3M, Trojan and TD, as well as other industry experts and leading sustainability professionals

Time: 9:05 - 9:50 AM
Location: North Campus Building, Rm 117
All Welcome
INVITED SPEAKERs
Brian Craig, President, Long Point World Biosphere Reserve Foundation
Title:The Long Point Causeway Improvement Project: Eco-passages and the Hydrological Connection of the Big Creek National Wildlife Area and Long Point Inner Bay.
Bio: Brian held a Senior Science Advisor position with Environment Canada's Ecological Monitoring and Assessment Network and recently retired from Parks Canada as a Landscape Ecologist and Project Manager. He holds directorships with the Canadian Biosphere Reserves Association, the Carolinian Canada Coalition, and the Long Point World Biosphere Reserve Foundation. Brian and his sweetie Paula live along Big Creek in Norfolk County and are stewards of a 50-acre property of pasture, prairie, swamp and forest.
Abstract: In 1927 a causeway was constructed joining the mainland with the Long Point Peninsula. The causeway initially included 4 bridges allowing for the movement of animals and water between the marsh and the bay. Over the years the bridges deteriorated and the channels were filled in blocking the movement of animals and water. The Big Creek National Wildlife area is home to the largest population of spotted and blanding's turtles in our country, among other Species at Risk, and road kill is decimating these populations. The Long Point Causeway Improvement Project, led by a group of concerned organizations, agencies and individuals is installing eco-passages and large culverts to reduce road kill and restore the hydrological connection between the marsh and the Bay. This presentation describes Phase 1 of the project.
Time: 11:55 am - 12:40 pm
Location: North Campus Building, Rm 117
All Welcome
INVITED SPEAKERs
Adam Scott, Climate & Energy Program Manager, Environmental Defence
Title: Canada's tar sands Oil Pipelines: Climate Threat Or Energy Security
Bio: Adam Scott's commitment to solving the issue of climate change has motivated his involvement in a range of research and advocacy positions. After completing a degree in environmental geography at the University of Guelph, he has worked both as an academic and non-profit environmental researcher. An experienced advocate of international action on climate change, Adam is a veteran of multiple United Nations climate change negotiations. His passion for putting practical renewable energy solutions into action led him to his current role as Climate & Energy Program Manager at Environmental Defence.
Abstract: Canada's current plans to expand tar sands oilproduction in Alberta will prevent Canada from taking meaningful action to prevent Climate Change. In recent years, tar sands expansion plans have hit a wall as export routes for oil have reached capacity. With increasing desperation to get their product to far away markets, the oil industry has proposed mega pipeline projects to ship oil to tankers on the west coast (Northern Gateway, Trans-mountain), to gulf coast refineries in the south (Keystone XL), and to markets the east (Line 9, and Transcanada). This session will examine the facts around tar sands expansion, the changing economics of oil, and dangers of pipeline megaprojects for communities in their path. Focusing in particular on the Line 9 proposal which runs across Ontario, we will take a closer look at threats to local waterways and lakes.

Time:4:05- 4:50 pm
Location: North Campus Building, Rm 117
All Welcome
STUDENT PRESENTATIONS
Time: 8:30 a.m. – 6:00 p.m.
Room: North Campus Building (NCB)
All Welcome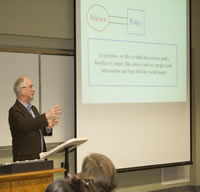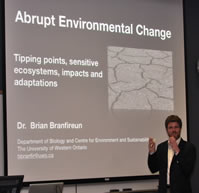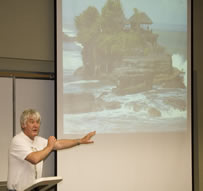 This page was last updated on April 10, 2013
Centre for Environment and Sustainability Web Contact: hsanders@uwo.ca