Welcome to the Lala lab! We are a research laboratory within the Department of Anatomy & Cell Biology at The University of Western Ontario in London, Ontario, Canada. We are located on the fourth floor of the Medical Sciences Building Rooms 433 (laboratory), 430, 434, (offices), 436 (microscopy room). In addition, we share major equipment in the molecular biology and others such as imaging and confocal microscopes, fluorescence activated cell sorter. Research in this lab deals with the biology of the human placenta as an invasive structure and the biology of breast cancer progression and metastasis. These projects complement one another in concepts as well as methodology.
Principal Investigator: Dr. P. K. Lala, MD, PhD, Dsc.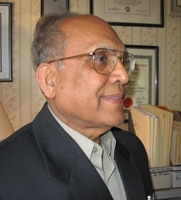 Dr. P. K. Lala, MD, PhD, Dsc (honoris causa), short bibliography

Professor and Past Chair, Department of Anatomy and Cell biology, and Professor, Department of Oncology, University of Western Ontario.
Dr. Lala holds an M.B., B.S. degree in Medicine, an M.D. (a post-graduate research degree in Medicine), and a PhD degree in Medical Biophysics, all from the Calcutta University in India.

Following a short period of teaching career in Pathology and Hematology in Calcutta University (1959-1962), Dr. Lala started his independent research career in 1963 at the Argonne National Laboratory in USA wherefrom he moved as a faculty member at the University of California Medical Centre in San Francisco (1964). In 1967, he moved to Canada initially as a research scientist at the Chalk River Nuclear Laboratories and then a faculty member at the Department of Anatomy & Cell Biology, McGill University in Montreal (1968), where he became a full professor in 1977. In 1983, he relocated to the University of Western Ontario as the Chair of the Department of Anatomy & Cell Biology (1983-1993). He is also cross-appointed at the Department of Oncology (London Regional Cancer Program), the Children's Health Research Institute and the Lawson Health Research Institute. Currently he is a Professor-emeritus with a fully active, well-funded research lab. He has trained some forty-five graduate students and twenty post-doctoral fellows many of whom are independent scientists.

Dr. Lala has published 208 peer-reviewed articles as of March 2017. He served on the editorial board of numerous reputed Biomedical journals. He received long term funding from the Medical Research Council of Canada (currently renamed CIHR) and the National cancer Institute of Canada (currently renamed CCSRI), and substantial funding from other agencies such as the NIH -USA, US-DOD (Breast Cancer Program), Lalor Foundation USA, Cancer Research Society, The Breast Cancer Society of Canada, the Canadian Breast Cancer Foundation and the Ontario Institute of Cancer research.

Research in his lab deals with three projects: "The biology of the human placenta as an invasive structure", "The human placenta as a model for tumor progression", and "The biology of breast cancer progression and metastasis". These projects have a common thread in concepts and application. His earlier fundamental research in cancer had led to a successful protocol of immunotherapy in advanced melanoma and kidney cancer patients. His current research aims at preventing certain fetal –maternal maladies that originate in the placenta, and developing new modes of breast cancer therapy to eradicate stem-like cells which resist traditional therapies.

Dr. Lala has received many prestigious awards including the J.C.B. Grant Senior Scientist award of the Canadian Association of Anatomists, Cell Biologists and Neurobiologists (1990), and Research Excellence Award of the Faculty of Medicine, UWO (1996). In 2001, he was honoured by his peers and past trainees with an international symposium at Queens University, sponsored by the CIHR, held in tribute to his unique contributions building a bridge between the fields of reproductive and cancer biology. For five decades of outstanding contributions to biomedical research and education, in June 2013, the University of Western Ontario bestowed its highest honor to Dr Lala by awarding him the Doctor of Science degree, honoris causa at its annual convocation where he addressed the graduating students receiving their undergraduate and graduate degrees in bio-medical sciences (video). In 2017 he received the Career Scientist Award of the Lawson Health Research Institute (video)

For more information about Dr. Lala, including his services on editorial boards, grants review panels, awards, and more, please see his profile.
rofile.
Contact Information:
Department of Anatomy & Cell Biology
The University of Western Ontario
Medical Sciences Building, M436
London, Ontario
N6A 5C1 Canada
Phone: (519) 661-3015
Fax: (519) 661-3096
Email: pklala@uwo.ca