Who We Are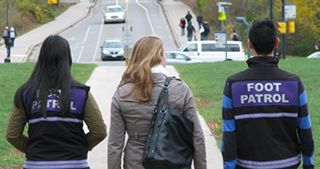 Western Foot Patrol is a volunteer driven service that provides safe escorts, deters crime and promotes safety awareness on the main and affiliate college campuses.
News & Events
Closed For Summer
April 30, 2017 - Foot Patrol is now closed for the summer and will re-open for operations in September. For inquiries, we can be reached at wfp@uwo.ca. Wishing everyone a safe and happy summer!
---
iPad Air Contest Winner
April 3, 2017 -  Zoe Wei is the winner of our annual iPad Air contest! Congratulations, Zoe! Thanks to everyone who entered!