Who We Are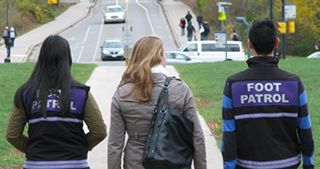 Western Foot Patrol is a volunteer driven service that provides safe escorts, deters crime and promotes safety awareness on the main and affiliate college campuses.
News & Events
Our iPad Contest Is Back!
Jan 13, 2014 - Western students - you have a chance to win a new iPad Air!
When the contest runs: Jan 13th - Mar 21st, 2014. Contest closes Mar 21st at 5pm.
How it works: Use Western Foot Patrol's service six (6) times and receive a stamp on your "Western Foot Patrol Stamp Card" each time. Fill in all required identification fields and submit the completed card to the Western Foot Patrol office in UCC, room 57. Come by to pick up a stamp card during office hours, or grab one from a volunteer when you call for a safe walk home!
Basic rules: one stamp per person per escort; more than one stamp card entry is permitted
---
Volunteer Applications Still Available!
Jan 6, 2014 - New and returning volunteer applications are available in our office, UCC 57, or here on our website. Completed application forms can be submitted online or at our office Monday-Friday 12-5pm. (Note: forms need to be downloaded onto your computer before filling out. You must be using the latest version of Adobe Acrobat Reader - XI v. 11.0 or higher - in order to submit the forms.)