Who We Are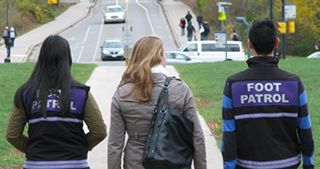 Western Foot Patrol is a volunteer driven service that provides safe escorts, deters crime and promotes safety awareness on the main and affiliate college campuses.
News & Events
Fall Reading Break Hours
October 28, 2015 - Fall reading break hours are as follows: Thursday, October 29, 9pm-1am; Friday, October 30, Saturday, October 31-closed; Sunday, November 1, 9pm-1am. We will resume normal hours on Monday, November 2, 2015.
---
Volunteer Applications Available!
October 28, 2015 - Application forms for returning and new volunteers are still available! They can be emailed to wfp@uwo.ca, via the application "submit" button or, beginning August 31, to our office in UCC 57 (please note: applications must first be downloaded to your computer before filling out).