Who We Are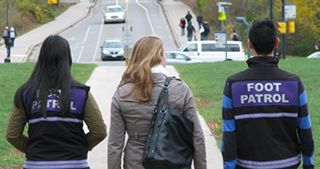 Western Foot Patrol is a volunteer driven service that provides safe escorts, deters crime and promotes safety awareness on the main and affiliate college campuses.
News & Events
December Exam Hours
December 4, 2014 - From December 4-16, we will be operating from 9pm-1am daily. Our daytime office hours are Mon-Fri 1-4pm. Best of luck on exams!
---
Volunteer Applications Still Available!
October 15, 2014 - Volunteer applications for new and returning volunteers are still available under the "Volunteer" tab above! PLEASE NOTE: To submit electronically, applications must be downloaded first then submitted. They can also be emailed to wfp@uwo.ca or dropped off in our office. Don't hesistate to contact us with any questions!