Who We Are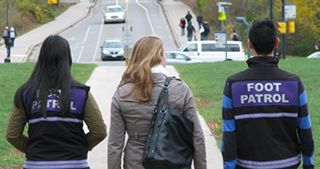 Western Foot Patrol is a volunteer driven service that provides safe escorts, deters crime and promotes safety awareness on the main and affiliate college campuses.
News & Events
Thanksgiving Weekend Hours
October 6, 2016 - Our hours for the long weekend are: Fri, Oct 7 - 9pm-12am; Sat, Oct 8 & Sun, Oct 9 - closed; Mon, Oct 19 - 9pm-1am. Have a Happy Thanksgiving!
---
Volunteer Applications Available!
October 3, 2016 - We are still acceptong volunteers! Application forms for new and returning volunterrs are available at the top of this page by clicking the "Volunteer" tab. Completed forms can be submitted electronically or at our office, UCC 57.