Who We Are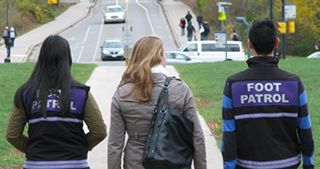 Western Foot Patrol is a volunteer driven service that provides safe escorts, deters crime and promotes safety awareness on the main and affiliate college campuses.
News & Events
RAD Self Defence Training
Nov 18, 2013
- Campus Police will be offering a women's only self defence class (RAD) Fri, Nov 29, 5-9pm; Sat, Nov 30, 8am-4pm. For more information, please refer to the CCPS site
http://www.uwo.ca/police/radtraining.htm
---
Volunteer Applications Still Available!
Oct 31, 2013 - New and returning volunteer applications are available in our office, UCC 57, or here on our website. Completed application forms can be submitted online or at our office Monday-Friday 12-5pm. (Note: forms need to be downloaded onto your computer before filling out. You must be using the latest version of Adobe Acrobat Reader - XI v. 11.0 or higher - in order to submit the forms.)