Who We Are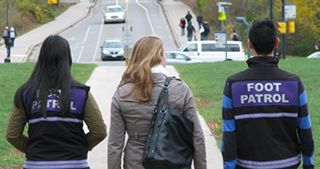 Western Foot Patrol is a volunteer driven service that provides safe escorts, deters crime and promotes safety awareness on the main and affiliate college campuses.
News & Events
Reading Week Hours
February 13, 2015 - Our hours during reading week are as follows - Friday, February 13 - 9pm-12am; February 14-22 - closed. We will resume regular hours on Monday, Februrary 23, 2015. Have a great break!
---
Volunteer Applications Closed
February 13, 2015 - We are no longer accepting volunteer applications for the 2014-2015 school year. Applications for the 2015-2016 school year will be available in the summer.