Who We Are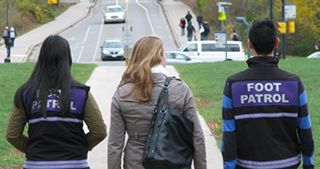 Western Foot Patrol is a volunteer driven service that provides safe escorts, deters crime and promotes safety awareness on the main and affiliate college campuses.
News & Events
Reading Week Hours
February 11, 2016 - Our Reading Week hours are as follows -  Friday, February 12: 9pm-midnight; Saturday, February 13-Sunday, February 21: closed. Normal hours resume on Monday, February 22, 2016.
---
The iPad Contest is back at Western Foot Patrol!
January 11, 2016 - As a student at Western you have a chance to win a brand new iPad Air 2!
When the Contest Runs:
The contest runs from January 11th, 2016 from 6pm until March 28th, 2016 at 11:59 PM. The prize will be drawn on March 29th, 2016 at noon.  
How it Works:
All you have to do is use Western Foot Patrol's service six (6) times and receive a stamp on your "Western Foot Patrol Stamp-Card" each time. Fill in all required identification fields and submit the completed Stamp Card to the Western Foot Patrol office in the University Community Centre, Room 57.
Come by our office to pick up a stamp card during office hours. Or grab one from a patroller when you call for a safe escort tonight!
Basic Contest Rules:
Only one entry per person
Only one stamp per person per escort