Welcome to the Lala lab! We are a research laboratory within the Department of Anatomy & Cell Biology at The University of Western Ontario in London, Ontario, Canada. We are located in the newly designed research wing of the department on the fourth floor of the Medical Sciences Building Rooms 433A, B (laboratory), 430, 434, 436 (offices). In addition, we share major equipment such as imaging and confocal microscopes, and fluorescence activated cell sorter. Research in this lab deals with the biology of the human placenta as an invasive structure, the human placenta as a model for tumor progression, and biology of breast cancer progression and metastasis. These projects complement one another in concepts as well as methodology.
Principal Investigator: Dr. P. K. Lala, MD, PhD.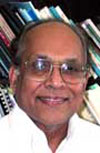 Dr. Lala holds an M.B., B.S. degree in Medicine, an M.D. (a post-graduate research degree in Medicine), and a PhD degree in Medical Biophysics, all from the Calcutta University in India.
Following a short period of teaching career in Pathology in Calcutta University (1959-1962), Dr. Lala started his independent research career in 1963 at the Argonne National Laboratory in USA wherefrom he moved as a faculty member at the University of California Medical Centre in San Francisco (1964). In 1967, he moved to Canada initially as a research scientist at the Chalk River Nuclear Laboratories and then a faculty member at the Department of Anatomy & Cell Biology, McGill University in Montreal (1968), where he became a full professor in 1977. In 1983, he relocated to the University of Western Ontario as the Chair of the Department of Anatomy & Cell Biology (1983-1993). He is also cross-appointed at the Department of Oncology. Currently he is a Professor-emeritus with a fully active, well-funded research lab and some teaching responsibilities. He has received nearly uninterrupted funding from the MRC (currently CIHR) and the NCIC (currently CCSRI), and substantial funding from other agencies such as the NIH USA, USDOD (Breast Cancer Program), CRS, Lalor Foundation USA, Breast Caner Society of Canada, the Canadian Breast Cancer Foundation and the Ontario Institute of Cancer research..
For more information about Dr. Lala, including his services on editorial boards, grants review panels, awards, and more, please see his profile.
Contact Information:
Department of Anatomy & Cell Biology
The University of Western Ontario
Medical Sciences Building, M436
London, Ontario
N6A 5C1 Canada
Phone: (519) 661-3015
Fax: (519) 661-3096
Email: pklala@uwo.ca